Business Administration Major
One of the most popular majors on campus, business administration is the ideal program for those interested in a career in business, whether it's becoming an entrepreneur, marketing products, managing people and projects or analyzing business practices and decisions.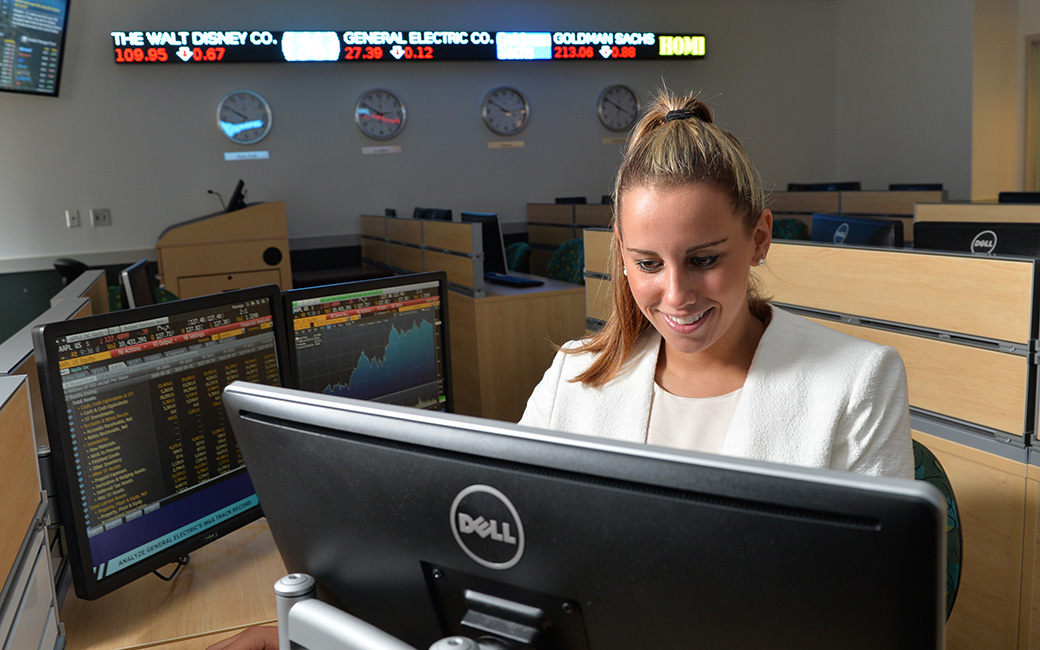 Contribute to Positive Growth
Business is an integral part of society, touching on almost every aspect of our lives. Society needs smart, skilled and ethical individuals in business. You can contribute your talents and energy to solving problems, creating value and having a positive impact on the world through business.
Great Career Prospects and Versatile Skills
Careers in business are diverse and often highly paid. A bachelor's degree in business administration gives you a foundation of business knowledge covering principles of accounting, finance, operations, marketing and management, among others, with the opportunity to specialize in a specific area.
Plus, the skills and knowledge you gain with a business degree aren't limited to business. You'll find they're easily transferable to positions in law, nonprofits, media and communications, etc.
Get more information about careers in business administration at the TU Career Center.
Flexible Options
Customize your business administration degree with one of 11 concentrations or tracks:
You can add even more value to your business degree by choosing a second major or a minor.
Program Advantages
Benefits
Great interaction with professors and classmates with average class size of 32
Competitive advantage over others in the job market with Certification in Excel from Microsoft Office, which is highly sought by employers
Personalized academic and career advising provided by Student Academic and Career Services
Endless opportunities for networking and professional development through college events and student organizations
Win scholarship prizes and network with employers in CBE case competitions
Build your professional portfolio in the Live Strategy Case Competition, a unique opportunity to provide solutions for real businesses
Degree Requirements
The Bachelor of Science (B.S.) or Bachelor of Arts (B.A.) degree in Business Administration (BUAD) requires a minimum of 120 earned units, which must include successful completion of the University Core Curriculum requirements, the BUAD requirements and electives. For the B.A. degree option, a student must complete all the courses required for the major and a foreign language's intermediate (202) courses (or equivalent).
See degree requirements in the Undergraduate Catalog.
Admission Requirements
Business administration is a screened major. Students are admitted to the business administration major (BUAD) only after successfully completing a set of required courses with a C or higher in each of those courses and an overall TU GPA of 2.0 or higher.
Requirements for Admission to the Major
Formal admission to TU as a degree candidate
Cumulative GPA of 2.00 or higher for all course work
Grade equivalent of 2.00 or higher in each course required for admission to the BUAD major
Minimum grade of C for ALL of the courses required for admission to the BUAD major:



ACCT 201 or 211 Principles of Financial Accounting (3 units)
ECON 201 or 203 Microeconomics Principles (3 units)
ECON 202 or 204 Macroeconomics Principles (3 units)
LEGL 225 Legal Environment of Business (3 units)
ECON 205 Statistics for Business and Economics (or MATH 231 Basic Statistics) (3 units)
MATH 211 Calculus for Applications (or MATH 273 Calculus I) (3 units)
No more than two courses may be repeated, of which no more than one course may be repeated twice.
Tracking Admission to the Major
Your admission status will be sent to your Towson University student email account at the beginning of each term and right before registration. You are required to meet with your assigned adviser each term to evaluate your progress in completing the requirements for admission to the major and the degree. Once you have been admitted to the major, you may enroll in upper-level required business courses and courses required for your concentration or track.