Business Admin Major: Leadership & Management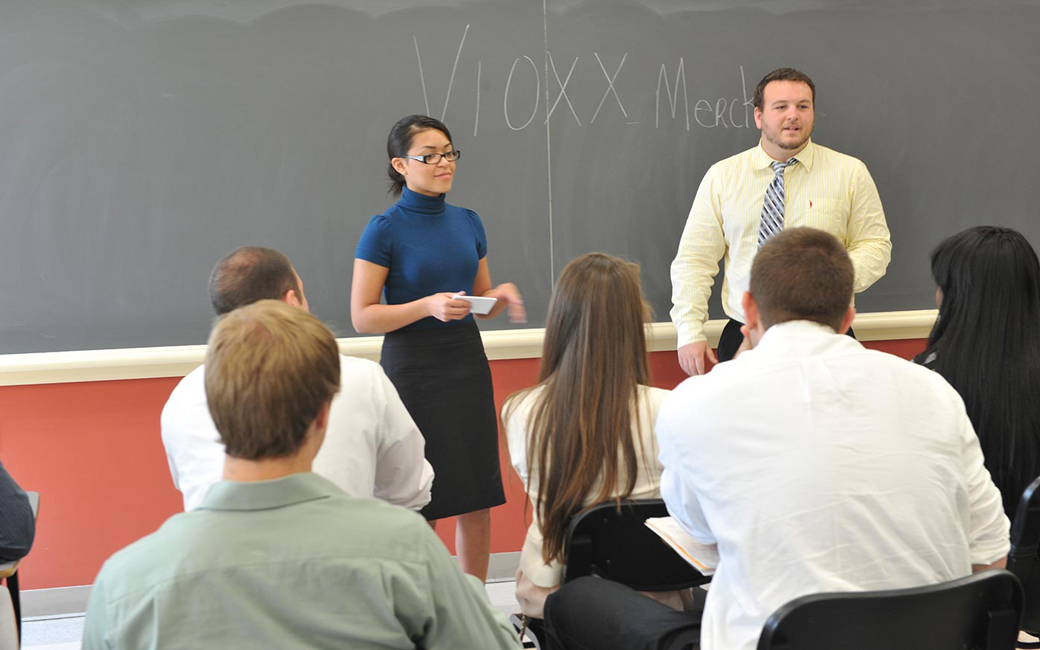 Do you aspire to lead an enterprise, both big and small, rather than work in functional areas of business, such as finance, marketing or operations? Get a head start on your path with the business administration major with a concentration in leadership and management.
The management curriculum will help you make the transition from specialist to generalist, from analyst to integrator, from tactician to strategist, and from a team/organizational member to a leader.
Management education at Towson University is more than learning business formulas, theories and principles. It subscribes to the vision that successful enterprise leadership is achieved when the leader is seen as being authentic, with passion for self-discovery and growth.
Admission Requirements
Business administration is a screened major. Students are admitted to the business administration major (BUAD) only after successfully completing a set of required courses with a C or higher in each of those courses and an overall TU GPA of 2.0 or higher. See all admission requirements.
Degree Requirements & Course Descriptions
View degree requirements and course descriptions for the business administration major with the leadership and management concentration in the Undergraduate Catalog.
Plan of Study
See the suggested four-year plan of study for the current catalog year. If your catalog year is different, you can find an advising form that corresponds with your catalog year on the advising forms page.
Top Business Leadership and Management Careers and Salaries
What can I do with my Leadership and Management degree?

Leadership and Management majors work in all areas of business, managing operations and employees, negotiating sales and contracts, supervising administrative tasks, or managing client services.
In this concentration, students learn how to oversee the operations and employees of an organization. Hence, it is the business administration field that provides the most flexibility in career choices.
Especially in today's service-based economy where managing people is a critical skill for career advancement, leadership and management students succeed fast, equipped with specialized knowledge of higher levels of management and skills in leading people.
Which careers can I pursue with my Leadership and Management degree?
There are many career opportunities open to business leadership and management graduates. The median average salary for management occupations was $109,760 per year in May 2020. According to the Bureau of Labor Statistics, these positions are expected to grow nine percent between 2020-2030. Below are examples of careers and jobs open to leadership and management majors.
As the number of available management positions grows, so does the demand for individuals with the related skills and qualifications. Though the specific skills needed for each management position vary, foundational knowledge of business principles combined with strong management skills and a degree from an accredited university can make you an attractive candidate to potential employers.
Which industries can I work in with my Leadership and Management degree?
Some popular industries include:
Healthcare management
Sports management
Manufacturing
Retail
Finance
Nonprofit and Government
Real estate
Education
With this major, the door is wide open. You are not limited to any industry. You can choose the industry and the position that most excites you. To learn more about the careers listed above, click on the average salary link and find out what they do, their job outlook, and the corresponding state/local data.