The One Art Project That Changed My Life
Justin Nepomuceno '17
Designer of the mural outside DoodleHATCH in Columbia, Maryland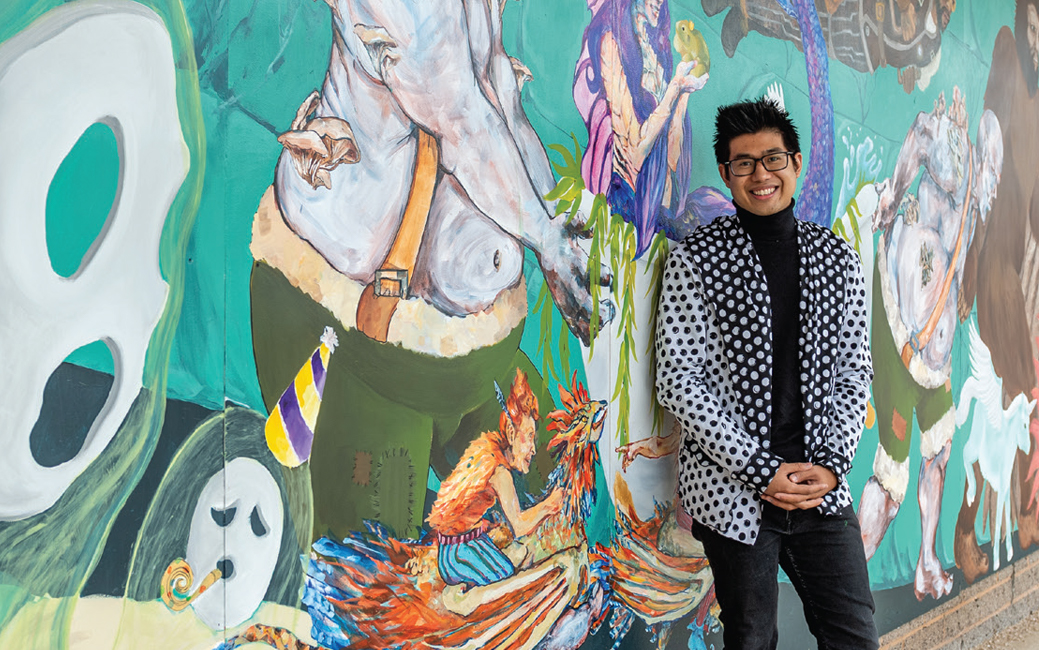 At times when I was growing up, art felt like the only thing that I was really good at. I'm someone who's in their own head a lot, and sometimes it gets hard to communicate exactly what I'm thinking. Art is a really good way of conveying what I'm feeling at the moment. It really helps me display my own ideas and views.
When I went to Towson, I had undiagnosed ADHD. My last two semesters, before I was medicated, I had this issue that I called my "frozen lake." I would be excited about a project, but I just couldn't get anything done.
I got this job as a graphic designer and illustrator for a fashion designer in Columbia, and I had the same kind of problem. I began to think that maybe I'm just not cut out for this. But when ManneqART, the nonprofit that I'm on the board of, had this idea to do a mural outside DoodleHATCH, our new public arts space, I leapt at the opportunity.
The theme of our installation is a supermarket for mythological creatures, time travelers and intergalactic tourists. I thought it would be cool for the side of our building to have a giant parade of all of our "customers" walking toward the entrance.
Once we decided on that theme, I really wanted to prioritize detail and interaction. I didn't want it to feel like a bunch of characters copied and pasted next to each other. I wanted it to feel alive. We have some goblins that have stolen a cyclops' eye. If you walk down a couple of feet, you'll see two cyclops and one of them is missing an eye.
I hand drew each creature. Once I had the sketch, I used a projector to project each image onto a 4-by-8-foot board. I'm not a skilled painter, so I reached out to some of my painter friends who are also TU alums. They filled in the gaps and helped bring my vision to life. I couldn't have done this project without all the volunteers. I lovingly call them the art goblins.
I worked on this project pretty much every day. After I clocked out of work at five, I would stay for a couple of hours. It felt like it was my life for three or four months.
The mural is 140 feet long and 8 feet high. It's 35 panels that we screwed into furring strips on the brick. I started drawing when we opened in September. We finished it on April 1, which was the reveal date. I loved collaborating with other artists. I proved to myself that I can be an artist, I can create and it showed me that I like the role of art director.
Our team wants to keep creating together. We're applying for lots of public arts projects. It's super rewarding to see the community reaction. Hearing how excited all the local children are when they
spot their favorite characters makes all the hard work worth it.
Art like this is a break from the ordinary. Putting art in places where it isn't expected captures people's eyes. It revitalizes a space and makes it feel more alive while sparking the creativity in everyone who sees it.