Coffee With...Steve Eigenbrot
We sat down with the new-ish director of athletics to find out what he's looking forward to and how he sees TU athletics growing.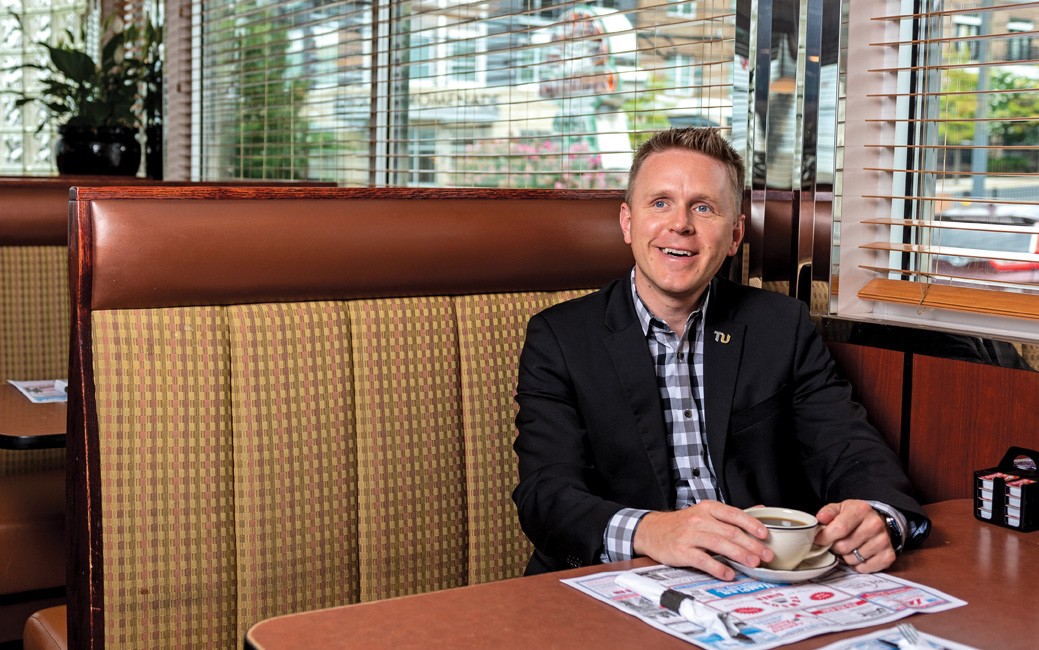 Q: Did you play sports growing up?
A: I played baseball, basketball and football in high school and a little club soccer. I didn't start playing football until I was older. My mom didn't want me to get hurt. Sure enough, moms are smart. I lacerated my liver my senior year, which caused me to be out of school for a couple months and certainly put an end to my sports career. I was lucky enough to have good grades and got a chance to still go to college.
Q: What has your career path been like?
A: I was a finance/international business major [at the University of Maryland, College Park], so it's obvious I became a college sports administrator, right? During college I worked in D.C., in finance, on Capitol Hill, a bunch of places and, really, none of it really felt right. I was convinced I was going to go to grad school and do something in higher ed like my parents had done.
My senior year, I had a friend who worked in the athletics department. I'd worked for the Washington Wizards when I was in school, and I didn't have the best internship experience. But I started to work for UMCP athletics as a senior and enjoyed it. I met a couple people that were pretty good mentors, and they gave me some professional advice and charted out this path.
Q: What drew you to TU from the University of South Carolina?
A: Towson was a school that, when I was thinking about being a student-athlete, was on my radar. And it never really left the radar. The storytelling, the branding opportunity that exists here, that's something to work with. I'm excited about it.
That, coupled with the trajectory of the university and the more I heard about Dr. Schatzel and her vision and what was going on here—the fastest-growing public institution in Maryland—it's like, "OK, well, this is not a commuter school or a teacher's college" like people used to say.
There are really special things going on here.
Athletics' consistency of success and of who we are—conference affiliation, how we're sponsoring and supporting our sports—maybe hasn't been there. Our athletics history has been one of change. I know the CAA has changed. We just lost a school, but we brought in five. The landscape might continue to shift, but, for a change, it really feels like Tiger Athletics is now in a place of great stability.
I see using our positioning in this conference as a great opportunity to continue building the department, just like Dr. Schatzel has with the academic component of the institution. I think now's a pretty good time to have a sustained run.
Q: What are you most looking forward to for the next competitive year?
A: The student-athletes, for sure. I'm impressed by the reputation that our student-athletes have, from being oriented in the community to doing good work in the classroom. When I got here, spring sports were wrapping up. I missed the chance to engage with them, go to their
practices, go to their workouts, be around them and, obviously, see them compete.
One really neat thing that Towson has right now moving forward is our conference's growth. That's a piece of all this that bodes well for a bright future for our institution. I'm bullish on it. Despite the instability happening in leagues around the country, I think we find ourselves remarkably stable, and there are a lot of schools even at the Power Five level that can't say that.