During my first five years as president, I often pointed to the cranes around campus as a sign of confidence in Towson University's future.
Today, we can all look back at the ribbon cuttings and groundbreakings of the past few months and say that the confidence in TU was indeed well placed as the largest capital investment in the university's history—more than $750 million—is being realized.
This fall, we officially dedicated the Science Complex—our largest academic building on campus at more than 300,000 square feet—and broke ground on the new College of Health Professions building, which will support world-class, interprofessional instruction for our students and the world-class research of our faculty. These two projects combined are a signal to the state as well. Not only is TU a STEM destination for tomorrow's leaders, our university is the largest provider of health care and computer information professionals to Maryland, filling key workforce shortages and propelling our state's economy forward.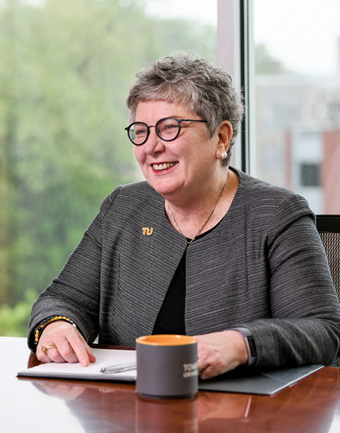 This fall TU opened our new front door to the greater Baltimore business community in downtown Towson. The StarTUp at the Armory, TU's business engagement center, is now open for business and will catalyze business connections, innovation and entrepreneurship on our campus, in our region and across our state. Through this newly modernized 26,000 square feet of space inside the historic armory building in the heart of Baltimore County, executives, entrepreneurs, nonprofits and government agencies will find a front door to connect with faculty on research, students for internships and jobs and staff for specialized programming and training in areas such as cybersecurity, project management and leadership development.
And in the new year, TU will celebrate the completed expansion and renovation of the University Union. Much of the expansion is open now, helping to modernize this central space for student activity from its original scope—built when TU had less than half the students it does today.
But as I often say, what we're building is more than just buildings. These new facilities are playing a significant role at a time in which faculty, research, programming and students continue to push what is possible at TU.
So whether it is cranes or ribbon cuttings, covering the Olympics or philanthropic records, helping retirees or supporting research on other planets, TU's impact is far-reaching and substantial. As we enter this holiday season, there is so much to celebrate at Towson University, and there are indeed even greater things ahead. It is a great time to be a Tiger!
Kim Schatzel
Towson University President