Doc the Tiger
Drawn with pride, "Doc" is the cartoon caricature of TU's mighty mascot.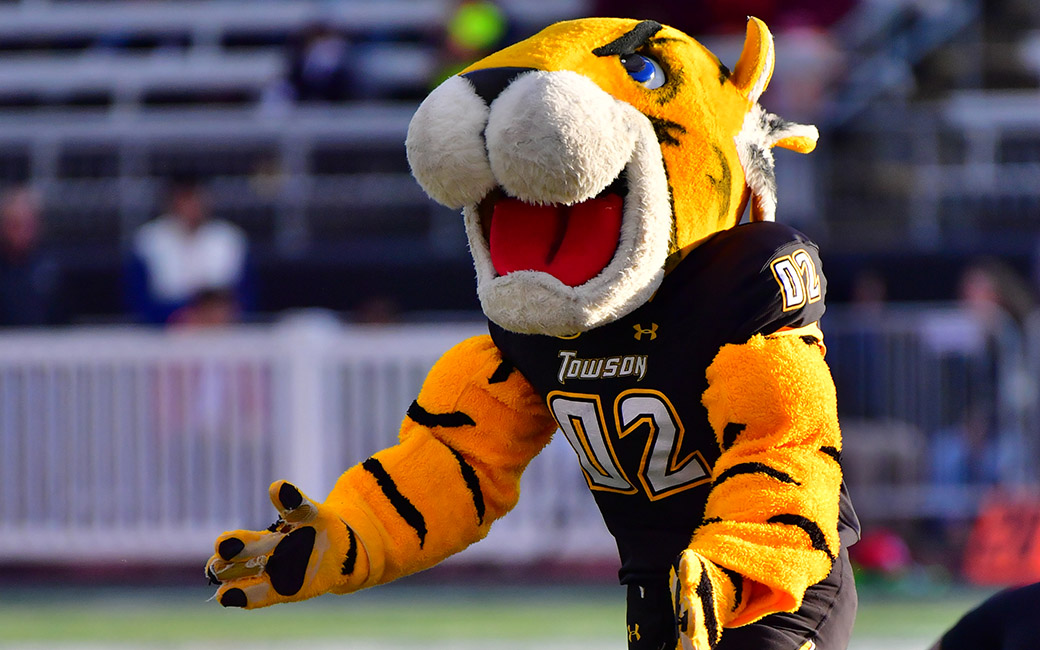 Named in honor of TU's first director of athletics, Donald "Doc" Minnegan, Doc the Tiger is a versatile cartoon used in a variety of student and alumni materials.
Create Your Own
Beyond the athletics brand mark, cartoon Doc can serve as another representative image of Towson University's spirit. When applying Doc, no other Tiger graphics should be used – no other tigers are needed. Doc can and should be used independently from the Tiger Athletics logo. Doc can also do anything, so no other tiger graphics should be used or created. Groups around campus are encouraged to create their own version of Doc, drawing on their Tiger pride.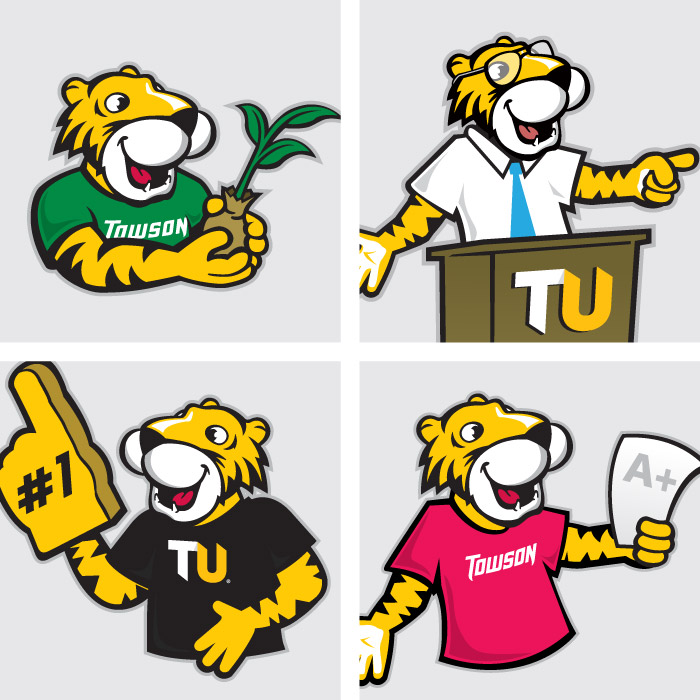 A Few Rules
Doc can be customized to engage in any activity you can imagine (or draw), with just a few important rules to follow:
Doc's face may go any direction, but the expression may not be changed. Doc is always happy.
Always draw Doc in a cartoony style, with bold lines and variable line weight. Doc should have smooth, clean lines, few if any sharp points (except on the stripes), and minimum detail.
Doc is a cartoon animal, and as such, has three fingers and a thumb, no exceptions.
All of Doc's features should be pronounced and rounded — not fat, but slightly exaggerated.
Likewise, any props Doc uses should be oversized and exaggerated.
Doc's colors may not change and there should always be a gray outline. Additionally, keep
Doc's apparel in TU colors whenever possible.
Doc is not like Winnie or Donald — pants or shorts are needed.
Doc may not be shown with weapons or firearms; alcohol; tobacco or nicotine products; or any drugs.
Doc may not engage in any illegal activity, or be associated with racist, sexist or hateful language; profanity; suggestive/sexual acts or language; statements impugning other institutions; or images that are harmful to the mission of TU. Keep Doc positive, just like TU!
Doc represents equality — our tiger is non-denominational, belongs to every race, and should be viewed as gender-neutral.
Doc cartoons are available for use across campus, but all interpretations are subject to approval for quality and content. Please email Creative Services for guidance, review or questions about creating Doc cartoon images.