Stationery
Stationery is an important way TU brings attention to our brand and communicates as an official organization.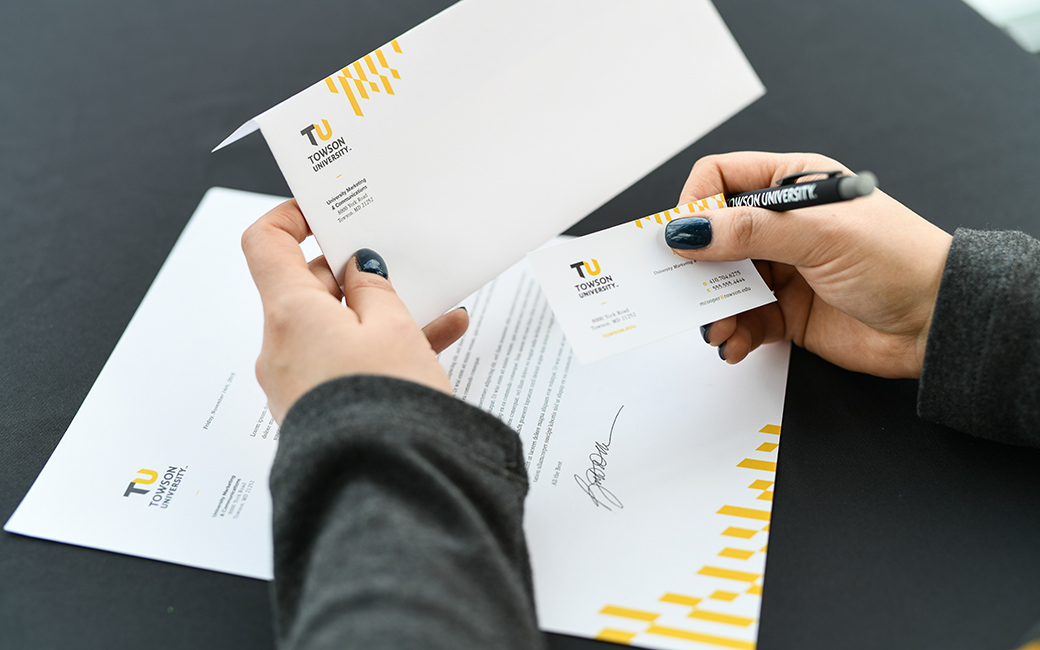 It may be the age of digital, but branded stationery is often the first experience many audiences have with the TU brand. Printing Services offers a variety of stationery items for internal and external audiences across campus and beyond.
What's Available
TU Printing Services can provide a wide range of stationery, from business cards to envelopes, digital and print letterheads, notepads and more. These pieces are pre-designed and pre-approved, and ready whenever you are.
Letterhead
The TU letterhead template has pre-set margins and type styles to make it easy to create letters on pre-printed stationery. Download the word document and the Kandal and Proxima Nova fonts to get started.
For documents that must be emailed, electronic letterhead is available. The standard university stationery design is available in a word doc with all of the graphics embedded in the file.
Templates (login)
Business Cards
When ordering business cards, please note the design allows for only a single department name and a limited amount of information.
Salutations such as Dr., Mr., Ms., etc are not used
Very long titles often need to be abbreviated
Multiple positions in a single department can usually be accommodated, but positions in multiple departments cannot — in this scenario, multiple card orders are required.
In order to maintain the bottom margin, a single card cannot accommodate more than four or five contacts (phone numbers, emails, etc.). The number available is dependent on the length of the department name.
Place an Order
Business cards and other stationery can be ordered online through TU Printing Services. You can upload documents, see a proof of the final product, and receive a price quote.
Don't see what you're looking for, or have a special request? Contact Creative Services.