Guidelines for Student Organizations
Show your TU pride! Student organizations are an important part of the university, and should be recognized as such.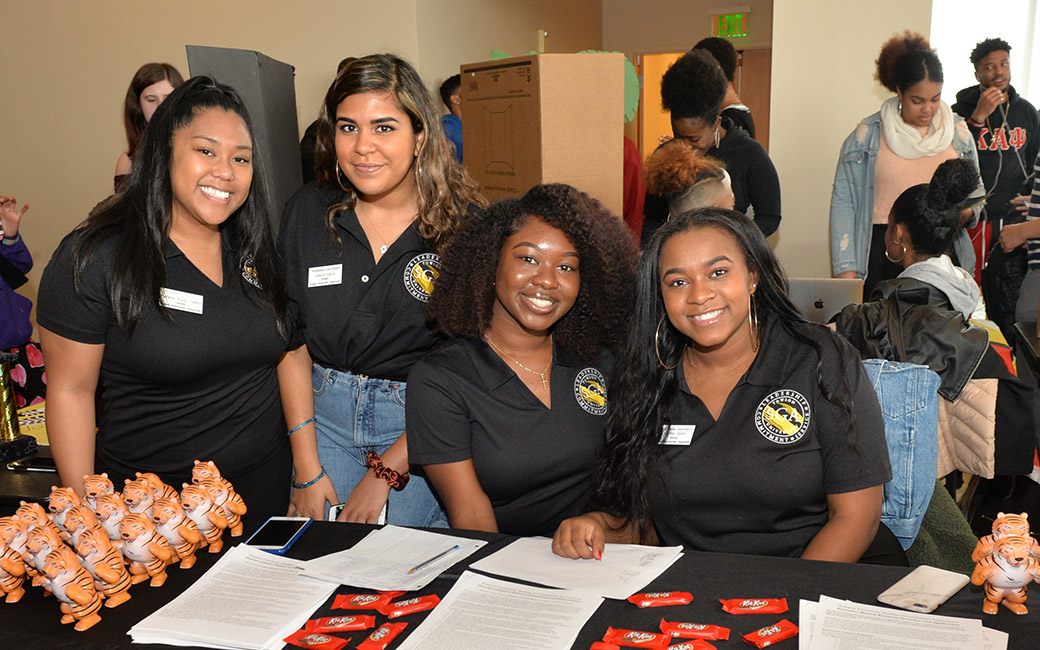 University-funded student organizations are required to use an institutional brand mark on all of their materials. The university brand mark helps identify the group as an officially recognized student group. Groups may use either the horizontal or vertical institutional brand mark.
Using the TU Brand Mark
If a student group has their own logo, use of the university brand mark is in addition to the group's logo.
The university brand mark must always be separate and distinct — it may not be incorporated into a student group's logo.
A student group logo must be separated from the TU mark with a thin line. The TU brand mark should always appear below or to the right of the student group logo.
When space is severely restricted — e.g. printing on a pen or a thumb drive — it is acceptable to include 'Towson UniversityTM' in text only. If you think you may need to go this route, please contact licensing AT_TOWSON with questions.
University trademarks may not be used on anything promoting the use of weapons/firearms, alcohol, tobacco or other drugs, or with messages directly contradicting the TU Code of Student Accountability.
All other university brand mark standards apply.
Tiger (Athletics) Logos
With the exception of sports clubs, student organizations are not permitted to use any athletic (Tiger) brand marks to identify themselves.
Producing Promotional Items
Promotional items with a university trademark must be produced by a licensed vendor. Trademarks include all of the university's brand marks, but also references to the university in text, including 'Towson UniversityTM,' 'TowsonUTM,' 'TUTM,' and 'Towson TigersTM.' Promotional items are giveaways such as pens, notebooks or thumb drives, or apparel such as shirts, hats, jackets or scarves. Print collateral such as brochures, posters or postcards are not considered licensed goods. If you have questions regarding whether or not an item must be reproduced by a licensee, email licensing AT_TOWSON.
The AgoraCX system is used when ordering any university-funded promotional items. AgoraCX gives groups easy access to all of the university's licensed vendors and makes it simple to get multiple competitive prices for producing promotional items. Please note AgoraCX orders may NOT be processed without first contacting Vicki Young, SGA Business Services Specialist at vyoung AT_TOWSON or 410-704-4040.
Self-funded promotional items don't go through AgoraCX, but must still be produced by a licensed vendor. View a list of current licensees.