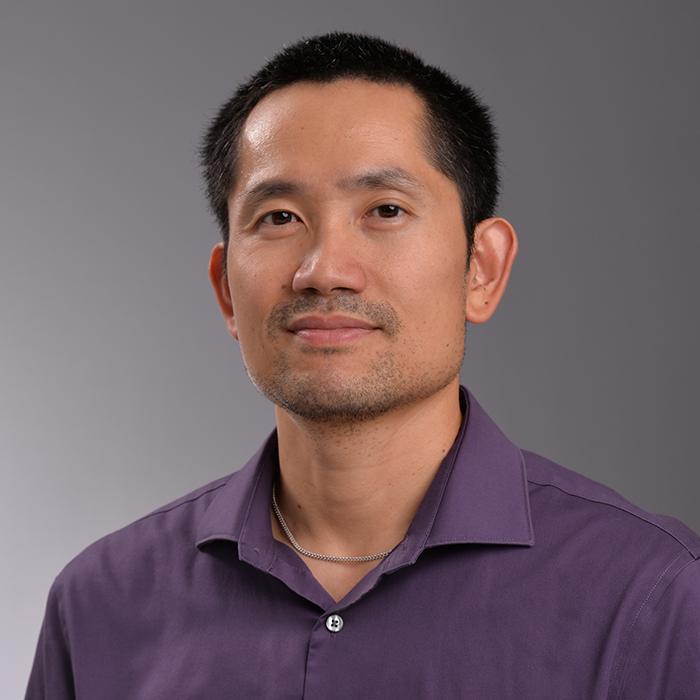 Contact Info
Phone:
Office:
Science Complex, Room 5301 J
Email:
Hours:
Mondays 10:00 am - 12:00 pm
Education
B.S., Material Sciences
Justus-Liebig University, Germany

Ph.D., Chemistry
Kansas State University

Postdoctoral Research Scientist
Columbia University

Areas of Expertise
Experimental Physical Chemistry
Fluorescence Microscopy and Imaging
Polymer Characterization and Physics

The Tran-Ba Lab
Dr. Tran-Ba and his undergraduate researchers study the diffusion dynamics and behaviors of individual flourescent dye molecules and nanoparticles in order to better understand the microscopic properties of complex soft materials (polymer films, polymer solutions and hydrogels) and liquid interfaces.
To learn more about our interdisciplinary research and how to get involved, please visit Dr. Tran-Ba's Google Scholar profile and read more about the ongoing research projects in the Tran-Ba Laboratory at TU.
Select Publications
Foreman, K.; Tran-Ba, K.-H. Single-Particle Tracking in Poly(Ethylene Glycol) Diacrylate: Probe Size Effect on the Diffusion Behaviors of Nanoparticles in Unentangled Polymer Solutions. J. Phys. Chem. B 2023, 127, 7091 – 7102.
Tran-Ba, K.-H., Foreman, K. Single-Molecule Tracking of Dye Diffusion in Synthetic Polymers: A Tutorial Review. J. Appl. Phys. 2023, 133, 101101. (Invited Review)
Tran-Ba, K.-H.; Willis, R. E; Foreman, K.; Ajmani, K.; Gujarati, P. Single-Molecule Tracking in Poly(Ethylene Oxide) Films: Revealing the Effects of Molecular Weight, Network Plasticization and Thermal Annealing on Anionic Dye Diffusion. J. Phys. Chem. B. 2021, 125, 382 – 392.
Honors, Awards, & Grants
Seventeenth Jess & Mildred Fisher Endowed Chair in the Biological and Physical Sciences Award (2022 - 2025)
American Chemical Society - Petroleum Research Fund Grant (2022 - 2024)
Faculty Development & Research Committee Grant (2019 - 2020)
Towson Academy of Scholars Award (2019)
Courses Taught
CHEM 132L: General Chemistry II Laboratory
CHEM 345: Principles of Physical Chemistry
CHEM 346: Theoretical Foundations of Physical Chemistry
CHEM 372: Physical Chemistry Laboratory