Why write an honors thesis?
TU students go above and beyond to combine passions and education.
College students have more on their plates than ever before: going to class, doing the reading, studying for and taking exams, most also hold jobs and/or internships, maintain ties to friends and family, and try to squeeze in downtime.
What could possibly induce them to add writing an optional honors thesis to the mix?
Each academic year around 60 students do just that, whether they belong to the Honors College or aim for departmental honors. Students in the Honors College have nine options to fulfill their honors electives; most are significantly easier than undertaking a thesis.
"It combines my two passions"
Kaushal Desai '15, a dual major in history and biology, examined the rise of surgery as a profession starting from before the High Middle Ages. The Jess and Mildred Fisher College of Science and Mathematics/College of Liberal Arts student argues that wars during that time enabled surgeons and their field as a whole "to grow, evolve and establish their place in society.
"I chose my topic because it combines my two passions: medicine and history," Desai said. "As a history major who is pre-med, I often find it hard to bring my two fields of interest together. Writing a thesis seemed like the perfect way for me to do what my courses could never do. Plus, the history of medicine has always been an interest of mine, and so writing a thesis on it seemed the best way for me to learn about it."
Taylor Paskoff '15, a dual major in chemistry and anthropology from St. Louis, Missouri, has a different set of challenges than most in the Honors College. One of 41 student-athletes in the Honors College, she is a member of TU's championship swimming and diving team. After race-related violence erupted in Ferguson – near her hometown – she changed her topic to the history of race relations in St. Louis and the culmination of racial tensions over several hundred years.
"It was a really stressful time for those in the city, and I really wanted to look at it from the inside," Paskoff said. "Media representation was not accurate and really sensationalized the issue. I wanted to go into it from a native St. Louisan's point of view. I talked with people I grew up with and attended a class about the subject at Washington University in St. Louis. I just wanted to get it out there from the inside."
Teachable moments
Along with taking Honors College classes, practices and meets, writing a thesis and working a part-time job, Paskoff's schedule is packed.
Her day starts with a 6 a.m. practice, and usually ends around 9 p.m. after class and her tutoring work. And while most would consider this crazy, she admits this schedule helps her with her academics and athletics.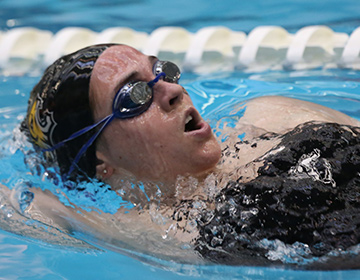 "I wouldn't have changed anything in my college career," Paskoff laughed after hearing her schedule out loud. "It's this type of discipline that kept me on track and able to pursue both degrees, do all that work and hold down two part-time jobs. Swimming kept me busy of course, but it also kept me motivated to finish."
Desai stressed patience as key to the thesis process. He managed to keep his sense of humor throughout the term.
When asked what he learned from researching and writing his thesis, he responded, "I learned that my coffee tolerance is incredibly high. More important, I learned that it is extremely important to be patient when doing research for something like this. There have many times when I would search for something specific and finding nothing I could actually use. However, I would then take a step back and widen my search parameters and find something incredibly useful. So this taught me to make sure I check for all variations of a search item."
Return on investment


"The learning process for this will certainly benefit me in the future because it has taught me about critical and analytical thinking, as well as patience and focus," he concluded. "I also think just having the experience of writing a thesis under my belt will benefit me in the future because it is something not many undergraduates have. It will provide a good basis for future research and work."
Paskoff said, "Just knowing I accomplished and finished something like a thesis so early, I think that I'll carry that with me for a long time. There is nothing more rewarding than doing what you love and studying what you want."