TU alum Jeremy Wolff '10 goes from starving artist to social media success
TU alumnus Jeremy Wolff '10 has found success as a pop artist since quitting his corporate job three years ago.
By Megan Bradshaw on July 25, 2017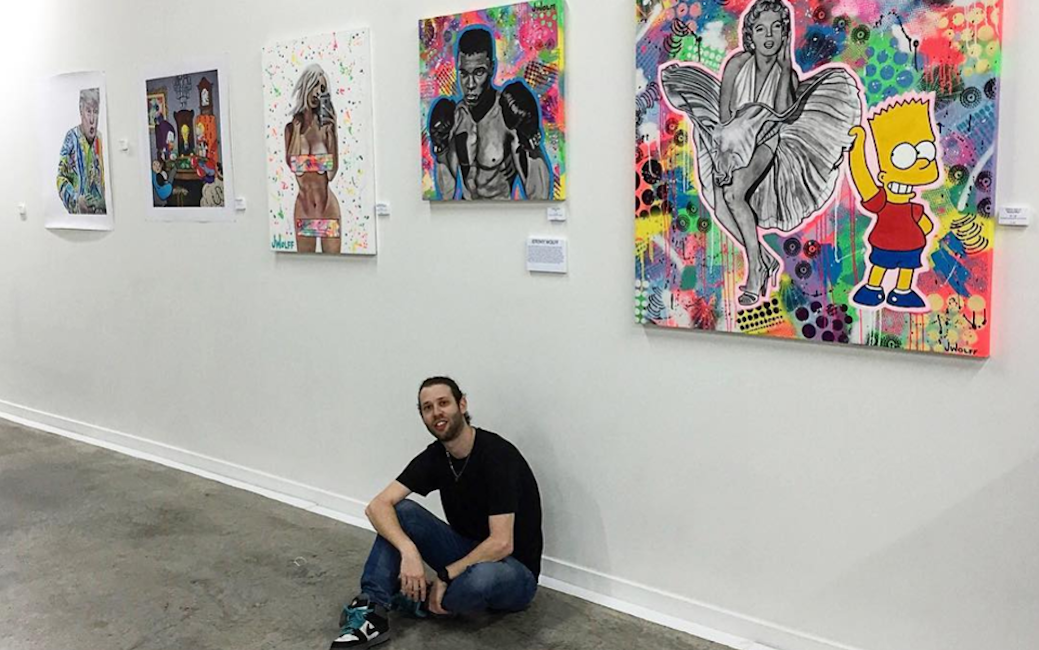 In the fall of 2014, Towson University College of Fine Arts and Communication alumnus Jeremy Wolff '10 quit his job at a pharmaceutical company and took the leap to full-time artist.
Inspired by street art being sold for hundreds of dollars during a trip to Israel, Wolff came home and began building his network and receiving commissions.
He mixes traditional oil painting portraits with spray paint background and drip-style painting to create a modern look with a street/pop art feel. Frequent subjects are athletes, cartoons, and pop culture figures like Kim Kardashian.
One of his early successes came selling art prints of Derek Jeter outside Yankee Stadium during Jeter's last home game. He earned $1,200 cash and a dozen commissions. He has built a strong presence on Instagram with over 17,000 followers.
"As a visual artist this was my obvious choice in terms of which outlet I focused most on. I told myself that I am not only an artist, but I must become an expert in social media as well. I consider Instagram half my job," he told Forbes.com.
His portfolio has grown to include a show at Art Basel Miami last year, where he will return this December and paint a 2017 Lamborghini in partnership with Imagine Lifestyles. He recently finished a collaboration with Tommy Hilfiger and has a project lined up with the Empire State Building. He also has a series called the Cartoon Money Team with Forbes.com.
"But, I think the best experiences are when I get to see people admiring my work. Putting smiles on faces from a painting is so powerful. Being able to inspire other people to chase their dream. Being able to spread a message through imagery that I created. It's just a special feeling and one that is hard to describe."
Read the profile in Klassik Magazine