TU grads grab STEM teacher honors
By Megan Bradshaw on March 14, 2017
Alison Baranowski won the Rising Star award from the Northeast Maryland Technology Council, while Paul Lee won a Teacher of the Year award from the Physics Teacher Education Coalition.
Alison Baranowski '16 (integrated STEM instructional leadership (preK-6) post-baccalaureate program) and Paul Lee '11 (physics) both graduates of Towson University, received recognition for their excellence in the field of STEM education.
Lee is one of the first ever winners of the Physics Teacher Education Coalition (PhysTEC) Teacher of the Year Award.

"Paul immediately stood out due to his high intellect and passion for teaching," said Ron Hermann, associate professor of science education. "He truly enjoys teaching and his enthusiasm was clearly demonstrated in TU classes and during his student teaching experience where his smile was ever-present and contagious.
"As a student, Paul developed creative physics lessons to share with his peers and clearly had fun doing so. He has adopted a reform-based pedagogy in his classroom and challenges students to do the work of scientists, not merely learn about the work of scientists. He has implemented standards-based grading and flipped classroom practices at Reservoir High School in Howard County."
Lee has also presented at science education conferences like the Maryland Association for Science Teachers and continues to seek out innovative and engaging practices for teaching physics. Paul is currently completing a Master's of Education at the University of Maryland, Baltimore County.
PhysTEC honors teachers who bring their love of physics to a new generation, encouraging higher enrollments, supporting extracurricular activities, and actively participating in both the physics and physics education communities. PhysTEC recognizes up to one local Teacher of the Year from each coalition member and a single national Teacher of the Year.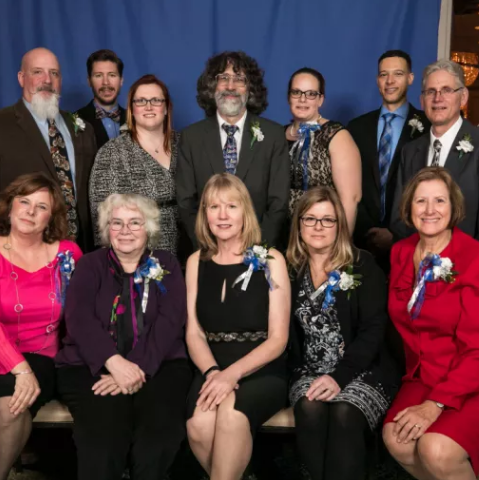 Baranowski completed her PBC in integrated STEM instructional leadership (preK-6) in 2016. She has worked in Harford County Public Schools for 11 years and currently teaches at Havre de Grace Elementary School. She was part of TU's first cohort in her post-baccalaureate program and served as a pilot tester in the early stages of a Towson University project to bring engineering into the elementary school curriculum in her county.
"She is an engaging educator who holds high expectations for her students and cares for them deeply," said Pamela S. Lottero-Perdue, the director of the iSTEM instructional leadership PBC program.
Baranowski serves on a nationwide committee with me for the American Society for Engineering Education and is writing an article for their magazine, Prism. She is also the teacher-in-charge at her school, serves as the grade-level chairperson and has presented at several county-wide conferences. She is also a mentor teacher for interns and coordinates her school's STEM Night.
"There are so many great things that can be said about Alison Baranowski. However, what comes to mind is her love and dedication to the students at Havre de Grace Elementary School. Alison is committed to see that all students achieve at high levels in the content area," said Ron Wooden, principal of Havre de Grace Elementary School.
Fellow PBC graduates Jan Stewart and Kelly Magnum have also received awards from the NMTC. Stewart earned the rising star award in 2016, while Magnum received the mentor award the same year.