National Science Foundation grant facilitates 'groundbreaking' research at TU
Grant money will help fund student, faculty research in urban stream geology
By Cody Boteler on September 23, 2020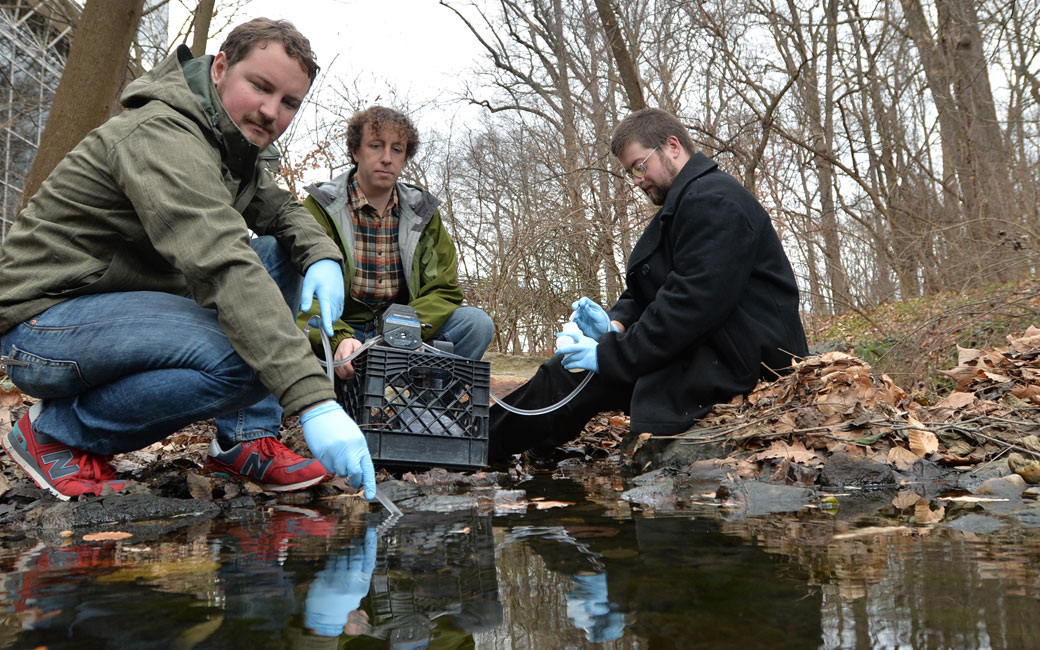 Towson University's Joel Moore has received a grant totaling more than $400,000 from the National Science Foundation (NSF) to participate in a nationwide study of the Earth's critical zone, connected to a $4.75 million multi-institutional research project that is among the first to study the critical zone in urban settings.
The associate professor of geosciences will receive about $420,000 over five years, which will allow him to hire two graduate assistants and one undergraduate student per year of work, Moore says, creating a new opportunity for paid undergraduate and graduate research at TU.
Researching the critical zone—defined as all the space between bedrock and treetops—aims to help planners and others understand how to best manage urban waterways. The NSF has made it a mission to understand the critical zone and how rock, soil, water, air and living organisms interact and regulate the natural habitat.
Some students participating in this project will look at stream chemistry to detect the signals of anthropogenic inputs like road salt, sewage and fertilizer to understand how above-ground urban processes and below-ground geological processes interact to affect the quality of groundwater and urban streams.
Find out more about undergraduate research at TU.
Others will focus on measuring the chemistry of soils and bedrock beneath these watersheds to understand how the geological framework developed over millennia controls the movement of water and pollutants into groundwater and, ultimately, streams.
"We're hoping to get a—literally—deeper understanding of how the critical zone works in urban systems," Moore says.
David Vanko, dean of the Jess & Mildred Fisher College of Science & Mathematics, is pleased to see TU faculty and students involved in this significant research project.
"Understanding the earth's critical zone, as the name implies, is tremendously important for conserving our water and food resources," says Vanko. "This grant provides fantastic, unparalleled opportunities for TU students to contribute their energy and passion to a truly meaningful research objective."
The work will be part of the NSF's Critical Zone Collaborative Network, a nationwide effort with nine different but often overlapping research areas. Research done at Towson University is part of a collaborative effort that makes an urban critical zone cluster along the East Coast, from Raleigh, North Carolina, to Philadelphia and containing Baltimore and Washington, D.C.
Some of the seven universities in the urban critical zone cluster along with TU include UMBC and the University of Maryland, College Park.
Locally, Moore and others will conduct much of their research at Dead Run, in the western part of Baltimore City and Baltimore County.
He also says the upcoming research will greatly benefit from new instrumentation in the Urban Environmental Biogeochemistry Laboratory, an interdisciplinary and interdepartmental facility in the Fisher College of Science & Mathematics, and other modern research facilities in the new Science Complex.
"What we come to understand over the next few years can help managers of urban watersheds, help them understand the processes that are occurring, so they can design a [stream] restoration or remediation effort more intelligently," Moore says.
This story is one of several related to President Kim Schatzel's priorities for Towson University: TU Matters to Maryland.