TU moves instruction to remote modality for fall term
An update from TU on course modality.
August 26, 2020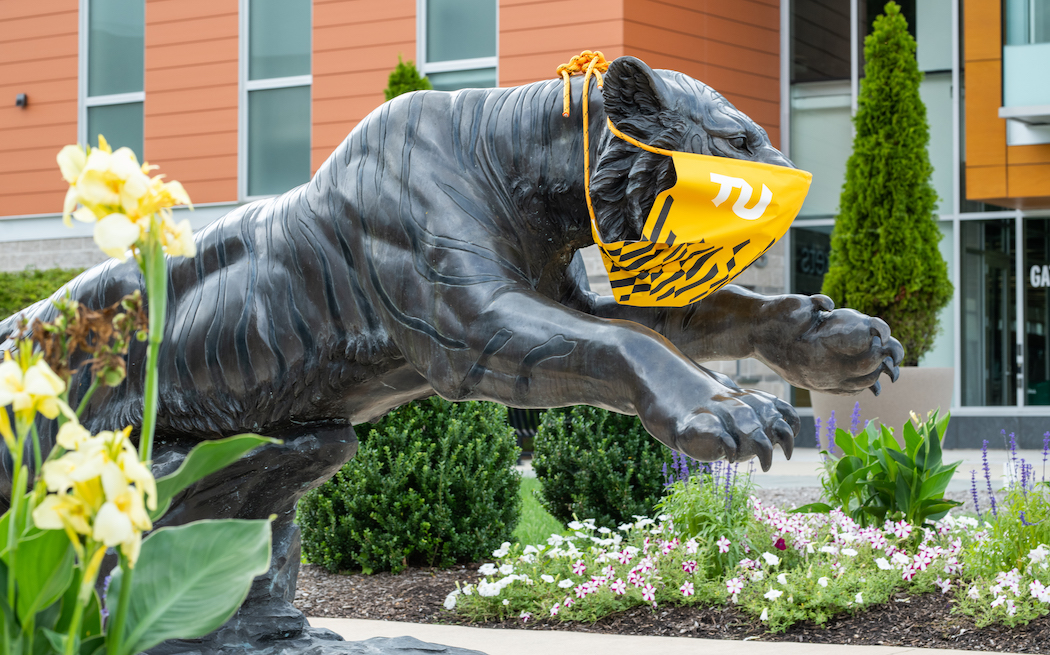 Towson University President Kim Schatzel announced Wednesday that instruction will move to a remote modality for the remainder of the fall term.
In a letter to the campus community, President Schatzel said, "As president of Towson University, my greatest priority and responsibility is to protect the health and safety of our students, faculty and staff. The events of the last few days are a reminder of the unpredictable nature of the virus."
TU announced on Saturday, Aug. 16, a temporary modality change in advance of the Aug. 24 start of the fall 2020 term after an increase in positive COVID-19 PCR tests conducted on campus. None of the individuals who tested positive are on campus, a credit to the effectiveness of the baseline testing protocol.
About 85% of classes were already using the remote instruction modality as the term began. Course delivery was slated to move to fully remote after Thanksgiving for all instruction. That schedule has now been accelerated.
The shift in course delivery and the ensuing move of many residential students off-campus are combined in an effort to lower density of individuals on campus.
Read President Schatzel's message to the community and FAQs following this decision.
Previous updates
August 23
Effective immediately, Towson University is moving all classes to remote learning for the first week of the fall semester due to an increase in positive COVID-19 results from one PCR testing sample conducted by the University Health Center this past week.
A sample of 627 tests conducted on campus between Wednesday, Aug. 19 and Thursday, Aug. 20 as part of TU's mandatory baseline testing initiative returned a total of 55 positive results on Saturday, Aug. 22. Individuals with positive test results are being contacted by phone, per established protocol and contact tracing is underway in coordination with Baltimore County.
In accordance with the University System of Maryland requirement, TU requires a negative test for all students, faculty, staff and contract workers prior to coming to campus before the start of the fall semester in an effort to create a safe learning environment.
None of the 55 individuals who tested positive are on campus. TU's positivity rate, including the 55 positive cases reported Saturday, is 1.63% for the most recent two weeks. The most recent Baltimore County positivity rate is 3.5%.

All TU classes, which were to resume for fall semester on Monday, August 24, will now be conducted in a remote modality through Sunday, Aug. 30.
In alignment with remote learning, Burdick Hall will be closed and all in-person activities on campus are canceled from Aug. 23 to Aug. 30. Move-in for residential students is temporarily suspended beginning Monday, Aug. 24. No visitors will be allowed on campus during this time.
All non-essential faculty and staff should continue to work remotely during this time.
The temporary move to fully remote learning is critical for the continued health and safety of our community, which remains TU's top priority. These actions are being taken out of caution and concern for all students, faculty and staff.

As previously scheduled, the university's COVID-19 test center will remain open for testing on Sunday, Aug. 23 and throughout the coming week.

Students who have already moved into on-campus residential facilities will receive specific guidance for this phase from the Office of Housing and Residence Life.

The university will continue to abide by all local, state and federal guidelines. We ask for your continued support and adherence to the protocols put in place to minimize the potential for the virus to come on campus. Please remember to wear your mask at all times when on campus, practice safe physical distancing of six feet or more, avoid large gatherings of people and wash your hands often.