Embracing scholarship and entrepreneurship with style
How Tayler Person '22 uses resources on and off campus to balance being a student and business owner
By Rebecca Kirkman on February 6, 2020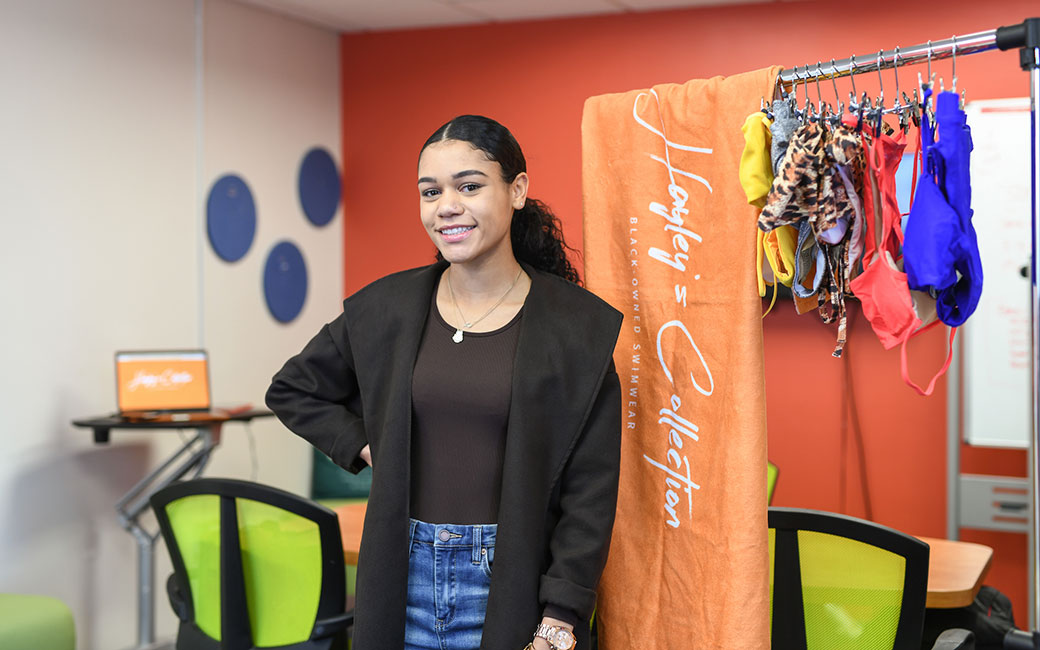 Tayler Person '22 is driven to succeed. The sophomore mass communication major and Honors College student has started her own business, launched a charity drive, serves as a SAGE mentor and with the Campus Activities Board, and holds an internship at NASA's Goddard Space Flight Center.
How does she do it all?
"Sometimes I really don't know how I do it," she says. "By just jumping into doing it, I give myself no choice but to succeed."
Person says support—from her family and friends and through services on campus—helps her achieve her goals. "It's just really important to have people in your corner that you know have your best interest at heart."
Her parents fostered entrepreneurship in her from an early age, Person says.
"They always made me really independent and supported me in whatever I choose to do."
That confidence led her to start her first business, Hayley's Collection, a swimwear line named in honor of her cousin, who lives with the rare genetic disorder Trisomy 18.
"I picked swimwear because I feel like it can be a hard thing for black women to find, especially pieces that fit or are made for black women," she explains. "I started with three words in mind: beautiful, strong, determined. I always wanted those to be the crux of my business. I feel like that goes along with my brand as a person, and it also describes my cousin."
Launched in July 2019, Hayley's Collection became a reality with support from the Student Launch Pad, part of the Center for Entrepreneurship and Innovation (CIE) at TU.
Located on the fourth floor of Cook Library, the Launch Pad is a creative space where students can develop ideas and business plans with the help of fellow students and entrepreneur mentors.
Read more: Meet the Student Launch Pad Manager
Participating in the Business Model Competition inspired Person to solidify her vision with a business plan and practice sharing that vision with others. "They have helped me each step of the way," Person says of CIE. "They had workshops that helped me flush out my ideas. That was really useful."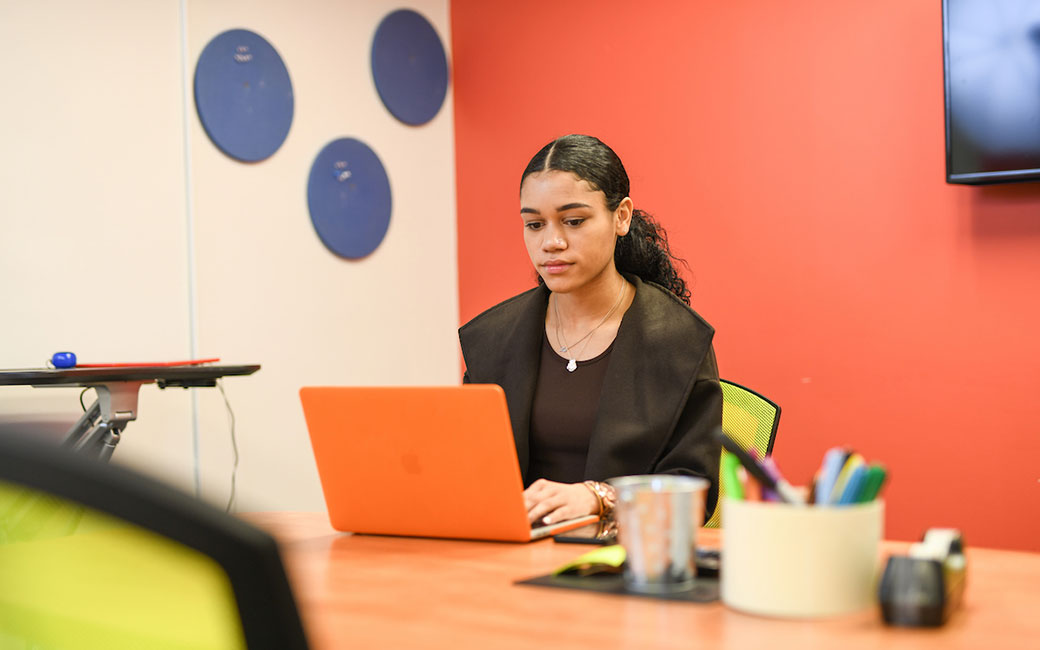 It was attending the Forbes Under 30 Summit in Detroit last fall, however, that inspired her to push to the next level.
Person first discovered the conference while scrolling through Instagram on her lunch break as an outreach strategy intern at NASA's Goddard Space Flight Center. She came across a photo of someone attending the Forbes summit, and reached out to ask them for more information and how to apply.
"I just told my story and tried to be as transparent as possible, and they picked me," says Person of her selection for the Under 30 Scholar Program, which covers expenses for select college students to attend the summit each year.
On the retail business track, Person was exposed to speakers on topics like business, investing, professionalism, and networking. Keynotes included notable personalities like Serena Williams, Kevin Durant, and the rapper Quavo.
"The biggest thing I gained from the experience was to think bigger," Person says. "I never really thought about scaling my business before I went, and now that's the goal. Being in rooms with people who have done what you want to accomplish can change your thinking completely. It was definitely a life-changing experience."
Sharing her business idea with other young professionals inspired her to pursue offering plus-size swimwear in future lines, too.
In January, the Prince George's County, Maryland, native launched Suits for Survivors, a campaign to collect business wear that will be donated to survivors of domestic violence at the House of Ruth in Baltimore.
"I have always had an interest in helping survivors of domestic violence and I was trying to think of something that is overlooked, and so I came up with suits and business attire," she explains. Clothing can be donated via bins at the Towson University Administration Building first floor lobby and at Bishop McNamara High School in Forestville, Maryland, through the end of February.
on
Person says attending Towson University has allowed her to embrace her many passions and become a better leader and entrepreneur. "I just had this feeling that I was supposed to be at Towson," she says.
After graduation, Person plans to launch a brand agency and get into real estate investment.
For now, though, she's busy building her entrepreneurship experience and planning for the next season of Hayley's Collection swimwear.