Partnering through a pandemic
Annual BTU Partnership Awards celebrate community partnerships benefitting the public good
By Arthur Smith & Mikey Mullen on November 11, 2021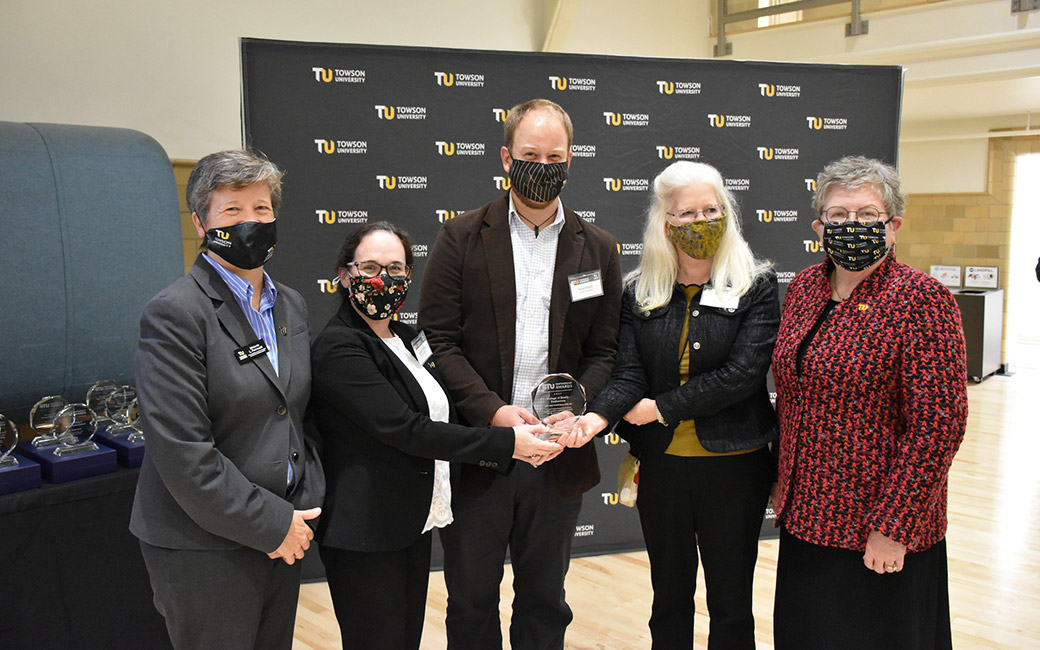 When the COVID-19 pandemic hit in March 2020, Towson University's work with nearly 300 partners across the region through BTU—Partnerships for Greater Baltimore didn't stop. Instead, the partnerships pivoted, endured challenges and, in some cases, formed because of the pandemic.
On Nov. 8, TU celebrated four partnerships making a big impact by addressing the needs of TU students and community partners during this time.
"Tonight is about celebrating all this work and what it can accomplish and—specifically this year—what they can accomplish despite a worldwide pandemic," said Matthew Durington, director of community engagement and partnerships, during the ceremony. "The partnerships being celebrated tonight contribute greatly to the success and future pathways of our students while also creating long-lasting impacts on the partner organizations."
This year's awardees include:
Towson University President Kim Schatzel established BTU in 2016 to enhance and strengthen TU's community partnerships throughout greater Baltimore.
BTU staff in the Office of Partnerships and Outreach act as a community hub, working alongside and supporting faculty, staff and students as they expand organizational capacities, transform lives, create connections and address complex issues.
"It is absolutely wonderful to be celebrating here with you tonight and to be looking at your faces rather than a screen," Schatzel said, adding that the event was also an opportunity for TU to thank "all our community partners, faculty, staff and students, as we work together to create opportunities and foster connections that benefit the public good that will last well beyond COVID-19."
Learn more about how the award-winning partnerships tackled this challenge in the 2021 BTU Partnership Awards videos below.
College of Health Professions
TU Lead: Lisa Ann Plowfield, Ph.D, RN
This award celebrates the breadth of work that continues to take place between faculty, staff and students in the College of Health Professions and community partners to address needs related to the COVID-19 pandemic.
COE TUtors
TU Lead: Tyasia Velines
Community Partner: Woodbridge Elementary School
Through the COE TUtors program, TU pre-service teacher candidates are paired with underrepresented P–12 learners to provide free, online tutoring and combat issues related to school closures and virtual learning due to the COVID-19 pandemic. This partnership provided opportunities for experiential activities that were no longer available, at least not in the ways they had been conducted in the past.
New Song Academy and Towson University Art Education Partnership
TU Leads: Kay Broadwater, Ph.D., and art education faculty
Community Partner: New Song Academy
Founded in 1994, this partnership provides at-risk youth opportunities to explore the arts in a teaching and learning collaboration alongside Towson University art education students on TU's campus and at New Song Academy in west Baltimore. Despite the learning limitations during the pandemic, the partnership found ways to meet the needs of the two sets of students through online teaching, workshops and by creating and delivering thousands of art packets to Baltimore City students.
Grantwriting in Valued Environments (G.I.V.E.)
TU Leads: Zosha Stuckey, Ph.D. and Carrie Grant, Ph.D.
Community Partners: Family Survivor Network, Friends of Patapsco Valley State Park, Black Girls Cook, Franklin Square Elementary School & St. Luke's Youth Center and Safe Alternative Foundation for Education
Grantwriting in Valued Environments (G.I.V.E.) is a BTU signature partnership in the English department that advances students' professional writing goals. G.I.V.E. connects TU students with small, grass-root, under-resourced organizations, generating key experiential opportunities in the field of grant writing as well as employment pipeline opportunities with these organizations. During the pandemic, the needs of nonprofits expanded exponentially but resources didn't. G.I.V.E. helped the organizations sustain and grow their work through these impossible times.