TU honored with HEED Award for second year
Award recognizes TU's achievement, commitment to broadening diversity & inclusion
By Cody Boteler on September 16, 2021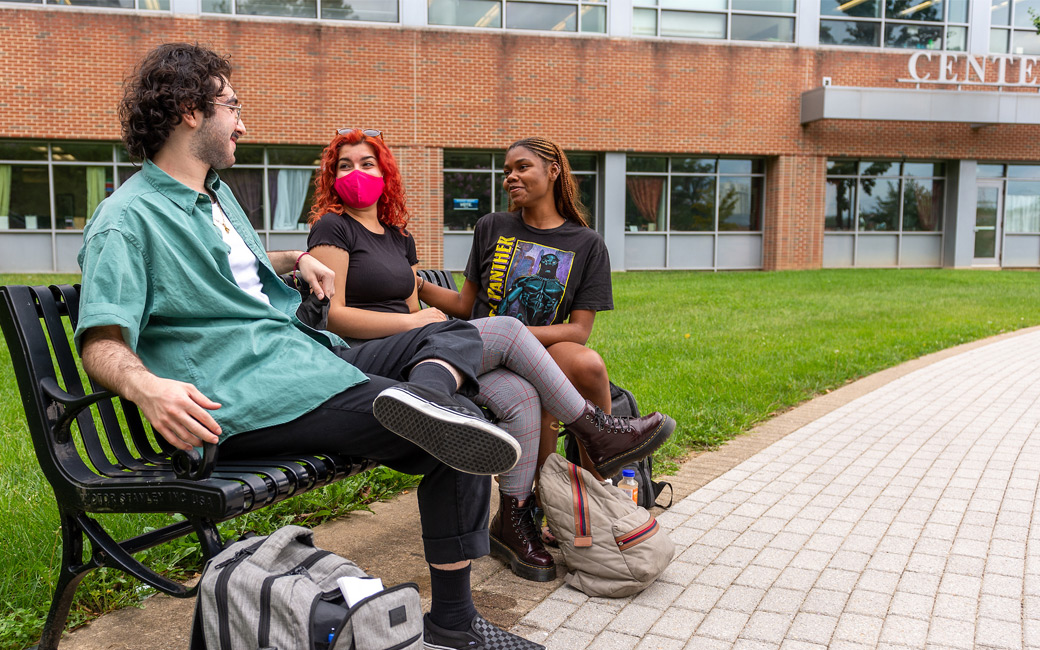 For the second year in a row, Towson University is being recognized by Insight into Diversity magazine with a Higher Education Excellence in Diversity (HEED) Award.
"Towson University is a national leader in inclusive student success and the diversity of our campus community continues to reflect that of Maryland," President Kim Schatzel says. "This second consecutive recognition through HEED comes as our incoming class is the most diverse and academically prepared on record, furthering the inclusive excellence that has become a hallmark of TU's nationally ranked academics and student life."
TU is one of only two universities in Maryland to be recognized and one of 101 honorees across the country. It is the only national award for recognizing U.S. colleges and universities for demonstrating "an outstanding commitment to diversity and inclusion across their campuses," according to the magazine.
"A major part of TU's commitment to excellence is our commitment to fostering a welcoming and inclusive community where every person can thrive and experience success," says Vernon Hurte, vice president for student affairs. "This recognition serves as a reminder that these efforts continue to strengthen our community and should energize our continued work ahead."
Tricia Bradley, interim vice president in the Office of Inclusion & Institutional Equity (OIIE), says receiving the award two years in a row is a testament to the university's hard work and dedication.
"When we were informed of our award this year, we also learned that not only do the criteria get stricter each year, but also that TU's score increased over last year," says Bradley. "I am proud of the work that my team does on a daily basis providing education, guidance and support across campus."
The HEED Award is open to all colleges and universities across the U.S. and Canada and measures an institution's level of achievement and intensity of commitment in regard to broadening diversity and inclusion on campus through initiatives; programs and outreach; student recruitment, retention and completion; and hiring practices.
Applications cover all aspects of campus diversity and inclusion. One of the goals of the process is to help institutions assess their diversity efforts to build on their success and improve where necessary.
"Each year we have the opportunity, through data and stories, to demonstrate TU's commitment to ensuring that every member of our community feels a deep sense of belonging. We have so many great examples each year, and it's such a wonderful challenge to make sure we highlight all of them," says Brian Jara, assistant director of diversity training & educational initiatives in OIIE. "With the launch last year of TU's inaugural diversity strategic plan, we have a clear roadmap of where we're headed and how to get there."
There are three initiatives Bradley and Jara highlighted when talking about this year's application:
Student Success Programs, Division of Student Affairs
Many of TU's innovative retention initiatives are housed in the Student Success Programs office. The SAGE program connects more than 500 students from underrepresented and underserved populations with peer mentors and weekly workshops. The Generation One program provides first-generation students with tailored mentoring and guidance to foster academic and personal accomplishment. Man 2 Man is an outreach and support program that provides more intentional connections among male-identified staff, faculty and students of color to prioritize support, self-reflection and community.
Inclusion Advocates, Office of the Provost / OIIE
The Inclusion Advocates (IA) program at TU is a partnership between the Office of the Provost and OIIE to enhance equity, validity, diversity and representation in faculty hiring. IAs are tenured faculty who complete specialized training for each stage of the search and hiring process. IAs are matched with faculty search committees to de-bias the search and selection process.
Total Tiger Program, TU Athletics
The Total Tiger program in the athletics department takes a 360-degree view of the development of student-athletes through education, advocacy, mentoring and service. In 2020 a number of new initiatives focused specifically on social justice, equity and access: TU Athletes Vote provided non-partisan education on voting, voting rights and civic participation; TU Athletes for Inclusion, Diversity and Equity created a platform to seek sustainable change in addressing social injustice; and the MVP to CEO program was developed to assist women student-athletes interested in coaching and officiating.