TU No. 58 among national universities in 'Washington Monthly' ranking
University is second-highest ranking institution in Maryland, earns high marks for value, social mobility, student voting
By Rebecca Kirkman on August 30, 2021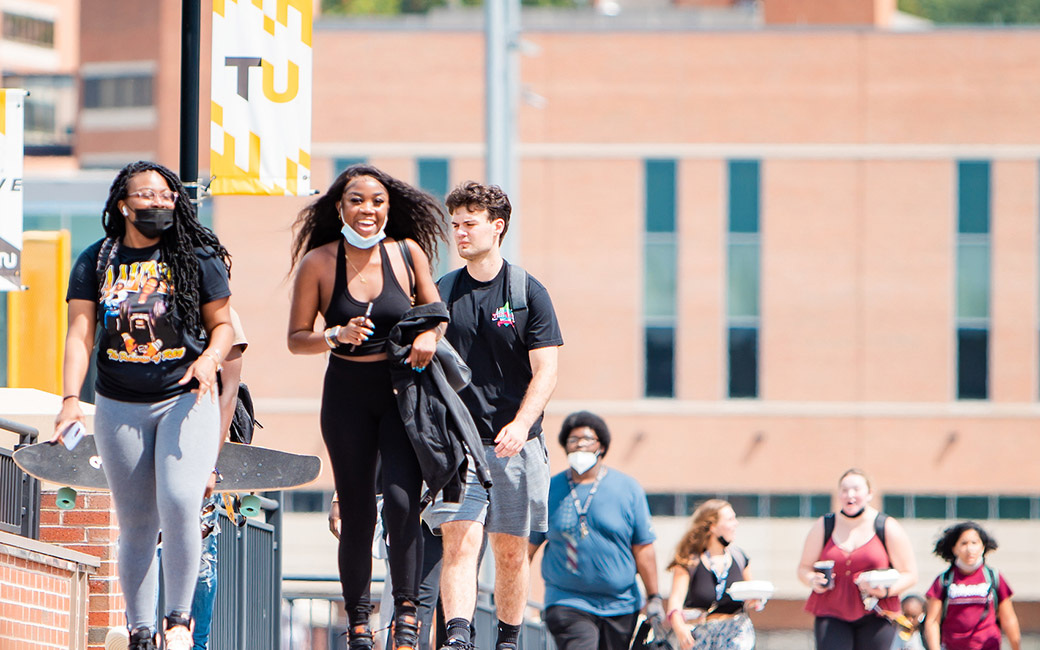 Towson University ranked 58th among 391 national universities in the 2021 College Guide and Rankings published by Washington Monthly in late August.
TU is joined in the top-tier of the national list by two other Maryland institutions — Johns Hopkins University at No. 7 and University of Maryland, College Park at No. 65. Among public universities on the list, TU is in the top 35.
"Towson University continues to be recognized as a national leader in inclusive excellence and as an institution that is deeply committed to the success of all of its students," says President Kim Schatzel. "TU fosters real-world opportunities through access to world-class faculty, research opportunities and community engagement initiatives. This fall, we're excited to welcome our students back to a rich and vibrant fall term complete with on-campus learning, living and working."
To create the rankings, the publication analyzed data from 1,466 public, private nonprofit and for-profit institutions across the country in three equally weighted sections: social mobility, research, and community and national service. Washington Monthly considers military, public and community service as well as graduation rates and future earnings of low-income students in its scoring.
The accolades don't stop there. In the sub-category of social mobility, TU is 35th overall and is the only Maryland institution in the top 50. The university also ranked 10th among national universities in graduation rate performance, which includes the percentage of students who graduate in eight years.
When it comes to affordability, TU also gets high marks. The university ranked No. 30 in the Northeast region on the publication's "2021 Best Bang for the Buck" list—the highest-ranking university in Maryland.
In a testament to work led by the Office of Civic Engagement & Social Responsibility, TU also made the publication's roundup of America's Best Colleges for Student Voting, where it is one of 16 institutions nationwide with a student voter registration rate above 85%.
"The Monthly rates institutions of higher learning on the degree to which they recruit and graduate students of modest means, produce the scholarship and scholars that drive economic growth and human flourishing, and encourage students to be active citizens and serve their country," says the publication in a release.
This fall, Towson University is welcoming its most diverse first-year student class in its 155-year history. Of the 2,610 first-time students, 58.5% identify as a racial or ethnic minority and 22% of first-time students identify as first generation.
TU continues to be a national leader in inclusive excellence. The minority student population maintains the same graduation rate as the entire student body (71%). This number includes TU's African American student graduation rate (73% compared to the national average of 45%) and the Latinx student graduation rate (69% compared to the national average of 57%).
Other Maryland institutions on the publication's national university ranking include Johns Hopkins University (7), University of Maryland, College Park (65), UMBC (150), Morgan State University (297) and University of Maryland, Eastern Shore (362).
TU has been ranked in the top 100 nationally by a number of publications recently.