TU one of only 80 to earn national designation in economic engagement
APLU commission recognizes TU's impact, innovation and economic engagement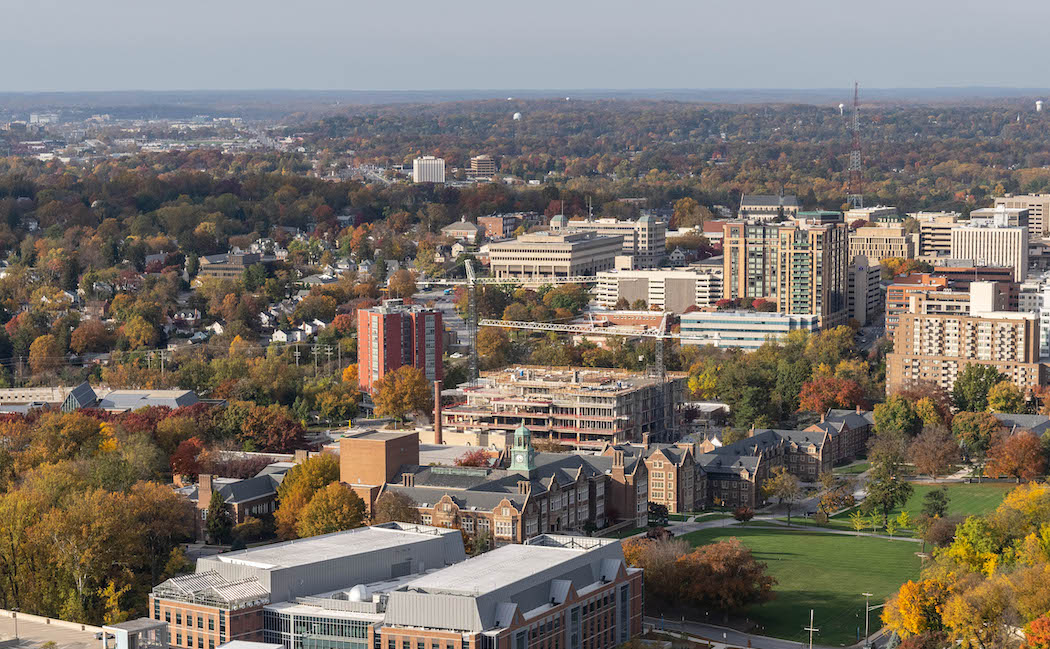 Towson University has been recognized as a national leader in innovation and economic engagement by the Association of Public and Land-Grant Universities, the organization announced on Sunday.
TU is one of 80 higher ed institutions in the nation, and only two in Maryland alongside the University of Maryland College Park, to earn the Innovation and Economic Prosperity (IEP) University designation from the Association of Public and Land-grant Universities (APLU) and its Commission on Economic and Community Engagement (CECE). Institutions that have received the IEP designation have reported significant advancement of their efforts due to the stakeholder engagement and self-study efforts undertaken in conjunction with the program.
"TU is an important talent pool provider for our state, a hub for research, entrepreneurship and innovation, and home to the region's premiere business engagement center in downtown Towson," TU President Kim Schatzel said. "This national recognition by the APLU further endorses TU's critical role as an anchor institution for Greater Baltimore and Maryland.
This designation isn't the first such recognition for TU this fall. In October, The StarTUp at the Armory—Towson University's business engagement center for startups to the region's largest corporations— was selected as the Engaged University winner in the University Economic Development Association (UEDA) 2022 Awards of Excellence. The award is the highest honor for university-based economic development initiatives in North America, and recognizes universities for engaging multiple community partners to leverage and connect efforts in talent development, innovation and community development.
And just this week, TU also shared that it created more than $2.1 billion in economic output in FY 2022, according to an economic impact study by the Regional Economic Studies Institute, which is housed at TU.
TU will officially be recognized with the latest honor, the IEP designation, at the APLU annual meeting in Denver this week.
"Economic development is a major pillar of universities' work," said APLU President Mark Becker. "From talent development to pathbreaking research to entrepreneurship and beyond, institutions have a central role to play in economic development. We're pleased to recognize Towson University for its commitment to engaging its community around these issues to advance regional economic development."
Universities recognized with the designation demonstrate significant and sustainable commitment to economic engagement, which APLU defines through three elements:
Talent and workforce development
Innovation, entrepreneurship and technology-based economic development
Place development via public service, outreach and community engagement
TU received the designation after an independent panel reviewed the school's application, which included an internal review and analysis of its economic engagement activities that were conducted with outside stakeholder input. APLU's Commission on Economic and Community Engagement, which manages the designation process, is a national leader in efforts to help public research universities plan, assess, and communicate their work in regional, national, and global economic development and community engagement. The CECE "Economic Engagement Framework" includes tools for university self-assessment, metrics determination, and economic impact analysis.
As part of the self-study conducted with external stakeholders that was central to the designation application process, the university identified three areas of institutional strength in economic engagement and described programs in these areas. Officials also identified areas for growth and improvement for the university's economic engagement enterprise, and developed an improvement plan. This work demonstrated a commitment to continuous learning and improvement in this kind of engagement vital to universities and their regional partners.
Applications for the designation are evaluated by a panel of reviewers representing other universities and regional and national partners. Scoring was based on a range of criteria emphasizing universities' development of their economic engagement enterprise, their planning efforts around economic engagement, strategic communications around these efforts, and participation in encouraging economic engagement among peer institutions.
APLU is a research, policy, and advocacy organization dedicated to strengthening and advancing the work of public universities in the U.S., Canada, and Mexico. With a membership of 250 public research universities, land-grant institutions, state university systems, and affiliated organizations, APLU's agenda is built on the three pillars of increasing degree completion and academic success, advancing scientific research, and expanding engagement. Annually, member campuses enroll 5.0 million undergraduates and 1.3 million graduate students, award 1.3 million degrees, employ 1.3 million faculty and staff, and conduct $49.5 billion in university-based research.