Fifth annual awards celebrate TU's partnerships, impact in community
2022 BTU Partnership Awards celebrate projects saving endangered turtles, giving technology new life, inspiring entrepreneurship
By Rebecca Kirkman on November 20, 2022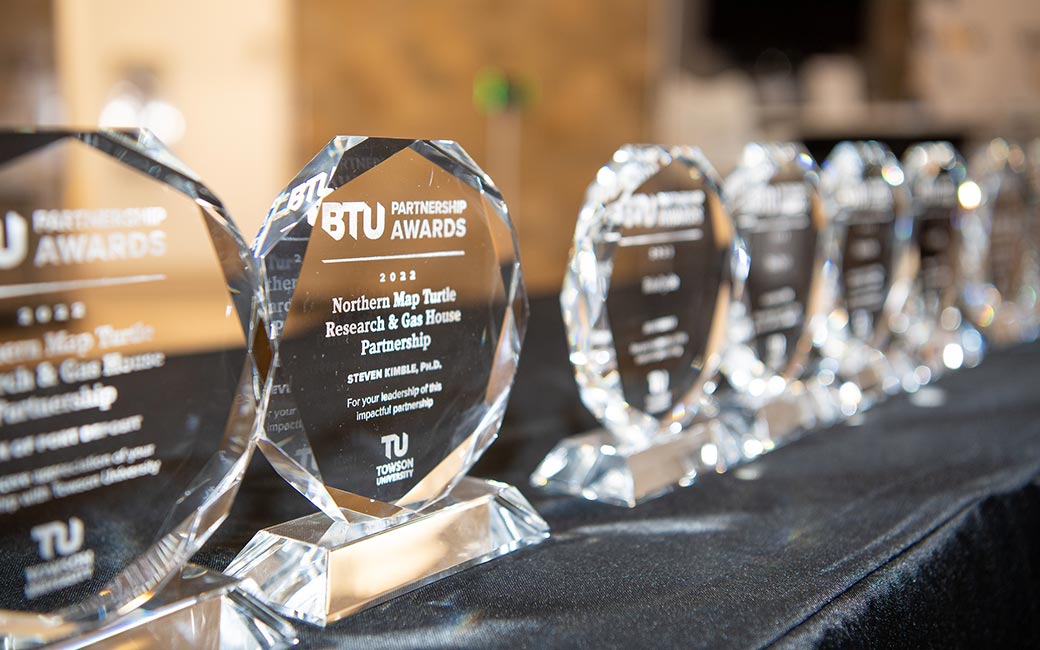 As an anchor institution for Greater Baltimore, partnerships are central to Towson University's impact in the region and beyond. They enhance student learning, address community needs and create positive change across Maryland. Partnerships between campus and the community are elevated and sustained through BTU (Baltimore–Towson University).
The fifth annual BTU Partnership Awards, held Nov. 17 at the StarTUp at the Armory, recognized faculty, staff, students and community organizations engaging in exemplary partnerships that embody the spirit of TU and benefit the communities it serves.
"These partnerships are central to our identity as a community-engaged institution, and they allow Towson University to make a direct impact on thousands of lives in Greater Baltimore," says President Kim Schatzel. "All of this work embodies the spirit of TU's mission—addressing community needs while creating transformative experiences for students."
Since its beginning in 2015, BTU has grown to encompass more than 500 partnerships with local businesses and organizations.
"BTU is about partnerships, engagement and impact," says Matt Durington, executive director of community engagement and partnerships and professor of anthropology. "Impact comes in many shapes and sizes—from saving endangered turtles to giving technology new life and inspiring a passion for entrepreneurship—as we see through this year's award winners."
2022 BTU Partnership Award Winners
Northern Map Turtle Research & Gas House Partnership
TU Leads: Steven Kimble, Ph.D. and Richard Seigel, Ph.D.
Community Partner: Town of Port Deposit
Since 2008, TU has been working with the Town of Port Deposit to study and strengthen the population of endangered northern map turtles along the Susquehanna River. The partnership includes the establishment and maintenance of shoreline conservation space and the restoration of the historic Tome Gas House, which serves as a research facility and community education center.
EduCycle
TU Lead: Julie Leary
Community Partners: Baltimore City Public Schools, Baltimore County Public Schools–PSFALS, Hussman Center for Adults with Autism and Building STEPS
EduCycle reconditions, upgrades and redistributes retired university-owned computers and related equipment and gives them a second life on campus and in the community, reducing e-waste. The partnership provides critical hands-on technology and work skills training opportunities for K-12 students and adults.
Cristo Rey Leadership Foundations Program
TU Lead: Ardys Russakis
Community Partner: Cristo Rey Jesuit High School
Launched in 2022, this emerging partnership brings cohorts of high school freshman to the StarTUp at the Armory to develop entrepreneurial skills through a hands-on interactive learning experience. Students identify real-life problems faced by their peers and communities and grow into young entrepreneurs, creating and pitching solutions.