TU named to Campus Pride's Top 40 List for LGBTQ+-friendly colleges & universities
Towson University is the only higher education institution in Maryland and D.C. named to the list
August 24, 2022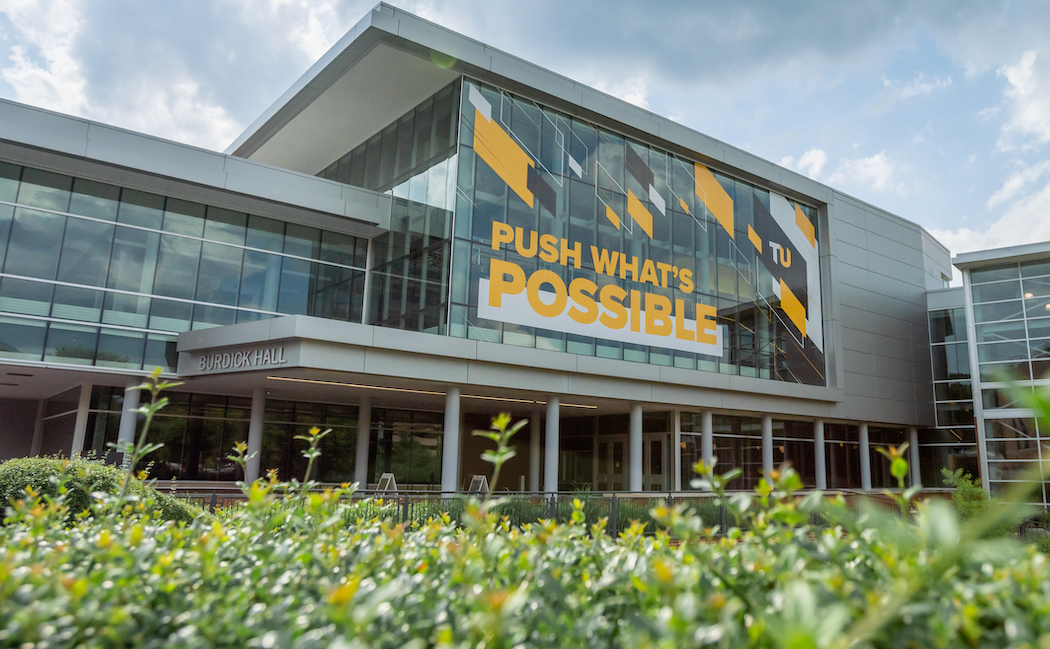 Towson University was named to the Best of the Best List, a top-40 ranking of LGBTQ+-friendly colleges and universities by Campus Pride Aug. 24.
Last year, TU—for the first time—earned a perfect, five-star rating from the organization. To earn a five-star ranking, campuses must score from 90 to 100% based on their LGBTQ+-inclusive policies, programs and practices. The methodology to determine this year's list was based on an overall score of 93% or higher.
This year, TU was the only higher education institution in Maryland and D.C. named to the list. To compile it, Campus Pride gathers information on campuses creating a safe, welcoming environment for students, faculty and staff.
"We work tirelessly to foster a culture that is supportive of all students and allows them to thrive and achieve their fullest potential," says President Kim Schatzel. "I hope the entire TU community takes pride in our institution's reputation as a nationally recognized leader in inclusive excellence."
During Schatzel's six-year tenure at TU, the university has been honored repeatedly for its inclusive environment. Since creating the Office of Inclusion & Institutional Equity (OIIE) in Schatzel's first year, TU has implemented a Diversity Strategic Plan throughout campus. Inclusion is also one TU's main goals in the University Strategic Plan.
As part of its commitment to inclusive excellence, TU recently launched an initiative to make virtual learning and meeting a welcome environment for all. Students, faculty and staff can choose to add their pronouns on Zoom profiles, helping to create a supportive and respectful space. Efforts like this, and many others, propel the university toward an even more inclusive TU.
"All the recent accolades from Campus Pride are a testament to the countless collaborations OIIE staff maintain across campus," says Brian Jara, TU's assistant director of diversity training and educational initiatives. "These milestones happen because our LGBTQ+ students, staff, faculty and alumni are always willing to share their firsthand experiences that guide us as we continue to do the work."
Earlier this year, TU received a 4.5-ribbons (out of five) ranking in the Campus Pride Sports Index, a national assessment tool assisting campuses in improving safety and climate for people who identify as LGBTQ+.
That honor launched in 2015 as the premier resource for LGBTQ+ inclusion information within college sports and recreation and is vital for assisting college campuses in making on-campus athletics more inclusive, welcoming and respectful of LGBTQ+ people and allies.
"Campus Pride created the Best of the Best List to recognize the outstanding accomplishments of these colleges and universities: creating safer, more welcoming campuses for LGBTQ+ people," said Shane Windmeyer, Campus Pride executive director. "Students, prospective students and their families, along with faculty and staff members, deserve to know whether they will be safe on campus, so they can make the best choices for their academic success—and by creating inclusive, safe environments these colleges are taking responsibility for all students."
The Campus Pride Index's full listing of LGBTQ+-friendly colleges and universities is available at campusprideindex.org/.