What to expect from inflation and more takeaways from the 2022 Economic Outlook Forum
The Regional Economic Studies Institute's economic forecast for Maryland and beyond
By Rebecca Kirkman on November 17, 2022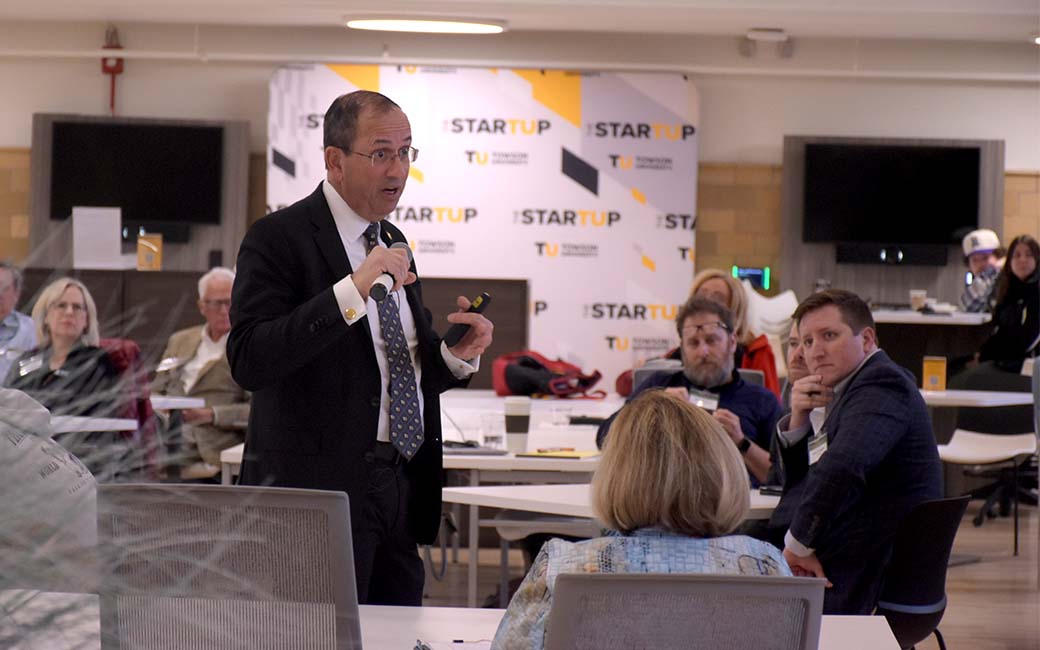 From inflation and rising interest rates to international conflicts, natural disasters and the continued impact of COVID-19, it's been a tumultuous year for the economy.
Towson University Regional Economic Studies Institute (RESI) Chief Economist Daraius Irani breaks down these factors during the organization's annual Economic Outlook Forum on Nov. 15 at the StarTUp at the Armory.
In his presentation, "The Jumanji Economy," Irani, who is also the vice president of strategic partnerships and applied research at TU, discussed the national outlook, inflation, interest rates, the labor market, climate change and the economic forecast for Maryland and beyond.
"The reason that we call it 'The Jumanji Economy' is that there are a lot of surprises ahead," Irani says. "For Maryland's economy, we have a strong possibility of slowing down as the world's economy impacts Maryland's economy. For us, the federal budget is really critical as 10% of our workforce is directly employed by the federal government and 5% or 6% is indirectly, so if there's a shutdown it does impact them."
Here are five key takeaways from the forum:
The top economic indicators are mixed: The economy seems strong in some ways and on the brink of recession in others, leaving the future uncertain.
High inflation is the single biggest economic issue we currently face. It's affecting everything from gasoline to rent to food prices. Some inflation can still be linked back to supply issues (particularly with oil and the war in Ukraine) but is clearly no longer just a supply chain problem.
Interest rates are being rapidly increased to fight inflation, but this can cause its own problems. Mortgages and other major loans are quickly becoming expensive, putting negative pressure on housing and other markets, and may ultimately contribute to a recession.
The job market remains extremely tight, with far more job openings available than people looking for work, at least according to official figures. This has led to widespread understaffing.
Even with everything else, climate change remains one of the biggest long-term threats to our economy.
For more, watch the full 2022 Economic Outlook Forum or access the presentation slides (PDF).