TU students chosen for elite national entrepreneurship competition
Students will share their pitches at renowned EIX e-Fest in April.
April 4, 2022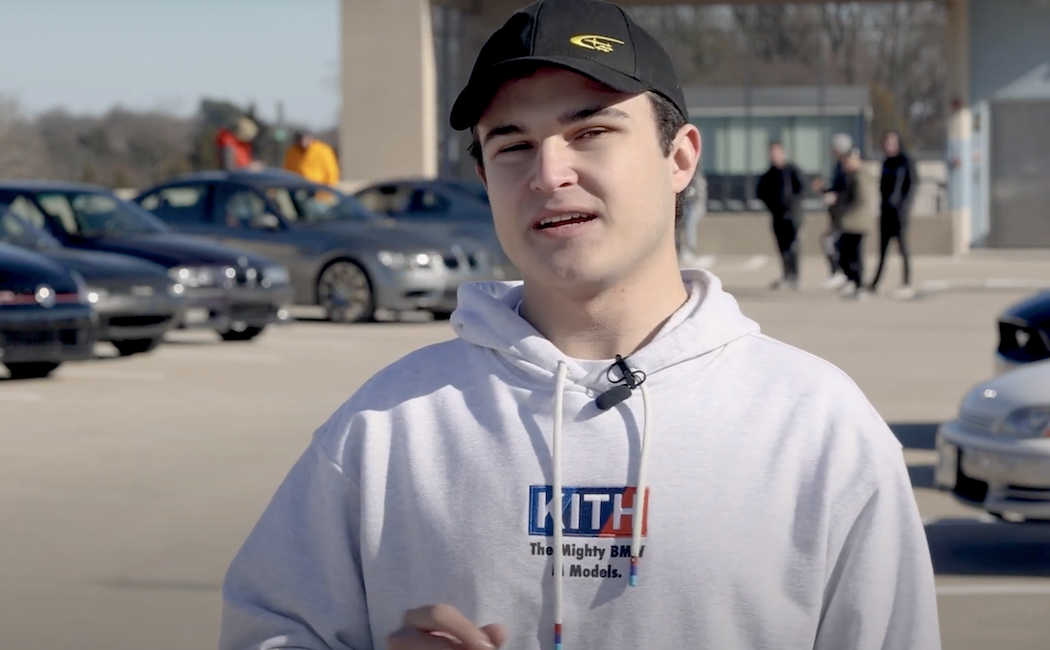 Towson University has landed two student finalists in the nation's premier college entrepreneurship competition.
Student business startups Renndvous and Tapin were both chosen as the top 25 entrants, from hundreds of submissions, to receive an invitation for the tournament to be held April 28-30 at the Schulze School of Entrepreneurship on the University of St. Thomas campus in Minneapolis.
"For TU to have not one but two student ventures accepted into e-Fest is beyond incredible," says Patrick McQuown, TU's executive director of entrepreneurship.
TU, in its first year entering, was the only one school in the D.C.-Baltimore region to have a finalist. Johns Hopkins, Georgetown and George Washington all had finalists in 2021.
Renndvous, an online vehicle sales marketplace and social site for modified and collector vehicles was created by Michael Wyman CBE '22. The venture came from Wymann's work in the 2021 TU StarTUp Accelerator program.
In a pitch describing the site's functionality, Wyman tells the events judges,
"Automotive enthusiasts are always looking to make connections, which is why we've created a platform that is not necessarily built around people and their names, but people and their vehicles."
Wyman says Renndvous has built a community of thousands communicating virtually and in-person.
Tapin, an app from Ryan Rutkowski CHP '22 and Conrad Brake CBE '21, analyzes local nightlife deals through crowdsourcing and input from bar owners.
"Users want to make informed decisions based on dynamic, accurate, real-time data," Rutkowski says in Tapin's pitch.
The finalists have the chance to network with other top student entrepreneurs from across the nation, attend workshops, promote their businesses to national news outlets, meet Richard M. Schulze, Founder and Chairman Emeritus of Best Buy, and take home a portion of over $215,000 in cash prizes. The winner will receive $75,000 in cash.
To qualify, students from across the country submitted a video and a PowerPoint pitch deck.
TU has intentionally fostered an innovative culture of entrepreneurship on campus. The Towson University StarTUp Accelerator is an intensive eight-week, cohort-based fellowship where ventures take residency and collaborate to accelerate their ventures.
As part of its strategic plan, TU develops and sustains innovative entrepreneurship programs for internal and external parties that increase student participation from all colleges. TU serves as a community leader and partner extending the talents of its students, faculty and staff beyond campus boundaries to create opportunities for leadership, entrepreneurship, civic engagement, and experiential learning.
The StarTUp at the Armory opened last fall as TU's front door for start-ups, small businesses, as well as the region's largest corporations. It is a state-of-the art 26,000 sq. ft. space, which includes 6,000 sq. ft. of free co-working space and meeting rooms where entrepreneurs and executives can connect with each other and to TU's programs and people.
It has been a busy time for TU entrepreneurship initiatives. Student entrepreneurs from Cristo Rey Jesuit High School took the floor at the StarTUp at the Armory and pitched business ideas addressing some of the biggest issues young people face today. The pitch event was the culmination of the first cohort in Towson University's Youth Entrepreneurship Program, a partnership between Entrepreneurship @ TU, BTU—Partnerships for Greater Baltimore and Cristo Rey.
In addition, the StarTUp at the Armory will host the first ever College Cup Innovation Challenge at the StarTUp at the Armory April 26.