The making of 'Midsummer'
A behind-the-scenes look at the Department of Music's regional premiere of Michael Ching's breath-based opera April 22 – 24
By Rebecca Kirkman on April 19, 2022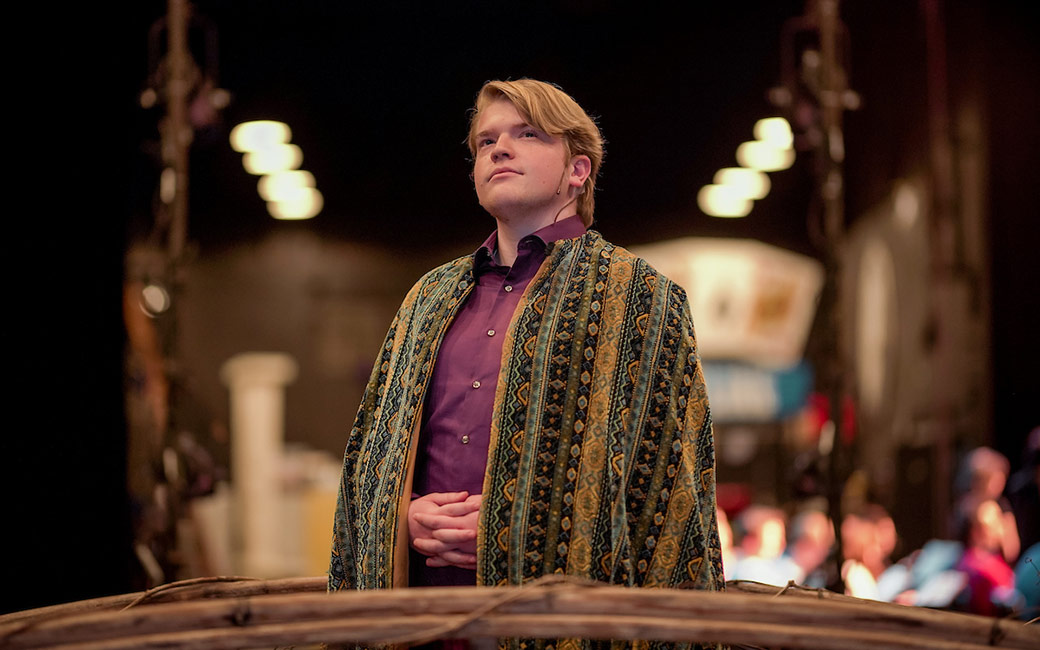 In the Towson University Music for the Stage Ensemble's regional premiere of Michael Ching's "A Midsummer Night's Dream" April 22 – 24, every sound will be inspired by human breath.
The breath-based opera, directed by Courtney Kalbacker, puts Shakespeare's original Elizabethan text to music originating from the human body through singing and an acapella "voicestra" replacing opera's traditional orchestra. The Department of Music's version adds a twist—a newly commissioned orchestration featuring a small wind ensemble conducted by Christopher Cicconi, director of bands and orchestras and associate professor of music education.
Even the percussion is breath-based, with soundscapes and vocal percussion led by College of Fine Arts & Communication Artist-in-Residence Dominic "Shodekeh" Talifero.
The ensemble's first large-scale production since 2018, preparation for "A Midsummer Night's Dream" began more than three years ago and includes nearly 60 students double cast for matinee and evening performances. The cast began learning the music in spring 2021 and staging started in January. Rehearsals moved into the 680-seat Stephens Hall Theatre in March, a month before the show opened.
Experience Michael Ching's "A Midsummer Night's Dream" at Towson University April 22 – 24.
Get Tickets
"A huge part of this pedagogy is teaching our students how to work in a large space, to project into the hall—to project not just their voices but their characterization in the space," explains Kalbacker, noting that "Midsummer" is the first major production for many members of the cast due to the COVID-19 pandemic. "It's a really transformational experience when they realize, 'Oh, I'm not just singing for my Zoom camera anymore.'"
We spoke with three cast members backstage during the sitzprobe—from the German for seated rehearsal, when both casts, the voicestra and the wind orchestra rehearsed together for the first time in the theater—to hear about how it feels to put on an opera at this scale, what they have learned and why they feel Shakespeare's work is so enduring.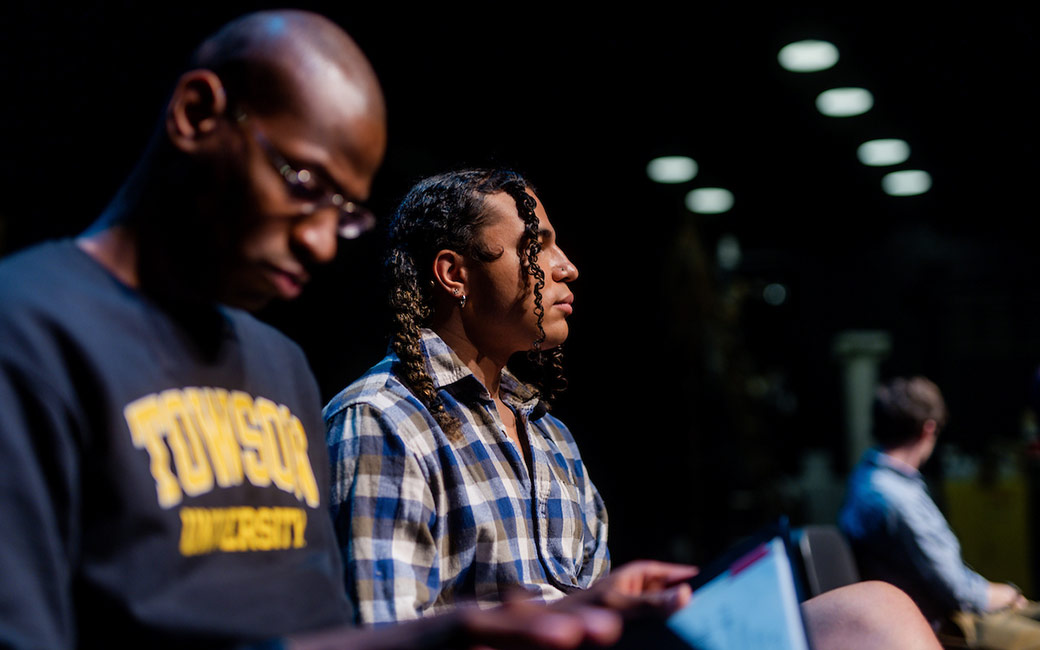 Professional-level opera
Ellis Carroll '21, a voice performance major who returned to TU for the applied music post-baccalaureate certificate to participate in the production, plays Hippolyta, the Amazon queen who marries Theseus.
"It's not every day you get to see an original [commission] premiere, much less be in one. It's very cool," says Carroll, who will pursue a master's in opera theatre at the University of South Carolina in the fall. "I really like seeing the production process. That's always been something that I've been fascinated in."
Paul Balsley '23, a music education and voice performance major, plays Theseus, the duke of Athens, in the evening shows and Egeus, the overbearing father of Hermia, in the matinees.
"This is actually my first large-stage production," Balsley says, explaining that he was part of the chorus for "Pirates of Penzance," which was planned for April 2020 but canceled due to the pandemic. "It's been a lot of fun. Going through the actual process and learning all the scenes made me realize [even more] how much I really like performing."
Seth Lee '22, a voice performance major, plays Snug, part of a group of laborers that puts on "Pyramus and Thisbe," a play within the play, to celebrate Theseus' wedding day. The rigorous preparation before heading to Stephens Hall Theatre, he says, maximized their time in the space.
"This is the first production that I've been in where we are working the whole time. There were three rooms that we were cycling through: If you weren't working on staging, you were working on music, or if there were some singers struggling with some spots, we had personal coaching," Lee says. "The whole process has been streamlined."
After moving rehearsals into the theater, the focus turned to meshing the elements.
"This opera is unique, because there's so many parts happening at once," Lee continues. "Putting all those things together is interesting and comes with unique challenges."
For instance, while operas are traditionally performed without mics, principals like Balsley wear cordless mics to better balance their voices with the voicestra and wind orchestra.
"I've learned opera comes in many forms, especially if you're going to do contemporary stuff," he adds.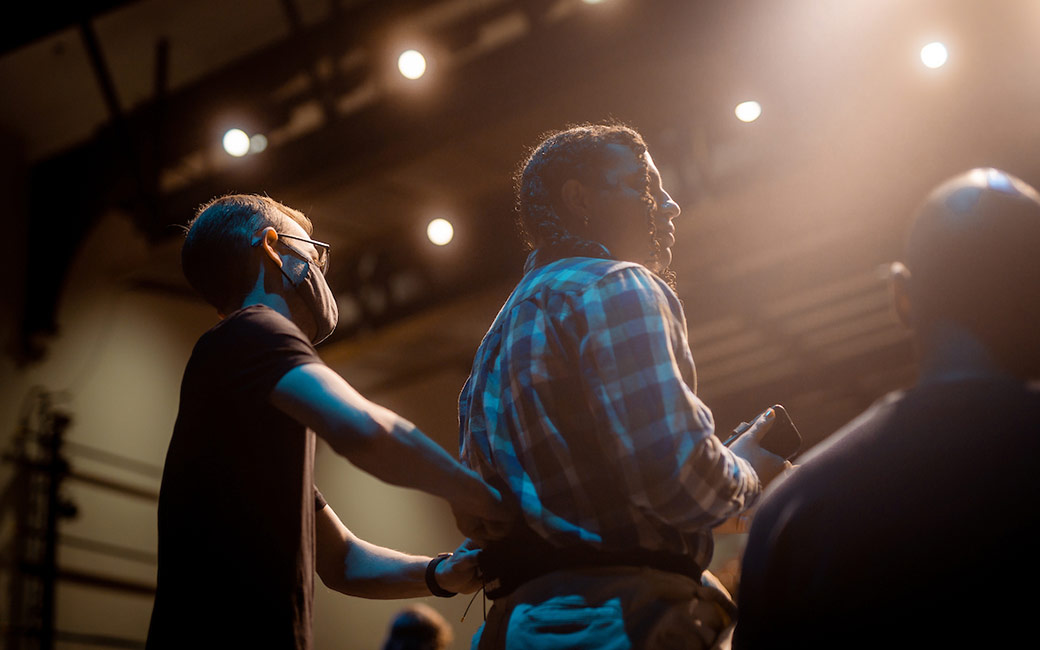 Building a character
Leading up to the production, students conducted character analyses to better understand and portray their characters' motivations and emotions. "We built our own character," Balsley says. "I have two personalities because I'm Theseus in the evening and Egeus in the matinee shows. Shaping those two characters has been interesting at times because they're highly contrasting."
Carroll faced the same challenge.
"I was like, 'Who would be a good modern character inspiration?'" she says. "I was talking to Courtney about it, and she goes, 'Well, what about Wonder Woman's mom?' And we looked it up and her name is Hippolyta. I can pull from that. It's been really helpful."
The experience translates beyond opera. "Even in my art songs that aren't necessarily based on a character, characterization has really helped me to pull from within what those songs mean and helped me to portray that as I sing," Balsley says.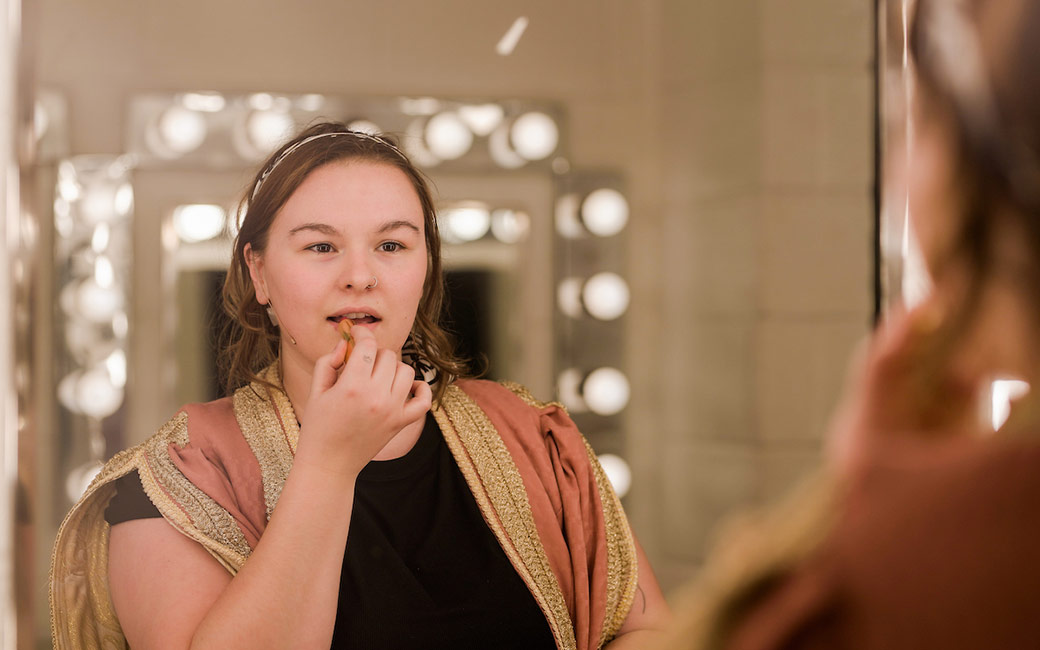 The power of Shakespeare
While many Shakespearean works, from "Othello" to "Hamlet," have been set as operas, the students feel "Midsummer" and Michael Ching's score are an especially good fit for modern audiences.
"In this arrangement, there's lots of contemporary musical writing, and that just adds a certain dimension that makes it much more relatable in these times," Balsley says.
Carroll adds Ching "has done a really wonderful job of weaving [in] nods to other operas and composers," citing works by Verdi, Puccini and Mendelssohn.
Students translated Shakespeare's original text to modern English to connect more easily
with the emotion behind the lyrics as part of their character development.
"It's in Elizabethan English, but when you translate it, it's a relatable story," Carroll says. "You could see this in a movie today."
Lee notes the Bard's understanding of human complexity has stood through the centuries.
"Shakespeare does a great job of portraying extreme human emotion," he adds. "And that's what opera is all about."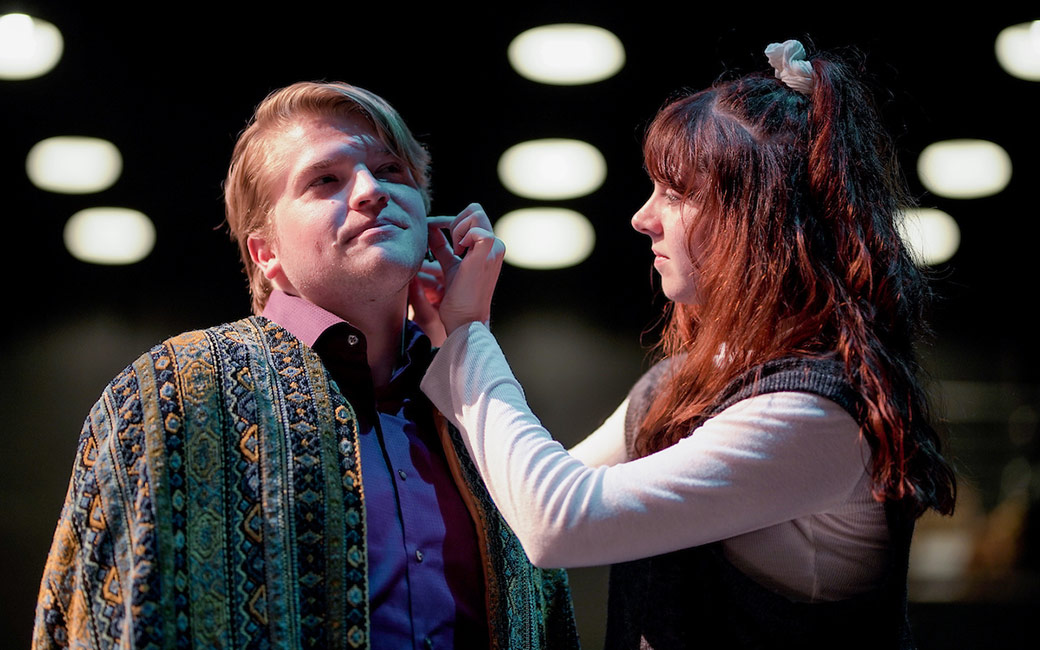 Sharing a passion
All the hard work is worth it for the final shows, the students say.
"[My motivation is] to see what I can achieve when I put my mind to it," Lee says. "I also think it's really cool to see people's reactions [to the show,] whether that be a gasp or laughing or giggling—just seeing people enjoying the same passion that I have for this music, even if they've never done music before or maybe opera is not their thing or they think that opera isn't their thing. Maybe it'll open them up to want to see more productions.
"When you get to performance ready, it's all muscle memory. Your body just kind of does what it knows to do, because you put in all those hours already," he adds. "So you're not really thinking about the music or the choreography, but you're thinking about the feelings. The music makes you feel. We get to do what we love."