TU cybersecurity startup SecurEd receives $150,000 grant
Gula Tech Foundation award brings nonprofit's revenue to $1.5M
By Rebecca Kirkman on February 15, 2022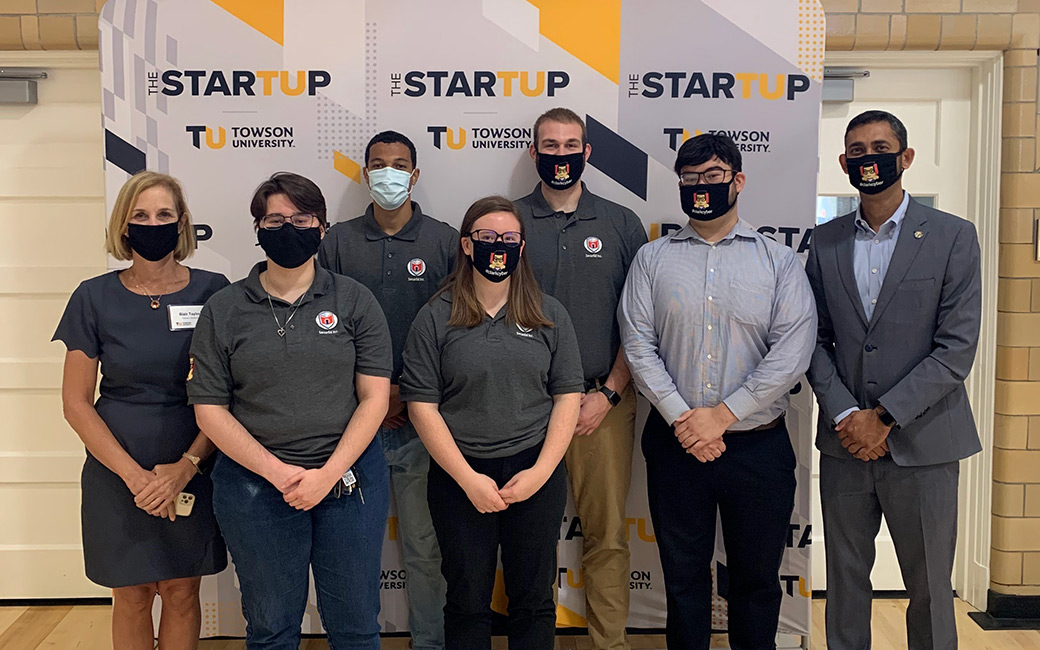 Towson University-born cybersecurity nonprofit SecurEd Inc.'s recent award of $150,000 from the Gula Tech Foundation's Confidence in Data Care grant competition will support further innovation focused on building a cyber-ready workforce. The award brings SecurEd's 2020–21 revenue to $1.5 million.
SecurEd placed third in the national competition for cybersecurity nonprofit organizations that provide practical, hands-on or immersive cybersecurity experiences that give confidence to students, teachers, practitioners and political and business leaders.
Based out of the StarTUp at the Armory, SecurEd helps academic institutions build a cyber-ready workforce through product and services that facilitate teaching, learning and research across the data care education continuum.
"The mantra of SecurEd is free cybersecurity curriculum," says Blair Taylor, associate professor in the Department of Computer & Information Sciences who co-founded the company with Sidd Kaza, professor and director of the TU Cyber4All Center, in 2017. "With the help of foundations like Gula Tech, we are able to sustain our efforts and look toward the future."
At the heart of SecurEd's resources is a collection of nearly 900 modules within the Cybersecurity Labs and Resource Knowledgebase (CLARK), the largest compilation of free cybersecurity curriculum for educators in K–12 and university settings. Created by Towson University with a grant from the NSA, CLARK's intellectual property (IP) is now licensed by SecurEd to reach a broader audience.
"SecurEd spun out of Towson, licenses IP that was created at Towson and is able to support Towson students," says Kaza. "We think that is pretty exciting."
Since its founding, SecurEd has grown to a team of 12—all with ties to TU. Its location at the StarTUp at the Armory gives the team access not only to high-tech workspaces but also other entrepreneurs.
"We've been able to look at our work through a different lens here," says director of operations Paige Zaleppa '19, '21 of the move to downtown Towson. "We've seen an increase in ideas on the team that we wouldn't have had before because there's different ideas coming from the different companies and their domains that they're working in."
Zaleppa started at SecurEd as an undergraduate information systems major and stayed on through her master's degree in computer science. Now, she leads a team of nine TU student employees and is an adjunct professor in the computer and information sciences department.
Talking with other startups based in the space gives the SecurEd team a chance to learn firsthand about cybersecurity needs in a variety of industries, adds Emily Vogel '20, '22, SecurEd's software architect and graduate student in TU's computer science program. "We are able to network with other companies and get a feel for what they know about cyber and what we need to focus on," Vogel says.
Working at SecurEd gives TU students the opportunity to gain hands-on experience not only in the computer science field but also at a nonprofit organization. "They don't always realize that they're going to make the world a better place," Taylor says of students going into computer science. "So it's good to have that focus on the mission. We've always said that cyber has a service focus."
Led by Ron and Cyndi Gula, co-founders of Maryland-based cybersecurity company Tenable, the Gula Tech Foundation aims to increase public cybersecurity awareness.
SecurEd's recognition from another homegrown cybersecurity organization, Kaza says, puts TU on the map.
"The other two organizations that won the grant are not out of Maryland," he says of San-Francisco-based, first-place winner CodePath.org and Indiana-based, second-place winner Teach Cyber. "When Gula recognizes a company like ours, born and bred out of Towson, that is very exciting for us, because that brings Towson University's name out there in the cyber world and within the industry."