TU online education graduate programs best in Maryland, No. 30 nationwide
U.S. News & World Report ranks Towson University in education, applied information technology graduate programs
By Rebecca Kirkman on January 26, 2023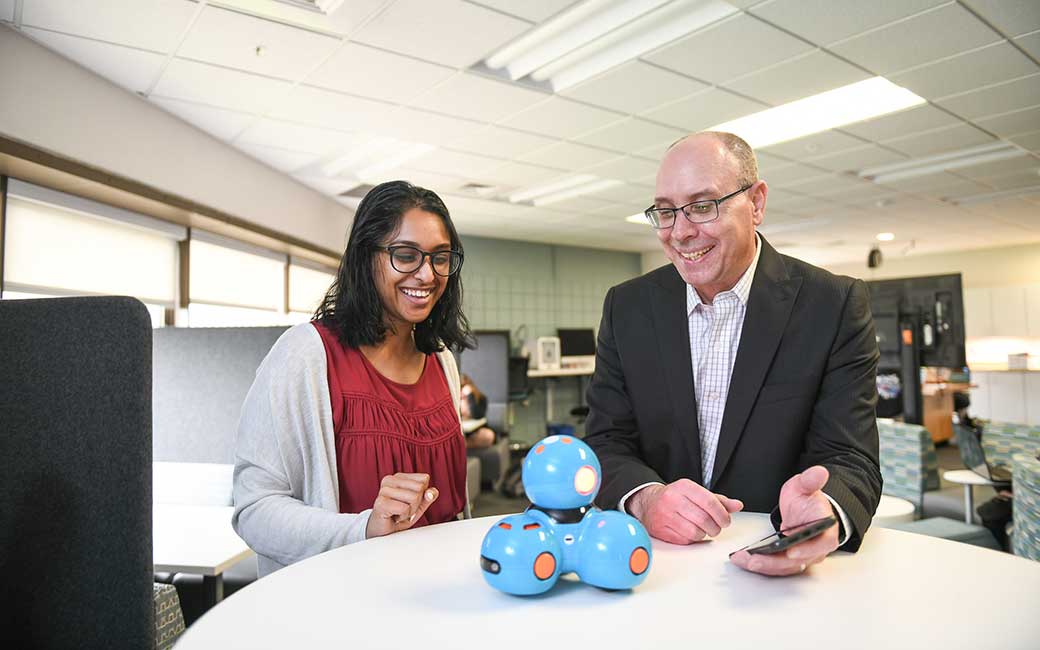 The U.S. News & World Report 2023 Best Online Programs rankings placed two Towson University graduate programs among the nation's best.
TU ranked No. 30 in the Best Online Master in Education Programs—11 spots higher than its 2022 ranking and the only Maryland university in the top 200. The university also ranked No. 61 in the Best Online Master in Computer Information Technology Programs, three spots higher than its previous ranking.
"Graduates of these two exceptional programs are helping to fill critical positions in Maryland's workforce," says Melanie Perreault, provost and executive vice president for academic and student affairs. "At TU, we are very proud to offer top-rated online master's programs that can meet the needs of working professionals, provide them with a quality education and help them make an impact in our state."
U.S. News evaluated online master's programs offered by the College of Education in transformational educational leadership and instructional technology.
Available to students in hybrid, in-person or 100% online formats, the programs are designed for flexibility to meet the needs of today's educators while providing online and in-person students the same high level of support, mentorship and academic rigor.
"Our most recent ranking is a tribute to ensuring excellence for graduate programs in the College of Education," Dean Laurie Mullen says. "[It] stands ready to meet market needs while engaging graduate students in rigorous programming."
In the Fisher College of Science & Mathematics, the applied information technology (AIT) program requires students to choose at least one post-baccalaureate certificate to complete before earning the master's degree. There are eight certificates to choose from, making the program customizable and vocation oriented.
TU is one of only four schools in the state, joining UMBC, Loyola University and Johns Hopkins University, to appear in the online information technology program list. This is the third year the program has been ranked by U.S. News.
"The M.S. in Applied Information Technology online program consists of experienced faculty with diverse backgrounds in industry and academia who are eager to pass on their knowledge," says program director Cheryl T. Brown.
Students in the program draw on the university's designation as a National Center of Academic Excellence in Cyber Defense Education by the National Security Agency and Department of Homeland Security as well as resources available through the Center for Interdisciplinary & Innovative Cybersecurity, which celebrated its grand opening in the fall.
The guide's criteria also values institutions that implement best practices for online learning and offer technologies and services catered toward remote learners, such as incorporating learning analytics platforms and adaptive learning as well as providing remote access to admissions counseling, resume writing and career placement support.