Undergraduate Studies
At Towson University, you'll find the best of both worlds: the academic program choices of a large university, combined with the personal attention of a small college.
Choose from more than 110 majors, concentrations and tracks, and don't worry if you are undecided. Core courses and electives will help you find the major that's right for you. Our program of core requirements integrates what you learn in the liberal arts and sciences disciplines, and you may even discover a new academic interest.
Teaching First
Towson University professors are scholars who put teaching first. They emphasize learning—both inside and outside the classroom—that will help you connect your education to the real world. You'll also receive guidance from our award-winning advising program in selecting a major or integrating internships, study abroad and research into your studies.
Undergraduate Non-Degree Programs
A non-degree classification allows you to take courses while awaiting admission to a degree program or to complete classes for personal, professional or academic reasons.
About Non-Degree Programs
Why Choose TU?
You'll find excellent academics, exceptional faculty, great value and big opportunities at Towson University. Make TU's momentum yours.
Undergraduate Admissions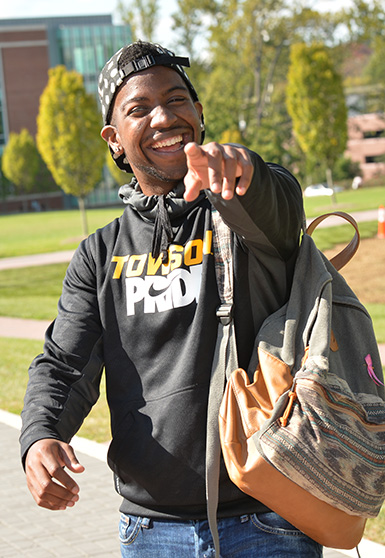 Graduation and Commencement
Graduation from college, whether you are earning a baccalaureate or advanced degree, is a major event in your life.
Learn about Commencement