Physician Assistant Studies (M.S.)
Since many individuals now have access to insurance through the Affordable Care Act, there is a need for more licensed health care providers to treat them. Physician assistants are one of the fastest-growing professions in this country, and our program is one of the nation's most established programs.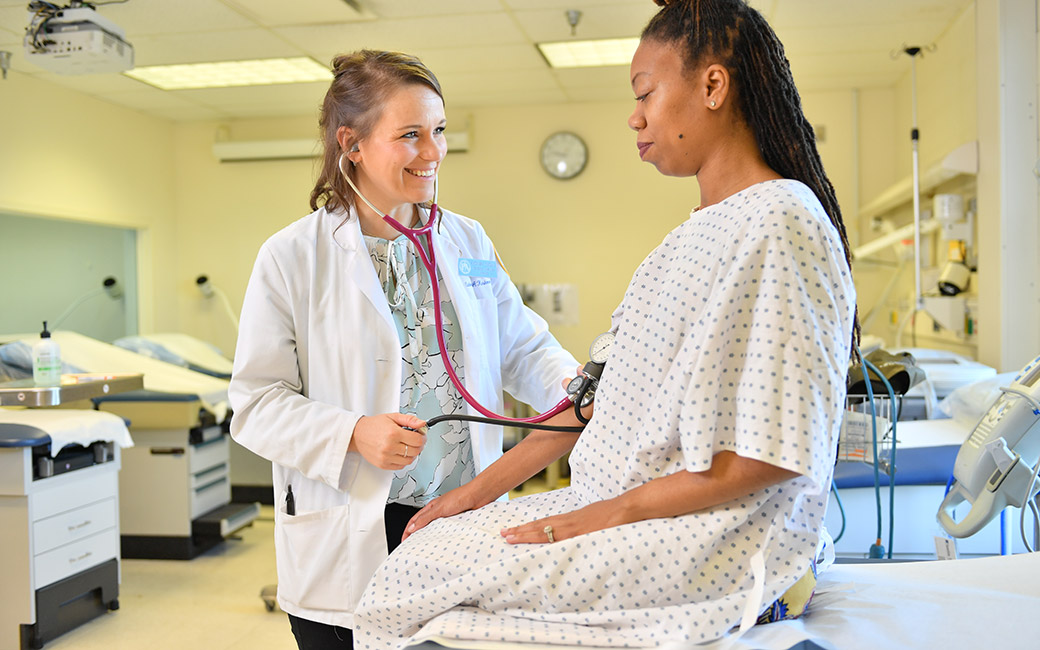 Physician assistants are highly skilled health care providers. This program is designed for students with completed bachelor's or master's degrees. Full-time, continuous enrollment is required throughout the 98-credit, 26-month program.
"Towson University fosters intellectual inquiry and critical thinking preparing graduates who will serve as effective, ethical leaders and engaged citizens. Through a foundation in the liberal arts, an emphasis on rigorous academic standards, and the creation of small learning environments, we are committed to providing a collaborative, interdisciplinary and inter-professional atmosphere, excellence in teaching, leadership development, civic engagement, and applied and sponsored research opportunities at the undergraduate and graduate levels. Our graduates leave Towson University with the vision, creativity and adaptability to craft solutions that enrich the culture, society, economy, and environment of Maryland, the region, and beyond."
PA Program Mission, Vision, Values and Goals
The Physician Assistant Studies Program revised its Mission, Vision and Goals for 2021-2022 as of November 4th, 2021. Outcomes from the prior 2019-2020 goals included integrating interprofessional educational experiences into the PA curriculum. PA students participated in the Institute for Healthcare Improvement (IHI) Towson University Open School Chapter learning events where they applied principles related to quality improvement, leadership and team building to improve patient safety and health outcomes. For additional information on our achievements, please see the updated Mission, Vision, and Goals (PDF).
Mission
Our PA Program educates and empowers resilient graduates to practice collaborative, evidence-based medicine in the ever-changing and diverse health care environment.
Vision
Our PA Program is renowned for excellence in PA education, leadership, and innovative approaches to interprofessional practice.
Values
Our PA Program values are:
cultural humility
collegiality
integrity
interprofessionalism
life-long learning
leadership
Goals
Goal 1: For each student cohort, the program will provide the highest level of PA education, medical competencies, and professionalism. This is benchmarked by results on the 5 program learning outcomes.
Goal 2: The program will maintain a PANCE 1st time pass rate at or above the national average with each graduating class. This is benchmarked by students' mean performance on each content area and the mean performance on all organ systems and task areas.
Goal 3: With each admissions cycle, the program will continue to enhance and strengthen the admission process to create a diverse student population that is reflective of the communities we serve. This is benchmarked by current region census data, reflective of diverse student population admission.
Goal 4: The program will provide each student with opportunities for interprofessional collaborative experiences (IPE) and a foundation for leadership, clinically oriented research, and continued life-long learning. This is benchmarked by participation in at least 2 IPE educational activities per year, participation with the Institute of Healthcare Improvement (IHI), collaborative learning simulation with other healthcare students, and student-lead volunteering.
PA Program Competencies
Medical Knowledge: demonstrate core knowledge about biomedical and clinical sciences and the application of this knowledge to patient care.
Interpersonal and Communication Skills: demonstrate verbal, nonverbal and written communication skills that result in effective information exchange with patients and all other persons regarding the health care system.
Patient Care: demonstrate care that is effective, patient-centered, timely, efficient and equitable for the treatment of health problems and the promotion of wellness.
Professionalism: demonstrate a high level of responsibility, ethical practice, sensitivity to a diverse patient population and adherence to legal and regulatory requirements.
Systems-Based Practice: demonstrate an awareness of and responsiveness to the larger system of health care to provide patient care that is of optimal value. Also incorporated within this goal is that students will use technologies to identify, retrieve, and apply relevant information.
Application Information
All applicants must be verified in CASPA by August 1. Please allow sufficient time for verification as it can take up to 4-weeks from the date of submission. To view the admission requirements as a whole, please review our Admission & Requirements Deadlines page. The application for summer 2024 opens April 27, 2023.
Student Attrition Information
In compliance with the ARC-PA Accreditation Standards (5th Edition), the program will provide the most current annual attrition information.
Current student attrition information
ApPLY TO THE PROGRAM
How to Apply
Applicants must first apply through

CASPA. The CASPA verification deadline is August 1. Please allow sufficient time for verification as it can take up to 4-weeks from the date of submission.
If extended an invitation for an interview, complete the Towson application by the given deadline.
International graduate students may have additional admission and application requirements. Please review our Admission & Requirements Deadlines for more information.
Professional Accreditation
The program is accredited by the Accreditation Review Commission on Education for the Physician Assistant Inc. (ARC-PA).
At its September 2023 meeting, the Accreditation Review Commission on Education for the Physician Assistant, Inc. (ARC-PA) placed the Towson University Physician Assistant Program sponsored by Towson University on Accreditation-Probation status until its next review in September 2025.
Probation accreditation is a temporary accreditation status initially of not less than two years. However, that period may be extended by the ARC-PA for up to an additional two years if the ARC-PA finds that the program is making substantial progress toward meeting all applicable standards but requires additional time to come into full compliance. Probation accreditation status is granted, at the sole discretion of the ARC-PA, when a program holding an accreditation status of Accreditation - Provisional or Accreditation - Continued does not, in the judgment of the ARC-PA, meet the Standards or when the capability of the program to provide an acceptable educational experience for its students is threatened. Once placed on probation, a program that fails to comply with accreditation requirements in a timely manner, as specified by the ARC-PA, may be scheduled for a focused site visit and is subject to having its accreditation withdrawn.
Specific questions regarding the Program and its plans should be directed to the Program Director and/or the appropriate institutional official(s).

The program's accreditation history can be viewed on the ARC-PA website at http://www.arc-pa.org/accreditation-history-towson-university-ccbc/
NCCPA Examination Performance
Individuals who successfully complete the program are eligible for certification by the National Commission on the Certification of Physician Assistants (NCCPA). Graduates of the program have consistently scored well on the Physician Assistant National Certifying Examination (PANCE), and have achieved a 100% first time pass rate for the class of 2020, surpassing the national exam pass rate average.
For more information please view the NCCPA PANCE Exam Performance Summary Report.

Why Towson University?
A Strong Alumni Network
Join a strong network of successful alumni around the country. More than 1,000 program graduates are employed in a wide variety of medical settings in regional, national and international locations.
A History of Success
The oldest and most established program in Maryland, the CCBC-Essex physician assistant program began in 1972 as a cooperative effort with the Johns Hopkins University and Franklin Square Hospital. The program has undergone a dynamic evolution in its 40-year history.
A Vital Role
Make a direct impact on patients and their families. Working as part of the medical team, physician assistants practice medicine by performing patient histories and physical examination, ordering or performing laboratory tests, and analyzing medical data to formulate diagnoses and develop care management plans.
Contact Information
Program Director
Location
Linthicum Hall
Room 022
Hours
Monday - Friday
8 a.m. - 5 p.m.