Workshops & Conferences
We enrich students' educational experiences by offering several workshops each year.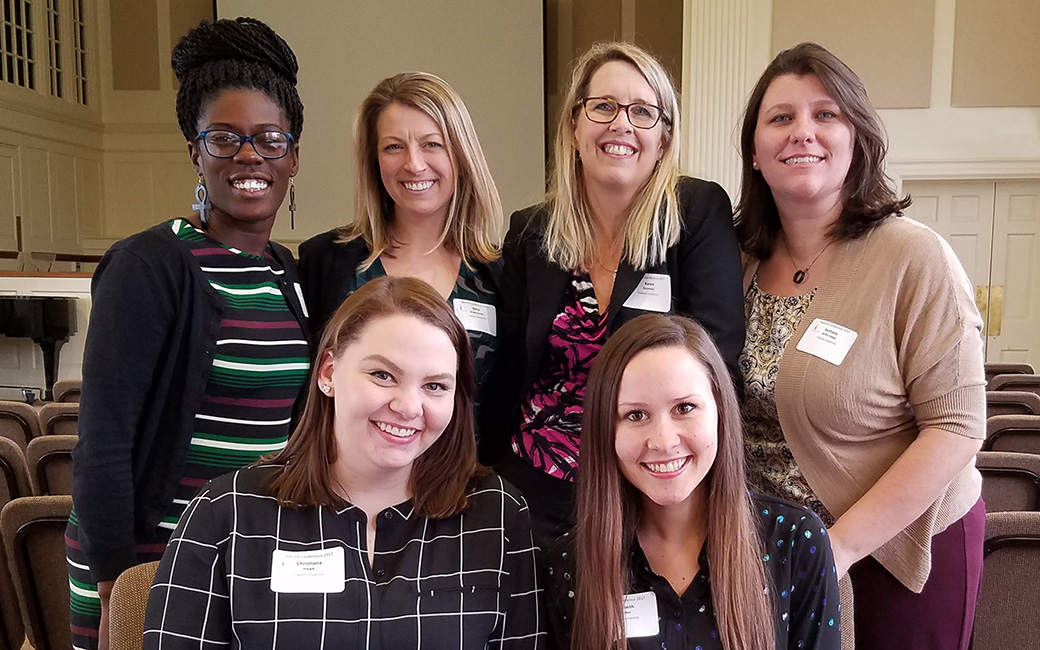 Faculty Presentations
2018 MID-ATLANTIC COUNCIL ON FAMILY RELATIONS CONFERENCE
Each year, faculty members and students from the Department of Family Studies and Community Development can attend the Mid-Atlantic Council on Family Relations Conference. This year's conference is on April 12, 2018 at Wilmington University in New Castle, Delaware and Dr. Willis Hepp will attend.
The theme for this year's conference is "The Family in Global Context: Migrants, Immigrants, and Refugees." Attendants will hear from keynote speaker Dr. Eugenia Arvanitis from the University of Patras in Greece as well as a panel of professional human service agencies that provide for the needs of refugees, immigrants, migrants and their families.
2017 National council on family relations annual conference
Seven Family Studies and Community Development faculty members presented at the 2017 National Council on Family Relations (NCFR) Annual Conference held from November 15, 2017 - November 18, 2017 in Orlando, Florida.
Presentations from Towson faculty members:
Diane Hall and Mauren Todd will present a poster entitled Bisexual Individuals' Perceptions of Bias from Family Members.
Linda Oravecz, Shelly Kowalczyk, Suzanne Randolph, and Stephanie Alexander will present a poster entitled Breaking down health barriers for women and girls: Addressing health disparities through policy.
Bethany Willis Hepp, Katie Hrapczynski, and Cheryl Fortner-Wood will present a paper entitled Symbolic Interactionism: Advancing Adoption Theory, Research, and Practice at the Theory Contruction and Research Methodology (TCRM) workshop.
Neda Moinolmolki and Bethany Willis Hepp will present a poster entitled Foreign-Born Student Perspectives on Family, Campus, and Community.
Amanda Ginter will present a poster entitled Disclosing a Breast Cancer Metastatic Recurrence to Family Members.
Susan Chuang, Robert Moreno, April Few-Demo will present a paper entitled Build the Wall!: The Trump Effect on Racial Socialization & Ethnic Identity.
2017 Mid-Atlantic Council on Family Relations Conference
Dr. Ebony Okafor, Dr. Katie Hrapczynski, Dr. Karen Doneker Mancini, & Dr. Bethany Willis Hepp from the Department of Family Studies & Community Development led roundtables at the Mid-Atlantic Council on Family Relations Conference on April 7, 2017 at Hostetter Chapel, Messiah College in Mechanicsburg, Pennsylvania.
Dr. Willis Hepp led a roundtable focusing on various career options and future direction possibilities for family science majors. A roundtable led by Dr. Hrapczynski discussed the distinctions among the many different mental health professions, helping participants explore which path fits their career aspirations, values, and strengths. Dr. Doneker Mancini presented to faculty, students, and those working in human services on the laws that protect the rights of individuals with disabilities. The importance of multicultural competence was highlighted by Dr. Okafor by addressing challenges and strengths for multicultural clients today.
Panel of Professionals
This professional development event is held in the fall and spring semesters for department juniors and seniors. Each semester several community professionals in various fields of human service work are included on the panel. They speak about their work and/or graduate school experiences and answer students' career-related questions. Some semesters the panel is comprised entirely of family studies alumni.
Panelists for the Spring 2018 Panel:
Austin Fillmore: Applied Behavior Analysis (ABA) Therapist at The Schafer Center
Vinny Minso: Residential Advisor at the Department of Juvenile Services
Imani Simpkins: Family Support Worker at Mary's Center
Britney Boone: Development Coordinator at Adoptions Together
Ashley Ayoub: Social Worker at Sheppard Pratt Health System