A Rising Cyber Superstar
Changing professions can be intimidating. Yolande M. Ndje '22 overcame that fear by teaching herself as much as she could about information technology equipment and languages.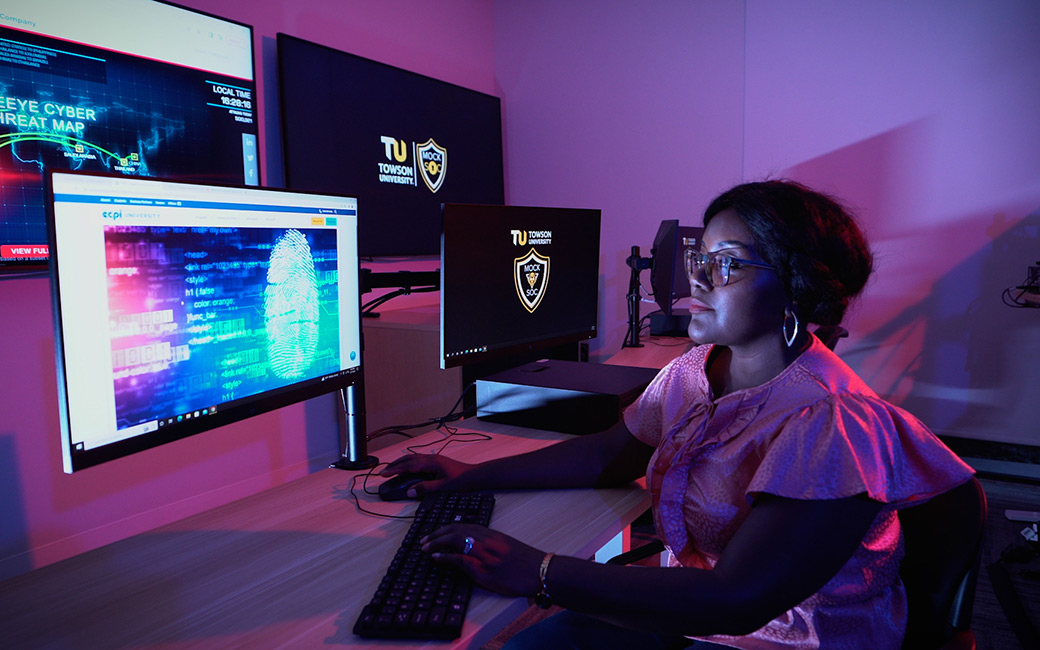 With two master's degrees in psychology, Yolande Ndje started thinking about retooling and returning to school. "With a little research, I found Towson University's M.S. in Applied Information Technology program accepted students from all undergraduate backgrounds," says Ndje. "I was excited and curious to challenge myself and be exposed to something new."
"Instructor Cheryl Thomas-Brown was a great mentor, guiding me and connecting me with different faculty members," says Ndje. At one point, when her focus was drifting, Art Friedman, NSA cybersecurity strategist and longtime AIT program instructor, questioned her graduation intentions. "His words of advice forced me to refocus and motivated me to complete a 40-page paper on health care network security," she adds.
Health care is among the most vulnerable industries in terms of data exposure and lack of data security, Ndje explains. She would like to provide health care solutions to increase patient data security and optimize health care systems security. "I have long thought about developing an app for health care," says Ndje.
To that end, she has been working as a cybersecurity fellow at the University of Maryland Baltimore County to help translate technologies into viable companies, designing software solutions and pitch decks for investors.
"Technologists are developing products, but they need a business approach to present information to potential investors," says Ndje. "I look at competitors, system requirements, and even interview business partners to identify their goals."
Ndje attests if you invest in your coursework, TU will invest in you. "TU offers great resources for hard-working students. You can gain practical experience through graduate assistantships and fellowships, and the financial assistance can give you the peace of mind to focus on academics rather than finances."
Want to learn more about Towson University?