From a walk in the woods to the Commencement stage
Visiting TU's Glen put Kenna Leonzo '19 on a path to an environmental science career
By Megan Bradshaw on May 5, 2019
Graduating senior Kenna Leonzo knew she wanted to come to Towson University the moment she stepped into The Glen.
The Fort Washington, Maryland, native had come to visit her brother Javier Leonzo '15, and he showed her around TU's 329-acre campus. The 10 wooded acres in the center seemed "huge" to her and appealed to her love of nature.
"Just walking into The Glen…it was green and vibrant. There were students studying there. It looked like somewhere I wanted to be. There was such good energy," Leonzo recalls.
When she arrived at TU, she declared a major in film, pondering a future in nature documentaries. A spin through the Involvement Fair introduced her to the Student Environmental Organization—she is now the vice president—and convinced her to switch her major to environmental science.
Former TU professor Amy Williams' physical geology class settled her on a major in geology.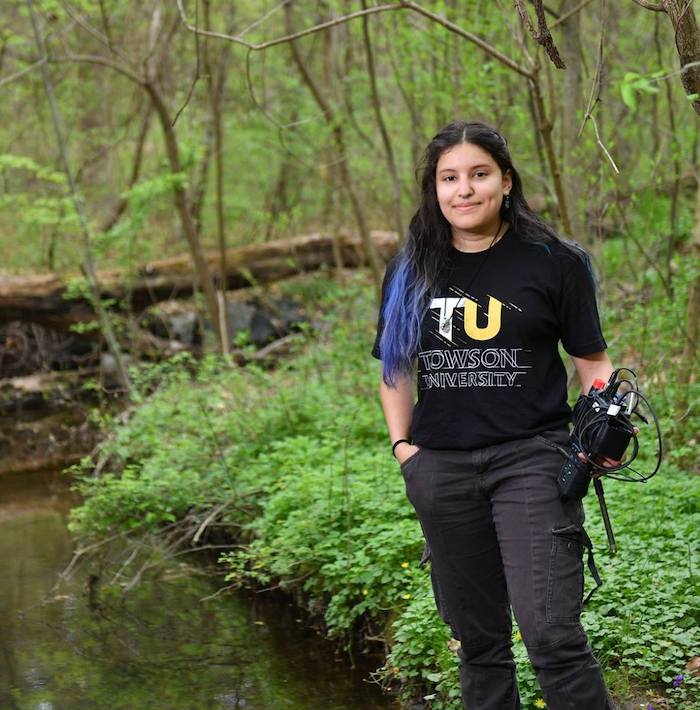 "From the first class, I was amazed," remembers Leonzo. "I sat in the front, probably with my mouth hanging open. There was a lab where I got to do hands-on work; I loved taking water samples. Dr. Williams noticed how much I loved the class and invited me into her lab at the end of the semester."
Leonzo credits her mentor relationship with Williams with offering her opportunities to learn practical skills and giving her a career direction.
"Dr. Williams is amazing. She was available to talk to me and really showed me my passion for geology," she says. "Her class was terrific. I took all her other classes and even sat in on a few of her geobiology classes. She truly, truly cares for her students."
A Dean's List student, Leonzo conducted water chemistry quality research on local streams that flow into Lake Roland—including The Glen's stream—to find the overall water chemistry quality and impact that TU has on certain waterways.
Learn about undergraduate research opportunities in Fisher College
She presented her research findings at the American Geophysical Union in Washington, D.C., in December 2018.
"Being an undergraduate presenter was a huge honor," Leonzo says. "Most of the other presenters were well-known scientists or graduate and postgraduate students. It was great to walk around and meet people in the field."
Leonzo also participated in the Research Experience for Undergraduates (REU) program, interning with the United States Forest Service and serving as a field manager for Environment Maryland.
Her hard work paid off: Leonzo will leave TU with a job as an industrial hygienist technician for Global Consulting, Inc., where she'll work on multiple environmental hazardous waste projects.
The soon-to-be alumna has some advice for fellow science majors still working their way to graduation: find a mentor.
"Reaching out to faculty mentors is the best thing you can do," she stresses. "They want to hear about your interest and help you."
MORE INFORMATION
Studying geology at TU
The geology major prepares students for geotechnical careers in environmental geology or hydrogeology, teaching at the secondary level, and graduate school.