Honorables of Color creates community within Honors College
With new student organization, Honors Tigers of color build connections
By Rebecca Kirkman on February 10, 2020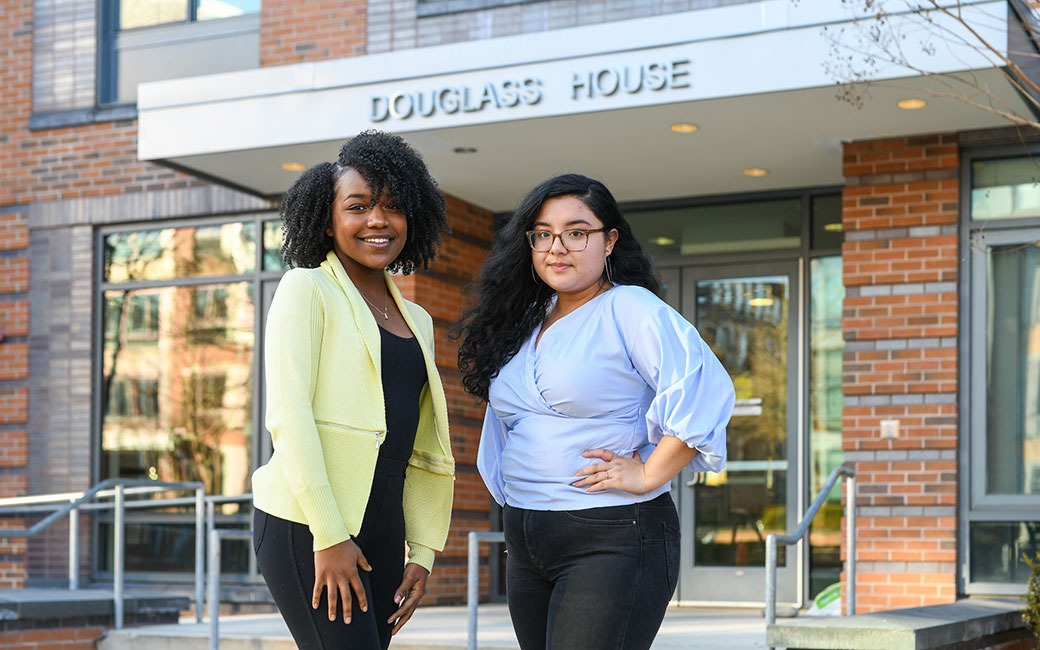 On a Monday night in November 2019, about two dozen Towson University students sit in a circle of chairs in the Douglass House multipurpose room. Phones in hand, they race to be the fastest to answer questions in a quiz about Filipino culture, from the number of islands (7,641) to the national pastimes (basketball, boxing and karaoke).
They're here for the third meeting of the Honorables of Color, a student organization within the Honors College that was founded by sophomore Briseyda Barrientos-Ariza to create a community for students of color within the college.
Then, out comes a karaoke mic. To recognize Filipino American Heritage Month, tonight's meeting—led by Honorables of Color executive board member Yanna Taboada—began with education about the Philippines and its culture followed by a karaoke party.
"It's an intentional space for students of color," says Barrientos-Ariza of the group she founded in fall 2019. "It's really about giving students resources to uplift and help them on their journey through higher education."
So far, the group's meeting activities have grown organically through the interests of its members, from sharing cultural traditions to sparking conversation on topics they value.
The Honorables of Color's mission is to create a close-knit community of students of color within the Honors College that strives to represent, connect and celebrate their successes across academic majors, and well as to network with campus faculty and staff of color to build a greater sense of community at and around TU.
The idea came to Barrientos-Ariza, a Douglass House residential advisor studying English and psychology, when she was a freshman experiencing Towson University and the Honors College residential community for the first time.
"Coming to the university as a first-generation student and as a student of color from a predominantly black and brown community, I didn't get the chance to see a lot of students of color in the Honors College," Barrientos-Ariza recalls of her first nights on campus.
To make that experience better for those who followed her, Barrientos-Ariza set to work over the summer to create a community for students of color in the Honors College.
on
When she returned for the fall 2019 term, she presented her ideas and research to Honors College Coordinator Abram Fox and Director of Co-Curricular Programs Rio Napoli Clements.
"She had a really thorough, well-researched proposal," Napoli Clements recalls. "So that made our job easier to support them, because she already had a vision and a structure."
The Honorables of Color organization builds upon the college's emphasis on interdisciplinary study, research and co-curricular experiences.
"The [Honorables of Color] fits in really well because it gives an opportunity for students to connect who might not otherwise," Napoli Clements adds. "What we try to do within the Honors College is take people from different backgrounds and academic experiences and make a university of Towson's size into a smaller community. This takes that one step further, and gives these students an even more rich community experience."
Diversity is critical to the Honors experience, she says. "We want students from all backgrounds and all walks of life that are bringing different perspectives. Because the goal of the program is to help our students approach problems from an interdisciplinary lens. So having diversity of opinions and experiences is needed in order to accomplish that. The value of the program really hinges on that."
For the spring 2020 term, over 33% of the Honors College identifies as students of color, up 19% from the prior year. For the fall 2020 admitted class, students of color represent 40%.
This reflects the growing diversity of the university as a whole, and the diversity of high school students in Maryland. Today, 42% of all TU students identify as a racial or ethnic minority, a 20% increase since 2016.
At the group's first informational meeting in October 2019, about 30 students showed up. "You really just saw the amount of passion and how much people wanted this," Barrientos-Ariza recalls.
Sophomore Catherine Volcy was one of the students who attended. "I heard my friend talking about it and I was like, 'I'm in!' I wanted to be a part of it because I knew how important it was and I knew how much I needed [something like this] my first year," she explains. "That's why I took such an interest in joining." Now, she serves as co-president with Barrientos-Ariza.
The concept has been embraced by students of color within the college, with 13 signing on to serve on the organization's executive board.
"When I saw the flyer for Honorables of Color, I was excited because I didn't think that there were this many people of color in the college," says secretary Gabby Awkard. "I feel like I can make more friends and build connections with people easier. It just feels like a safe space. And I think the Honors College needed that."
In addition to creating community, the group aims to serve as a platform for students of color to share experiences, discuss social issues, and provide ideas and suggestions to the Honors College. It also plans to connect students with resources on and off campus and a network of professionals with similar backgrounds.
GET INVOLVED
Attend a Meeting
The Honorables of Color meets biweekly on Mondays at 8 p.m. in the Douglass House multipurpose room on the opposite weeks of the Honors College Leadership Council. Visit the Honorables of Color Instagram for more information and updates about meeting topics.
"The Honors College celebrates the emergence of the student-initiated Honorables of Color as an organization with positive purpose, and one that seeks to strengthen both individual members of a community and the community as a whole is one we should celebrate," says Honors College Rector Terry Cooney.
Through this group, sophomore political science major and Honorables of Color social chair Nina Bundy hopes to raise the visibility of faculty of color on campus.
"Their perspective is very valuable," says Bundy, who is also a student director for the Honors College. "With this organization, I want to give students the opportunity to hear from people who can share similar experiences."
And the organization hopes to extend its reach to high school students of color. "Another thing we really want to do is go back into communities," says Barrientos-Ariza. "Our Honors College, and specifically Honorables of Color, reaching out to have students that look and speak like them talk to them about higher education from an honors perspective."
After just a few months of existence, the Honorables of Color is already making a difference. "It definitely raises the awareness, not only to other leaders in the building, but also other residents, that, yes, there are students of color here, and yes, they're here to stay," says Barrientos-Ariza.
And Barrientos-Ariza is ensuring the Honorables of Color will continue to grow and serve her peers long after her own graduation.
"The goal for everyone on the e-board is to keep this organization going for years and years to come, because it's not just about us, it's about the future."
This story is one of several related to President Kim Schatzel's priorities for Towson University: Diverse and Inclusive Campus.