New College of Health Professions building to break ground this summer
Towson University project would be first building dedicated to health professions majors
By Cody Boteler on April 20, 2021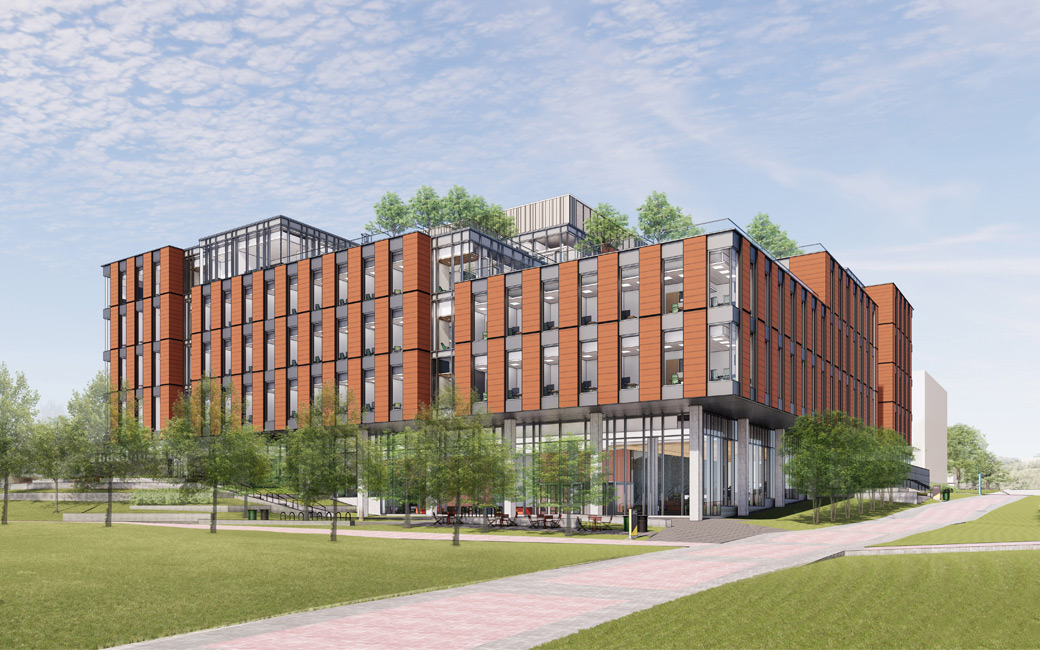 Towson University will break ground this summer on a six-story College of Health Professions (CHP) building in the heart of campus, thanks to funding approved and pre-authorized by the Maryland General Assembly.
Lawmakers allocated $50 million to begin construction in fiscal year 2022, which begins in July. Additionally, construction funding for fiscal years 2023 and 2024 was pre-approved. The University System of Maryland's operating budget also includes $4.1 million in additional funding for clinical and instructional programs in the College of Health Professions.
"The support for this capital project and our College of Health Professions' programming will directly benefit the people of our state," says TU President Kim Schatzel. "As the largest provider of health professionals in Maryland, TU's impact is significant. Now, our faculty and staff, with this first-ever dedicated building, will have world-class resources to support their teaching and research. This will be transformational for the college and its future."
The new building will consolidate CHP's programs, including audiology, nursing, speech-language pathology, occupational therapy and health sciences under one roof. The building is planned to open in summer 2024.
The 240,000-square-foot building is estimated to cost $175 million, representing a significant investment in Towson University's leadership in health professions and as an anchor institution for greater Baltimore and Maryland.
Lisa Plowfield, dean of the College of Health Professions, says she's proud to see the project come together.
"When I first came to Towson University seven years ago, the College of Health Professions was spread across campus, in many different buildings, all retrofitted from their original purposes," says Plowfield. "I'm grateful now that we will have a building constructed for and dedicated to the health professions. Having our students, faculty and staff in a state-of-the-art health professions building will allow for more cross-discipline collaboration and a deeper sense of community within our college."
The building will contain a 300-seat auditorium and multiple cutting-edge simulation and skill labs to replicate professional health care environments and a small cafe. Additionally, it will include 10 patient exam rooms, two lecture halls, a makerspace shop and lab, multiple research labs, and much more.
The new building will support CHP's 184% increase in undergraduate enrollment since 1998 and alleviate space restrictions that limit the college to enrolling just 18% of applicants in high-demand programs. This will allow TU to help fill the 23,000-person gap in Maryland's health professions workforce.
Don't let data worries keep you from Twitter.
https://t.co/vt2K81Cnf3

— Twitter (@Twitter) August 13, 2018
"This new building will anchor the northeast side of campus, and it cannot come soon enough, with the statewide shortage of health professionals only exacerbated by the pandemic," Schatzel says. "This new facility will add state-of the-art instructional and research space to enable TU to continue meeting that demand and fulfill our leadership role."
The building will further demonstrate Towson University's commitment to sustainability, with a design that aims for LEED Gold certification through the use of sustainable building materials and design elements.
As Maryland has adjusted and responded to the novel coronavirus pandemic, CHP has been on the frontline in more ways than one. Nursing students have helped administer doses of the COVID-19 vaccines and exited their programs early to get to work, while other students have provided free, online tutoring to children who need extra assistance.
Faculty and alumni in a variety of health care disciplines have also demonstrated their skill and compassion in caring for patients with and without COVID-19.
Faculty members have donated materials to local hospitals and worked at facilities that need extra help, and some have contributed to research that's created a deeper understanding of the virus.
The new facility adds to the more than $750M investment being made in student-facing facilities on campus. TU opened the new Science Complex this spring, and the first phase of the University Union expansion opens in fall 2021.
A groundbreaking for the new CHP facility is being planned for summer 2021.