Urban Native advocate Jess Dickerson '11 found her voice at TU
Dickerson, a member of the Lumbee Tribe, works as a medical case manager for Native American LifeLines
By Mike Unger on December 13, 2022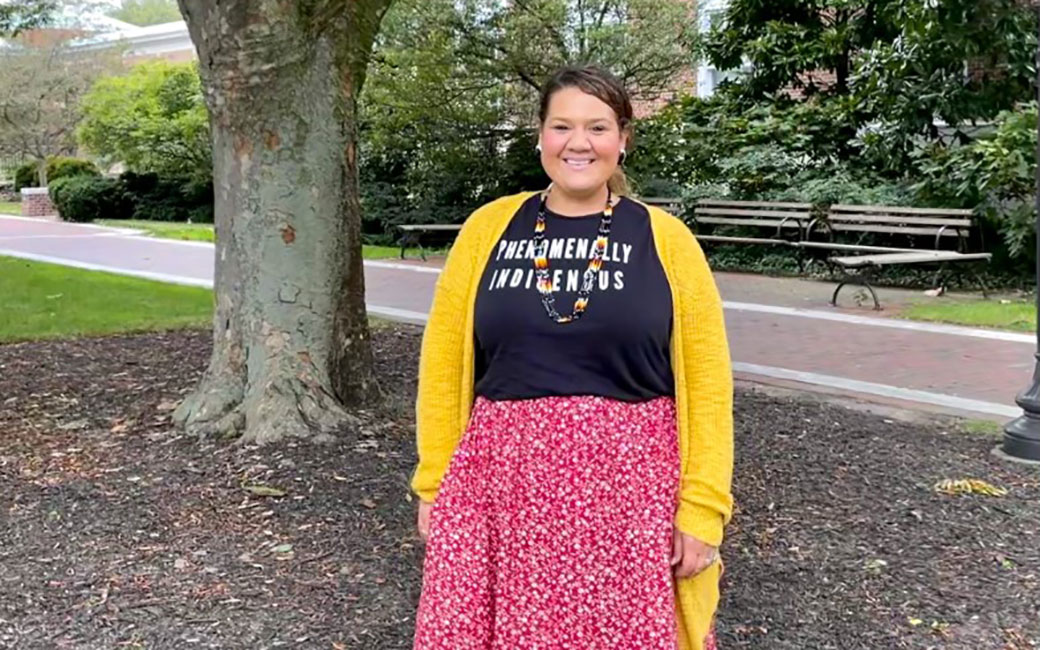 As a person of Native American heritage, Jessica Dickerson '11 has often felt like she was on the outside looking in. It's a predicament she is determined to change for others like her.
"Growing up I didn't have a strong Native connection to a lot of other people," says Dickerson, a member of the Lumbee Tribe of North Carolina. "As an adult, I've surrounded myself with more people who are like me and have really been invested in learning about our history and the importance of what's happened and how we can continue to advocate for Native folks all over."
Dickerson was raised in Baltimore, and it is through her grandmother, a member of the Lumbee, that she traces her lineage. While she always identified with her Native American roots, she didn't fully understand what that meant to her until she got older. When she came to TU, she intended to become a nurse, but the 2008 election changed her path. She was inspired to become more involved in social issues, so she switched her major to communication studies.
"When I was at Towson, I realized that advocacy is so important," says Dickerson, who participated in student government, worked as an orientation leader and was involved in Alternative Break Connections. "You really have to fight for what you believe in and who you are. I really started to figure out who I was, what was important to me and my values while I was at Towson. I was challenged in a lot of ways."
After graduating, she worked in the corporate sector before pivoting and taking a position at the Baltimore Native American Center. It's located in Fells Point, where her grandmother and many other members of the Lumbee tribe settled in the late 1950s.
Today, Dickerson works as a medical case manager for Native American LifeLines, a nonprofit that promotes "health and social resiliency within Urban American Indian communities." She is also a member of Indigenous Strong, a group that lobbied Baltimore City to abolish Columbus Day in favor of Indigenous Peoples' Day. The city did so in 2020, and the group is now hoping the state will follow suit.
"For me, it's not just about my own tribe," she says. "When you're an urban Native, you really lean into the Native people around you and share experiences and stories and traditions. You become a family and a support system. While I still identify as a Lumbee tribal member, I'm also very appreciative of the other folks and members of different tribes who have shared their stories with me and taught me things I wouldn't necessarily know otherwise.
"There is a spot in my heart for urban Natives."