Using the human rights and history minor to make a major change
Senior Taylor Parker has spent the fall academic term interning at the Baltimore Hunger Project
By Kyle Hobstetter on November 17, 2022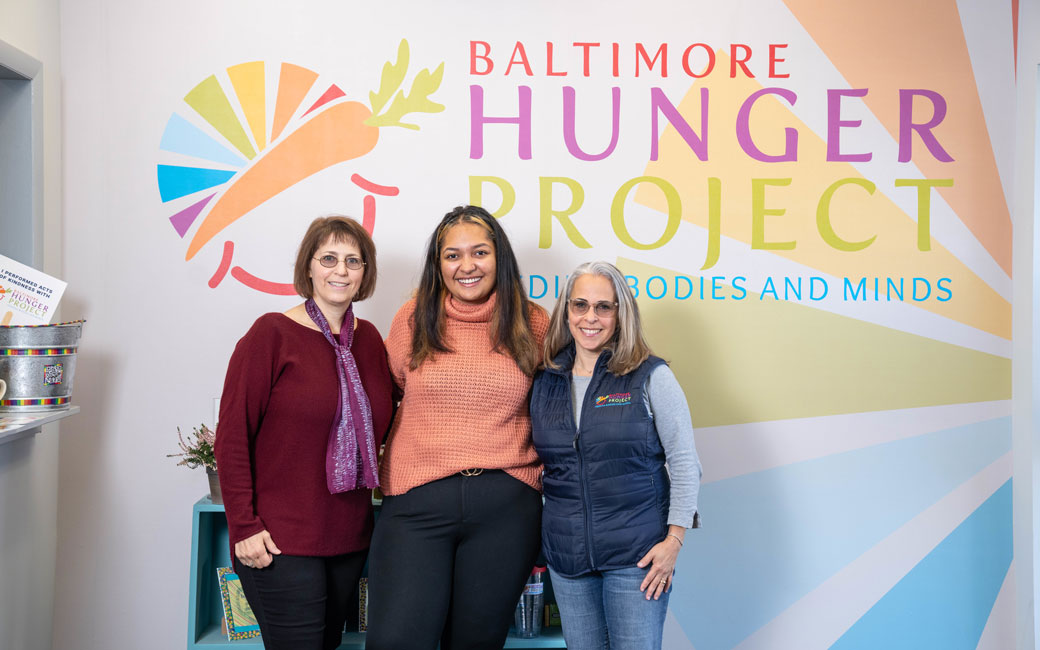 The next step for Taylor Parker, a criminal justice major graduating from Towson University this spring, has always been law school. But an internship with the Baltimore Hunger Project this fall provided a new perspective for her career path.
"This internship has taught me I would rather do something to help other people rather than something that's more financially rewarding," Parker says. "It's changed my perspective of what field of law I want to go into and the type of company I would want to work for."
"It's reimplemented the importance that giving back has in my life."
The Baltimore Hunger Project is a local nonprofit dedicated to eliminating weekend childhood hunger. The organization provides food packages for over 1,500 children in Baltimore City, Baltimore County and Harford County each weekend to bridge the hunger gap from Friday afternoon to Monday morning.
While working with the Baltimore Hunger Project, Parker did everything from marketing and social media to doing outreach with community partners and packing food.
"I think this experience was one of the reasons I chose TU, because I really wanted to take advantage of so many opportunities to get out of my comfort zone," Parker says. "This internship has taught me to have a drive to do something for a bigger purpose. We're helping kids in this community to give them a basic human right of not going hungry."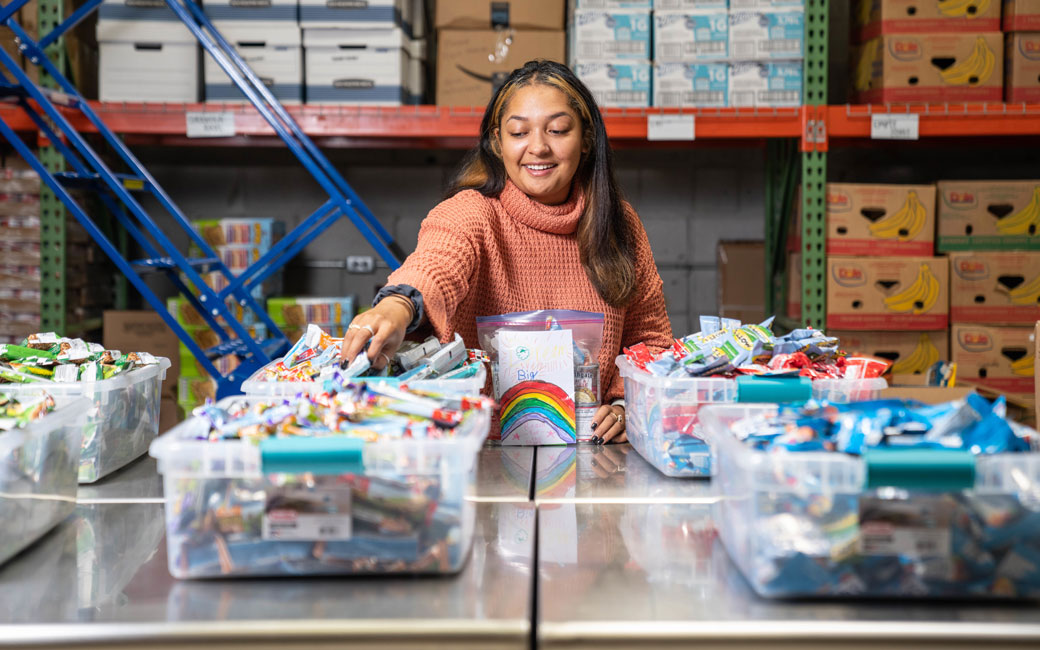 Parker discovered this internship opportunity through her human rights and history minor.
The minor, created within the College of Liberal Arts' Department of History in 2019, requires students to complete an internship. To help students find the right opportunity, Kimberly Katz, a professor of history and coordinator and internship supervisor of the program, brings local organizations to talk with students on campus.
"Students get the opportunity to see how their historical studies and studies in the human rights minor connect to real-world, everyday issues and problems," Katz says. "That's how we try and connect students and their interest in history with something they could actually do in the real world. We want to provide practical work experience."
The opportunity benefits the partnering organizations in addition to the student interns.
"The partnership between TU and the Baltimore Hunger Project is just really powerful," says founder and executive director Lynne Kahn. "By partnering with TU and Professor Katz, I have the opportunity to mentor students and help them understand food insecurity and how to relate to it, why it should matter to them and how they can make a difference.
"I enjoy working with Taylor and I love when she comes in here. We both learn from each other. It's such a mutually beneficial relationship, and I'm excited to continue working with Professor Katz and other students."
For Katz, Parker is just one example of the amazing real-world opportunities for students involved with the human rights and history minor. Along with food insecurity, the minor also focuses on subjects such as racism, poverty, inequality, forced migration and violence against marginalized groups.
Through work in the classroom and providing internship opportunities for students, Katz hopes that students who participate will graduate knowing and understanding how the world has worked.
"We teach students to think very critically about themselves, their role in society and what society has to offer them," Katz says. "We want to help students see their own potential."