Kaila Hodge '23 named Truman Scholarship finalist
Law and American civilization major one of six Maryland finalists for $30,000 scholarship
By Rebecca Kirkman on February 24, 2022
Towson University junior Kaila Hodge, a law and American civilization major and member of the Honors College, has been named a 2022 Truman Scholarship finalist.
Hodge is one of 189 finalists chosen from more than 700 nationwide applicants and one of just six finalists from Maryland.
"We are extremely proud of Kaila being named a finalist for this prestigious award," says Melanie Perreault, provost and executive vice president for academic and student affairs. "It is testament to her hard work and diligence and also to the excellence of our academic programs."
Additionally, the recognition reinforces that TU is fulfilling one of its core values—integrity and ethical action as leaders for the public good, adds Mary Sajini Devadas, associate professor of chemistry and director of Competitive Fellowships and Awards.
The Harry S. Truman Scholarship Foundation awards merit-based scholarships to college juniors who plan to pursue careers in government or public service. Truman Scholars, which will be announced in April, receive up to $30,000 for graduate or professional school, participate in leadership development activities and have special opportunities for internships and employment with the federal government.
"Truman Scholars are motivated, dedicated and inquisitive, [which are] characteristics that distinguish them from their peers," says Hodge, whose advisers are Clare Muhoro, associate provost for academic affairs, and Mairin Barney, assistant director for faculty outreach in the Writing Center. "I applied to this scholarship because, like Truman Scholars, I possess similar characteristics and have shown my commitment to leaving my mark on the world."
"Kaila is only the second student in TU history to be named a Truman scholarship finalist. She is a true change agent and an outstanding student on our campus who has a passion for giving back to others through her expertise and talent in political communication, says Muhoro. It has indeed been an honor for the entire TU Truman scholarship committee to work with Kaila though this process. We are extremely proud of her accomplishment!
Hodge has interned for former Maryland Del. Alice J. Cain and for Anne Arundel County Executive Steuart Pittman and has had op-eds published in the "Baltimore Sun" and the "Capital Gazette." In 2020, she was one of nine TU students to win a $5,000 award from the Benjamin A. Gilman International Scholarships program to support Pell Grant recipients' study abroad plans.
"At a young age, I realized my agency through political communication and its various forms," says Hodge. "I hope to inspire other young people to do the same."
She is one of two students nominated by Towson University for the Truman Scholarship. Nominees must be in the upper quarter of their class and should have an extensive record of public and community service, outstanding leadership potential and communication skills and a commitment to a career in public service.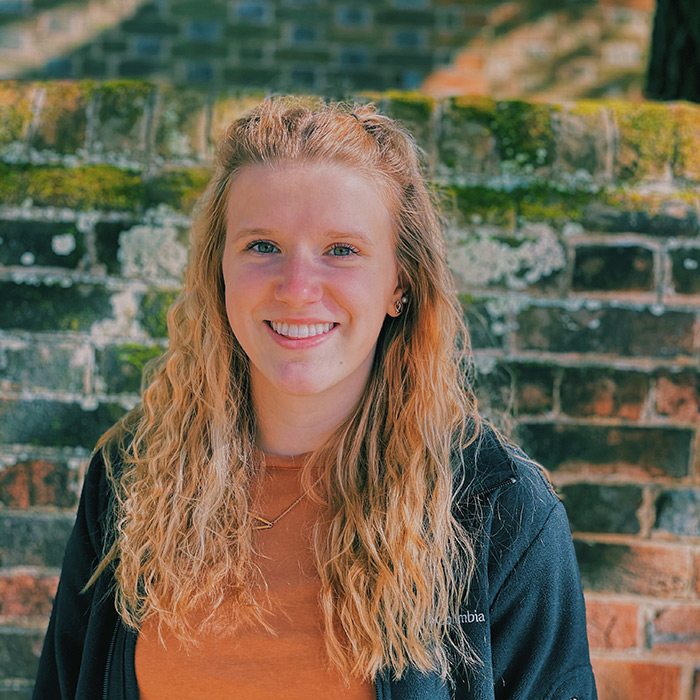 TU also nominated international studies major Alexia Fitz for the Truman Scholarship.
Fitz, who is minoring in human rights and history and political science, plans to pursue a career as an international humanitarian lawyer "to become a voice for people around the world who are suppressed."
Applying for the scholarship with the TU Office of Competitive Fellowships & Awards, Fitz says, has been invaluable. "Applying to be a Truman Scholar has challenged me academically and allowed me to learn valuable skills in interviewing and researching," says Fitz, whose advisers are Muhoro, Barney and professors Kimberly Katz and Alison McCartney. "Having an opportunity to apply for a scholarship that would help me support my dreams is an amazing experience."
The rigorous application process for competitive scholarships and awards like the Truman Scholarship is valuable for students regardless of outcome. Nominees strengthen their writing, relationships with mentors and knowledge of their chosen fields. Additionally, applying for a competitive award helps prepare students for more competitive graduate school applications.
"The Office of Competitive Fellowships and Awards is here to aid students like Kaila and Alexia make their mark in this world to be 'change agents' and put Towson on the global map," Devadas says.
Students interested in pursuing these opportunities should start early, adds Devadas. The Office of Competitive Fellowships & Awards supports Towson University students seeking to advance their educational and career goals through highly competitive fellowships and awards available nationally and globally. Faculty interested in nominating students for nationally competitive scholarships can do so here.
For more information, follow the office on Instagram and Twitter.