TU votes: Early voting and how to get involved
Midterm election resources for students, faculty and staff
By Rebecca Kirkman on October 24, 2022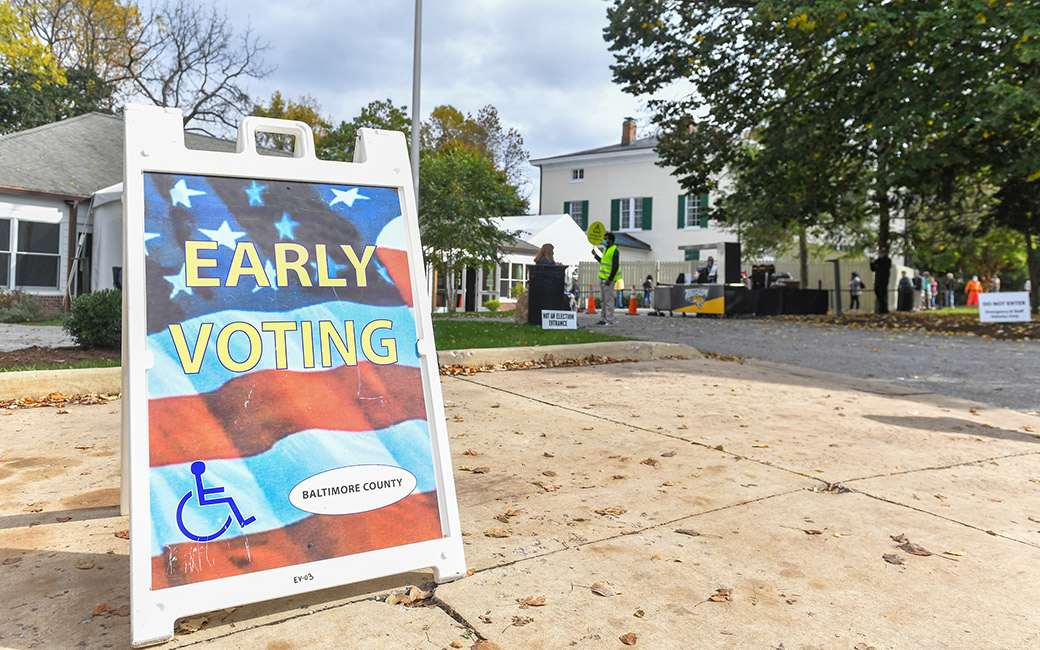 The early voting option for Midterm Elections is happening on Thursday, Oct. 27 and on the campus of Towson University.
It's a fitting site, since TU has been recognized as being among America's best colleges for student voting, with a student voter registration rate above 85%. In the 2022 Midterm Election Marylanders will elect a new governor as well as new state and federal legislators and will vote on other ballot questions at the state and local levels.
Learn more about resources to vote and get involved in the midterm elections this fall from Towson University's Office of Civic Engagement and Social Responsibility[BROKEN LINK], alongside other campus partners in the TU Votes Coalition.
Voting on Campus
All voters registered with an address in Baltimore County may vote in person at South Campus Pavilion on the following dates:
Early Voting: Oct. 27–Nov. 3, 7 a.m.–8 p.m.
On Election Day, those who are registered to vote with TU as their designated polling place may utilize the South Campus Pavilion. The poling place at South Campus Pavilion is open from 7 a.m. to 8 p.m. on Nov. 8.
Election 2022 Resources
Maryland's online voter registration deadline for the 2022 general election was Oct. 18. If you choose to vote in-person in Maryland, you can also register at your assigned polling place on election day and at early voting.
Request a mail-in ballot: Request a mail-in ballot through TU's voter registration portal. Registered Maryland voters can also complete an online request for a mail-in ballot. Place your completed Maryland ballot in the drop box at the South Campus Pavilion by 8 p.m. on Nov. 8. No postage is necessary. The Board of Elections will pick up ballots placed in the box daily.
Participate in Election 2022 programs: View a list of Election 2022 programming from the Office of Civic Engagement and Social Responsibility below.
Serve as an election volunteer: Complete this form to volunteer at the South Campus Pavilion during early voting and the general election.
Serve as election judge: The Baltimore County Board of Elections is recruiting election judges to work at polling stations during the 2022 general election. These are paid positions and an important public service.
Election 2022 Programming
The Office of Civic Engagement and Social Responsibility offers the following election 2022 programming in partnership with other offices and departments across campus. Follow civic engagement on Instagram and Facebook for updates.
Party to the Polls
Oct. 27 | 2nd floor University Union and University Union 325
A community celebration of voting in the 2022 Midterm Election. The program will include voter resources, games, food, a scavenger hunt, and prizes (including Stuff-a-Tiger). This is a result of a partnership of the Center for Student Diversity, Student Activities, Student Government Association, and Student Success Programs.
Election Day
Nov. 8 | 7 a.m.–8 p.m.
It's election day! If you did not participate in early voting, now is the time to cast your ballot. Head to your local polling location and vote. There will also be election tabling at the second floor of the University Union to provide resources with snacks provided.
Returns Watch Party and Election Emotional Wellness
Nov. 8 | 7 p.m.–11 p.m. | UU 302D
A partnership with the Student Government Association is providing an opportunity for the TU community to watch the Election 2022 results together with opportunities to relax and play games. Food will be provided.
After the Election: What's Next?
Dec. 6 | 5 p.m.–7 p.m.
This program invites the campus community to reflect on the elections, learn about the impact of the elections and explore ways to engage in civic life after the elections. Food will be provided. This event is a partnership with the Center for Student Diversity and the Counseling Center.