U.S. Air Force veteran leans on family, lessons learned while serving to pursue academic passions
Dajaha Kenney '24 has the discipline to succeed
By JAMIE ABELL on November 9, 2023
A senior cell and molecular biology major in the Fisher College of Science & Mathematics, Dajaha Kenney '24 came to Towson University in fall 2022 after serving in the U.S. Air Force for six years. She became part of the TU community when her husband, who she met in the service, started pursuing his kinesiology degree. With encouragement from him, a curiosity for the world of biology and the desire to be a good role model for their daughter, Kenney took a leap into the unknown and hasn't looked back.
Below, she shares how being a veteran, wife, mother and student has its challenges but the support systems she has in place give her the strength she needs to pursue her dream of helping others through biology and research.
---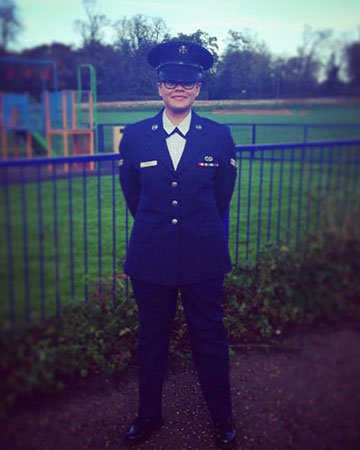 I always loved science. I originally wanted to be a marine biologist because I love the ocean, dolphins, sea turtles and how there is so much to be discovered. But when it was time to decide what to do after high school, I had to make a choice: college or the military.
My father served in the Army, and my family has a military background. After balancing the cost of a college education against joining the military, I decided to follow in the footsteps of my family and enlist in 2013, keeping in mind that college would be an option when I was done with my service.
While in the Air Force, I met my now-husband Ansel Stewart, and we had a wonderful baby girl together named Autumn. Not only did I find my family in the Air Force but I gained an outlook on life that continues to live with me today. The military taught me to be disciplined. It taught me the meaning of sacrifice. I had a structure to follow. Now, I must balance all the responsibilities that come with being a mother and wife while also meeting the demands that come from my research and academic life. Without discipline, I wouldn't be able to do it all.
Once I was honorably discharged, I lost the structure that guided my life for so long. I became a pastry chef and ran a bakery for a year. Then I realized I had confused my purpose with my passion for baking as a hobby. My husband started at Towson University as a non-traditional student and encouraged me to move forward and get a college education. I remembered my passion for biology and found a home at TU. Together, my husband and I became a power couple. We're both doing what makes us happy and what we've always wanted to do.
Towson University's Military & Veterans Center (MVC) has and continues to help me and my family. The community they have has made me feel more connected to my peers than ever. I initially struggled a lot trying to fit in as a non-traditional student. I even tried to change who I was, but that became exhausting. When I stopped trying to be someone else, I found my people, and the MVC was a large part of that. Dario DiBattista, the MVC director, and Toby Frevert, the program coordinator, always check in on us and support us. They make sure we have all the answers we need and help us navigate life as student veterans.
I found support in academics, too. I joined the Hill-Lopes Scholars Program and met some amazing mentors, including Peko Tsuji, Ph.D., who ended up being the principal investigator on my undergraduate research project. Being a part of this community of women in STEM makes my heart happy. In the military, I was often the "lonely only" not only because I'm a woman but also because I'm Black. It was frustrating. But this community is helping me shape my future as a biologist. And they're always here to help.
Now, I'm working on research to determine if cooking sorghum influences its cancer-preventing properties in colorectal cancer cells. I presented research on the gut microbiome of captive polar bears at the American Society for Nutrition's national conference. I also spoke with members of Congress as a member of Scholars Transforming through Research (STR) about the importance of investment in undergraduate research.
I could not have done this without my family and support system at TU. I'm empowered to apply for doctorate programs, so I can conduct more research and work in labs to solve problems related to cancer and genetics. I'm excited to be an example for my daughter.
To all the veterans out there thinking about going back to school, do it. It's difficult to get the ball rolling and throw yourself back into the real world, but it's worth it. You'll never know if you don't try, and you have so many resources available to you that you might not even know about. Success is not where you're at; it's the fact that you keep taking steps forward that matters.
Military Times Best for VETS
TU ranks in top 100 for best college for veterans
Military Times "Best for Vets" Program is the #1 resource for veterans exploring their next job opportunity or educational path. For college rankings, Towson University ranked #5 in the mid-atlantic region. Learn more