Indigenous peoples of the Chesapeake
New collection explores local history through lived experiences
By Pamela Gorsuch on November 15, 2023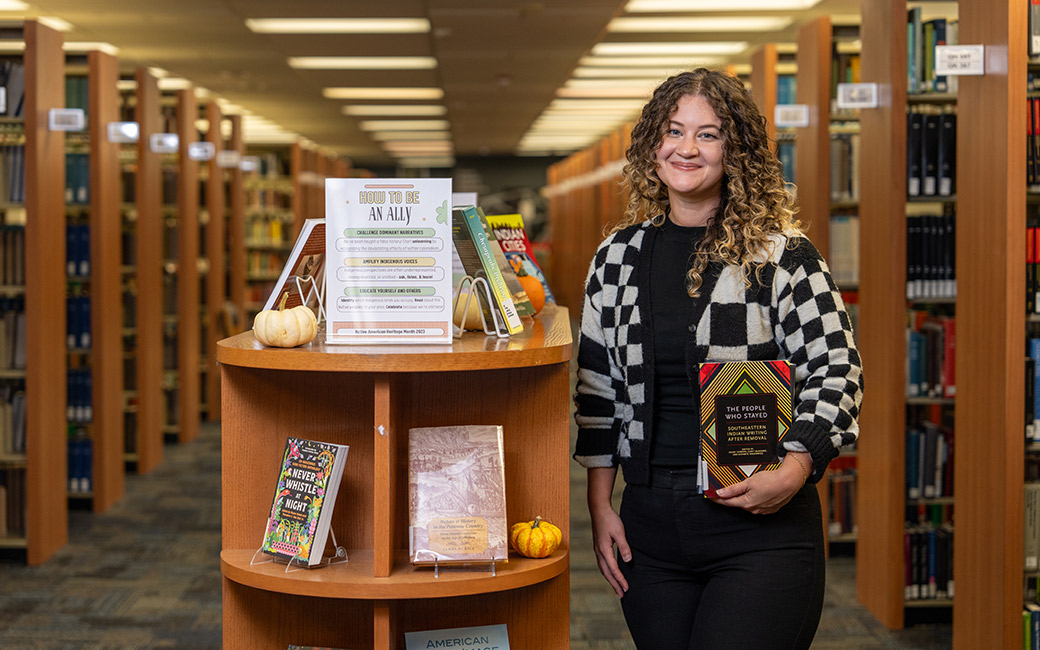 The Maryland region was once home to 40 Indigenous tribes living in established societies and trading with tribes as far away as Ohio. The most powerful of these nations, the Piscataway, resided in permanent villages from southern Maryland through Baltimore County. They supported themselves through sophisticated agriculture, made pottery and were known for their kind disposition.
"They were nothing like the Hollywood stereotypes," says Research & Instruction Librarian Emily Minner. "Most of our culture's perceptions of Indigenous people stem from tribes in the Western Plains. That's great, but it's not reflective of our region."
Cook Library's newest book collection aims to fill this gap. Minner researched and curated more than 25 books specifically focused on Indigenous peoples of the Chesapeakes. The texts explore narratives, art and histories of tribes deeply connected to the mid-Atlantic region. Displayed on the library's fourth floor, the collection showcases infographics on the tribes as well as an illustrated guide to Baltimore's Native landmarks. It is on display throughout November in recognition of Native American Heritage Month.
For Minner, the collection is deeply personal. She's a proud member of the Lumbee tribe, the largest tribe east of the Mississippi River. Estimates put Baltimore's Lumbee population at between 4,000 and 7,000 as recently as 1980. Though her heritage is strong—Minner grew up deeply embedded in the community, and her sister is a Lumbee scholar—she rarely recognizes herself in modern representations of the culture.
"I've never been on a reservation, and I don't look like most cultural representations of Native Americans," Minner says. "I know what a struggle it can be to find a place where you feel like you belong."
Those struggles inspired her to create an authentic book collection representing the Indigenous peoples of the region. She researched native authors from the Piscataway, Nottoway, Pamunkey and other local tribes whose lived experiences make for compelling narratives. She also scoured publishing databases to identify texts with region-specific research, finding books that incorporate source material from the early 1900s up to today. The amount of research blew Minner away. She knew it would offer the authentic representation she missed while growing up.
"As my sister Ashley says, 'Our stories and our places connect us to ourselves and to each other,'" says Minner. "I want our campus community to see themselves and their region in this collection. I want them to know the history of this land and to know we are still here."
Celebrating Native Heritage & Culture
November is Native American Heritage Month. Deepen your understanding about the community, connect with support services and resources and celebrate at programming all month long. Join us in Celebrating Native Heritage & Cultures and the many ways they remain vibrant and present today.