Professional Writing (M.S.)
If you have a passion for writing, a natural curiosity and a desire to apply your creative talents in a professional career, this degree can help you achieve your goal.
Why Earn a Master's Degree in Professional Writing?
In this master's you will develop your communication skills and prepare to enter or to advance in occupations requiring extensive written analysis and reporting. The program prepares you to improve written communication and its management in the corporate and public sector and in professional organizations. The program also features workshops in fiction, creative nonfiction and poetry, taught by published and award-winning authors.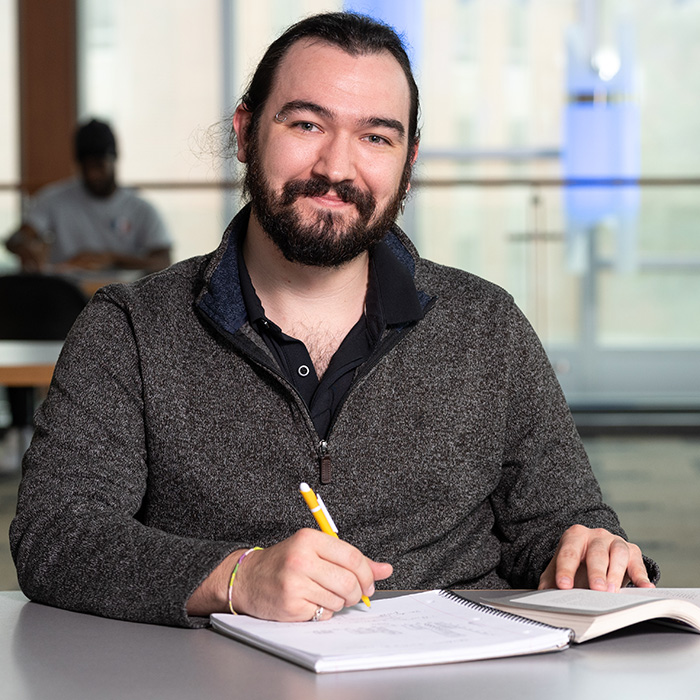 About Our Students
Alexander Eikenberg '23 plans to teach English at the college level. He did an internship as a teaching assistant in an English course for non-majors to align with his goals.
Read more
About the Program
Students typically enter the program with liberal arts backgrounds, but business and healthcare professionals often pursue professional training to enhance their writing skills. Faculty members have many years of experience writing and designing information for a range of media and audiences. Some faculty members serve as communications consultants throughout the region, while others are active in research and in national organizations for professionals in business, technical and biomedical communication.
The program's required internship gives you the opportunity to gain experience in your chosen field. Students have interned with publishing companies, community literacy projects, elementary and secondary schools, television networks, nonprofit organizations and corporations. Graduates work in the fields of publishing and editing, advertising, public relations, technical writing and education.
Choose from Five Tracks
The program provides advanced study in the theory of writing, writing techniques and style, principles and techniques of editing, and the functions of written communication within the professional and occupational setting.
The program features five tracks:
creative writing
journalistic writing
technical writing and scientific communication
teaching writing
writing for the nonprofit sector
Students who would rather design their own route through the program may choose "no track."
Admission and Degree Requirements
View admission requirements and deadlines to apply to the program. View degree requirements and course descriptions in the Graduate Catalog.
WHY TOWSON university?
Flexible Scheduling
Course schedules are designed for the working professional. Evening classes, some of them offered in a partly online format, allow students to pursue careers along with the graduate program.
Only Program in Maryland
The graduate program in professional writing is the only program of its kind in Maryland and is one of only six other programs nationwide.
Writing Resources
The university offers a host of resources to help you perfect your writing skills. Check out the Writing Center, the College of Liberal Arts Computer Labs and Online Writing Support for basic grammar skills.
Ready to get started? Here's how to apply.
Apply Now
Contact Information
Program Director
Location
Liberal Arts Building
Room 4210 F (PRWR mailbox)
Hours
Monday - Friday
8:30 a.m. - 5 p.m.