Music Education Major
Towson University's music education program is recognized as one of the leading programs in Maryland and the mid-Atlantic region.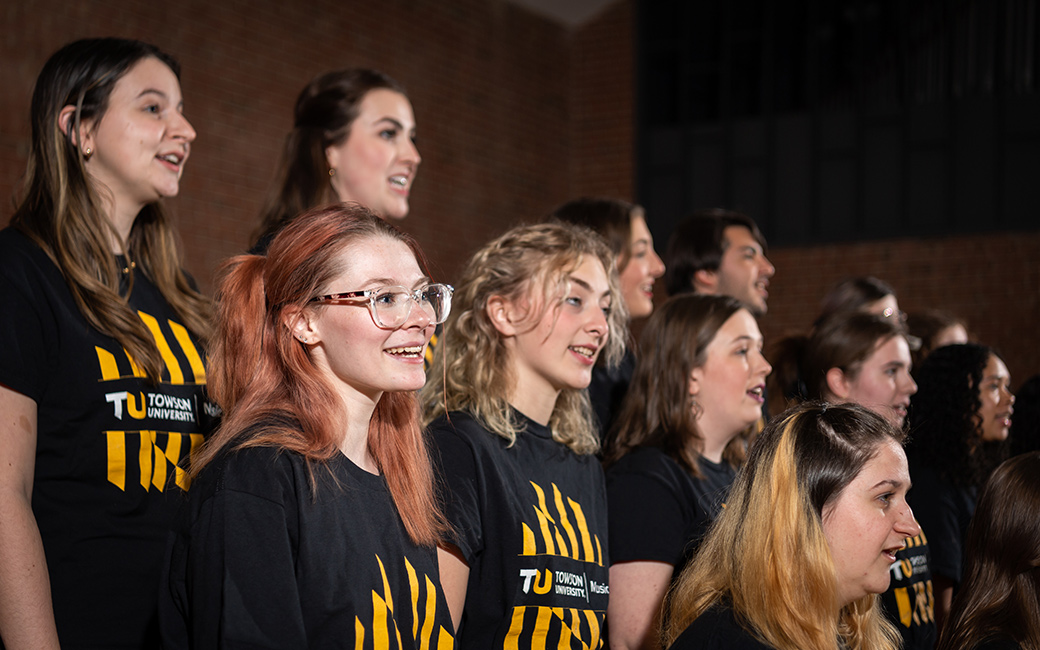 Students majoring in music education must complete the music education professional core courses and the core curriculum. Students may choose either the instrumental music education concentration or the vocal-general music education concentration. Successful completion of the program leads to certification to teach music at the PreK-12 level in public schools in Maryland and other states. In addition to successfully completing the music education degree program, students must pass the Praxis Core exam, the Praxis Subject Assessments for music, and complete necessary background documentation.
A separate application and performance audition are required for admission to the Bachelor of Science in music education program. Faculty members help you through the various aspects of the audition process. View degree requirements and course descriptions in the Undergraduate Catalog.
Why Towson University?
Perfect Setting
Towson University's Center for the Arts features many state-of-the-art facilities, including smart classrooms, a recording studio, a keyboard lab, practice rooms, a computer/Aural Skills lab, The Harold J. Kaplan Concert Hall, and a 150-seat Recital Hall.
Ensembles
The department offers a variety of ensembles including symphony orchestra, symphonic band, chorale, men's chorus, women's chorus, a "Music for the Stage" program, jazz orchestra, jazz combos, pop ensemble, world music ensemble, steel band ensemble, percussion ensemble, early music ensemble, and a variety of small instrumental ensembles. All majors are required to participate in ensembles. These ensembles are open by audition. Student across campus are welcome to join the TU Choral Society without audition.
Scholarships
Students who audition in January and February are eligible for Department of Music scholarship consideration which for freshmen are for four years and for transfer students two years. Upon admission, full- and part-time students are encouraged to apply for a number of scholarships and competitions within the department based on talent and achievement. Learn more about application deadlines and requirements.
Student Internship
The student internship is the capstone experience of the bachelor's degree in music education. To enroll in an internship, students must have completed and met all requirements. Successful completion of the internship prepares a student for eligibility for certification as a PreK-12 music educator.