Alexandra Vlk
Majors: Biology and Chemistry/Physics Minor '17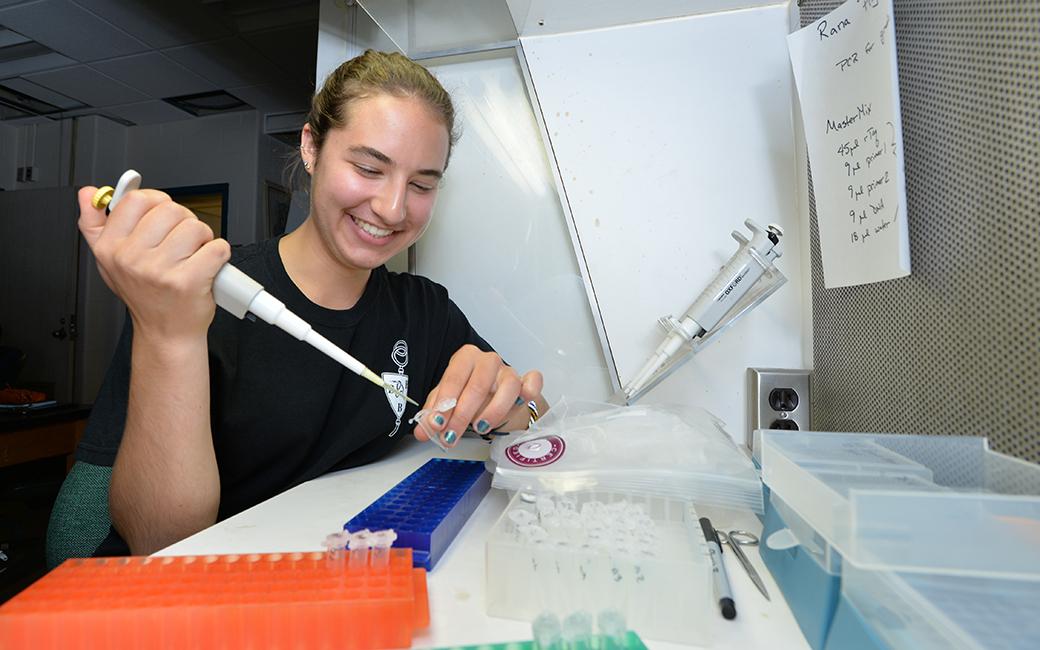 Alexandra Vlk chose to attend Towson University because of its reasonable in-state tuition, proximity to home and beautiful campus.
But the clincher, says the Baltimore County native, was the human cadaver dissection class offered in TU's Department of Biological Sciences.
"That was a huge plus for Towson. It really drew me in," explains Vlk, who plans to apply to medical school.
Vlk knew that in order to be competitive as a med school applicant, she would need a rigorous undergraduate science program, offering a broad range of courses and rich opportunities to engage in hands-on research.
She found it at Towson, as an Honors College student, double majoring in biology and chemistry, and minoring in physics.
To complement her classroom learning, Vlk, who is a former president of the Student Affiliates of the American Chemical Society and current president of the Beta Beta Beta Biological Honor Society, works under the mentorship of biology professor Brian Masters, investigating microsatellite loci in the genome of local wood frogs.
Conducting research has been "a wonderful experience," says Vlk, who appreciates how working in the lab is developing her scientific thinking and getting her accustomed to collaborating with colleagues, just as she will later in her career.
She attributes her positive experience largely to the attentive and accomplished faculty at Towson.
"They're kind and welcoming and always willing to answer questions," says Vlk.
"I couldn't be happier."