University Police
Our fully-sworn police officers work 24 hours a day, 365 days a year.
The Towson University Police Department is comprised of more than 40 fully sworn and dedicated officers under the leadership of Police Chief Charles "Joe" Herring. Our officers draw from proven community policing strategies to provide the full range of patrol, investigative and crime prevention services.
Report a Crime
Contact the TUPD immediately if you see, experience or even suspect a crime on campus. We are available 24/7 at 410-704-4444 (for emergencies) and 410-704-2134 (for non-emergencies). You can also email police AT_TOWSON or contact us through any of the campus's emergency blue light phones.
Need help? Learn more about SafeWalk escorts, property registration and more.
Police Services

Crime Prevention
Our goal is to prevent crime. We encourage you to watch the active shooter training video and campus safety videos to learn helpful tips on preventing and responding to crimes. All students, faculty and staff receive emergency text alerts to keep them informed about emergency situations on campus. Consider downloading the SaferMobility app to use as a safety net in potentially threatening situations.
Emergency Communications
Safety starts with awareness. We employ a range of emergency communications tools to inform and update students, faculty and staff on situations impacting campus safety. Depending on the severity and proximity of the incident, we will share information via:
emails to university-issued accounts

external sirens and voice announcements

Office of Public Safety Twitter account

internal building announcements
About Us
We have the unique distinction of being accredited by both the Commission on Accreditation for Law Enforcement Agencies (CALEA) and the International Association of Campus Law Enforcement Agencies (IACLEA). Less than one percent of law enforcement agencies have both accreditations, which validate compliance with state-of-the-art industry standards. Learn more about us.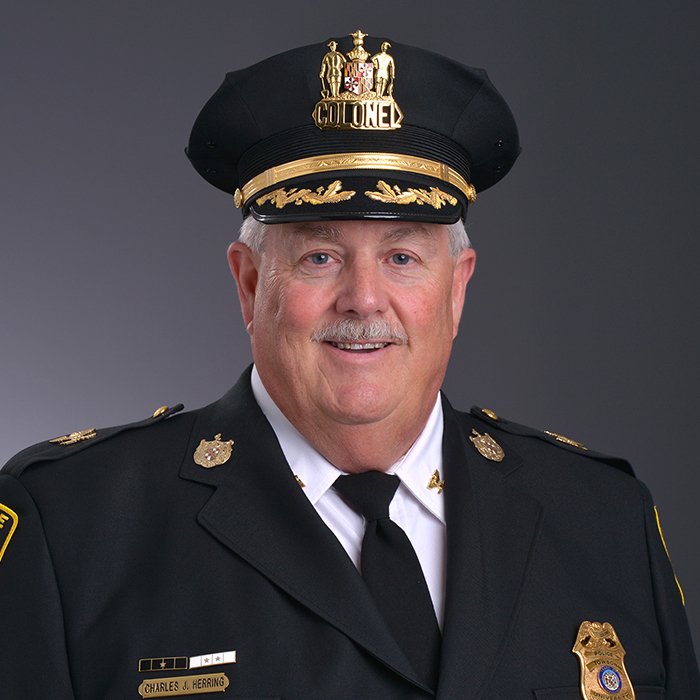 Chief Charles Herring
Director of Public Safety & Chief of Police
"I believe safety is foundational to a world-class education. Every member of our campus community has a stake in maintaining our safe and vibrant campus. You can play your part by trusting your instincts, observing your surroundings, and reporting suspicious behavior."
News
Contact Information
University Police
Location
Public Safety Building
290 Towsontown Blvd W
Hours
24 hours a day, 7 days a week