Asia North 2021 Exhibition
Featuring 24 regional Asian and AAPI artists' expressions of creativity and perseverance.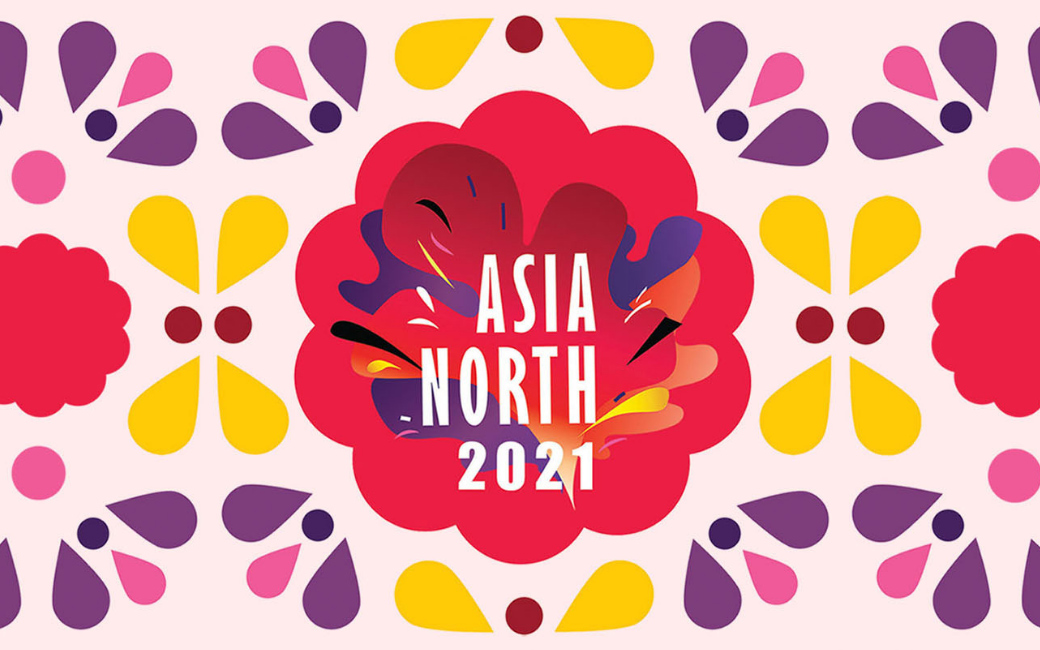 When the Asian Arts & Culture Center and Central Baltimore Partnership launched our first Asia North Exhibition and Festival in 2019, we never imagined that, two years later, we would see such a dramatic rise in anti-Asian hate and violence towards the AAPI community, fueled by ignorant rhetoric from the COVID-19 pandemic. In this climate, we launch Asia North 2021. To me, this year's community event isn't so much a celebration, but more so, a challenge. A challenge to AAPI communities to raise our voices with intention. A challenge to non-AAPI communities to see, hear, acknowledge and understand AAPI communities in a deeper way, while also not forgetting that Black Lives Still Matter. A challenge posed by the work of filmmaker Molli Chang, though in a slightly different context, to "Wake Up!" It is challenging and meaningful work to build bridges of understanding and acceptance among our communities, and we will all be better for it.
The Asia North 2021 exhibition's field of 24 artists have cultural roots in China, India, Iran, Japan, Korea, Philippines, Taiwan, Thailand and Vietnam. They practice their art in the MD-DC-VA region. As in previous Asia North exhibits, I did not pre-determine an exhibit theme, but instead wanted artists' works to reveal their own themes, and exhibit viewers to make their own connections. As a proud member of the AAPI community, the FilAm community, and a Baltimore native, I am grateful and humbled by this opportunity, and especially at this moment, to amplify the diverse AAPI voices represented in these works.
Special thanks to AA&CC Director Joanna Pecore for her steadfast vision and guidance; Jack Danna and Maura Dwyer of Central Baltimore Partnership for their tireless work in engaging our community partners; and Tori Munoz (Motor House), Sandra Gibson and Evan Rogers (SNF Parkway Theatre), Alanah Nichole (Impact Hub Baltimore), Vicki Mehring (North Ave Market), Okan Arabacıoğlu (Joe Squared), and Kevin Brown (Nancy by SNAC) for allowing us to activate their window spaces with these expressions of AAPI creativity and perseverance.
Nerissa Paglinauan
AA&CC Program Manager
Asia North 2021 Exhibition Curator

Selected Works
Reed Bmore
This work talks about the profound change of history based on the biases of who wrote them, something important to consider when considering Asian American art in the context of the contemporary art world.
Cheng Cao
Molli Chang
Sweet Symphony is a reflection piece that I made for class. It is based on a true story that actually happened to me in high school with my mom.
Wake Up is important; it is explicit and contains uncomfortable content but conveys hard truths that every human being needs to see and understand—just a tip of the atrocities that continue to go on, unfortunately. Its purpose is a call to change and bring awareness to a few issues that we face that are imperative to address and do something about.
Anu Das
United was made to honor Supreme Court Justice, Ruth Bader Ginsburg.
Disasters, Aftermath, Awareness is from my ongoing series on climate change. I made this necklace in response to how persons with disabilities are disproportionately affected by disasters due to climate change. Cyclone Fani hit my hometown, the coastal city of Odisha, India in 2019, after which I dedicated this necklace to rebuilding after disasters.
Migrants, Changing climate: surviving in altered landscapes is about adapting to new environments and rebuilding after the effects of climate change.
Migrants: Altered landscapes is from my ongoing series on climate change, in response to the death and forced migration of birds due to the California Wildfires in September, 2020.
Marlo De Lara
The visual portrayal of the past year events has been unavoidable with the level of mediated images reaching limits of saturation for the general public. We are enmeshed in these representations and curated social media posts, for better or worse. The heightened emotional state catalyzed by logistics of the global quarantine has resulted in increased media and creative output. We are reminded daily of what it feels like, what it sounds like, and how perceptions can appear for those living through global crises. For those of us blamed for the "Chinese virus" and for those of us targeted by conservative media coverage of the liberatory efforts of the BIPOC community, the violence has been documented but lacks the dimensions of lived experience. In some ways, this varied documentation and editorialization has run rampant in the way the pandemic has, leaving the masses in a cacophonous sea of chaos. We are both panicked and numbed by the multiple upheavals of the unfolding events.
My series is both an inquiry and an aim towards reparative efforts for the survival of endangered populations of 2020-21. By decentering the mainstream gaze by stripping its context, when framed as an art experience, how would the harms and resilience of these times be represented? Specifically, if we were to hone our senses to a single form, what would it sound like?
What is a visual score or graphic score?
Unlike the more traditional five-lined musical stave, with each line and each space representing a different pitch, a graphic score is a different way of notating a piece of music. Scores can blend conventional elements notation with the unconventional. The performer has to use the pictures to inspire his or her performance — it's more like a guide, or a musical map.
Learn more about Marlo De Lara
Gloria Tseng Fischer
One of the most important traditions in Asian culture revolves around food and thus feasts. A typical Chinese greeting is, "Have you eaten?" All celebrations involve feasts. A traditional wedding banquet includes a "beggars' table" for any stranger who wants to join in the celebration. When a child reaches age one, a "Red Egg" banquet is hosted by the parents to celebrate the naming and birth of their child.
These paintings reflect a cross culture in food. The vegetables and fruit depicted in these paintings are native to Asia and have Asian names: bitter Indian melon, Chinese cabbage, Asian eggplant, and dragon fruit. Sweet Taste of Oranges is included for the fruit's importance—oranges are usually served as a pallet cleanser.
Learn more about Gloria Tseng Fischer
Farhad Heidarian
Learn more about Farhad Heidarian
Margaret Huey
The fantasy race of orcs was conceived and popularized by Tolkien's depiction of them in the Lord of the Rings series, where they embodied all that was warlike and savage. But as consequence of the colonial society Tolkien existed in, he both unintentionally and explicitly drew from racist ideals, describing orcs as resembling "the least lovely of Mongol-types." This screenprint was developed with the intention of reimagining orcs in a more lighthearted way, less representative of the colonial status quo. In this piece, an orc picking fruit while her saddled dinosaur steed steals a few pieces is designed around both fond childhood memories of and visual reference to Thailand.
Learn more about Margaret Huey
Linda Kato
Nur Jahan (1577-1645 CE) was the beloved wife of Mughal Emperor Jahangir. Well-educated, politically astute, and charismatic, she was the real power over the throne when the vast Mughal Empire of South and Central Asia was at the peak of its power and glory. She signed and issued imperial orders, and bravely led troops into battle. She was a celebrated architect, whose innovative use of marble inspired her stepson's legendary mausoleum, the Taj Mahal.
Her doll wears a replica of opulent Mughal Empire court fashion, dressed in TWO peshwaz robes with a high waisted fitted bodice and skirt. The top one of black, gold, peach, and turquoise brocade, is lined with gold trim and pearl loops. It opens to show the second peshwaz of peach sequined lace trimmed with pearls. Beneath she wears a choli and pijamas, both of peach silk taffeta. The choli is a midriff-baring blouse, and the pijamas are loose trousers that are fitted at the ankles. She proclaims her authority with an elaborately bejeweled turban of gold silk and matching brocade. This doll was exhibited in Winter 2020 at the Sandy Spring Museum's "Art Dolls: Figurative Sculptures Tell a Story."
Seondeock (595-647 CE) of the ancient Silla Kingdom (now part of modern Korea) was the only queen regnant, ruling in her own right, in Korean history. She was renown for her care for her people, limiting taxation of peasants and merchants; building the Cheomseongdae astronomical observatory to improve agricultural planning; and providing state support for indigent widows, elderly and orphans. She introduced Buddhism to Silla from China, and arts and literature flourished under her patronage. With both diplomacy and military might, she fended off invasions from surrounding kingdoms.
Seondeock's portrait doll is shown wearing the traditional royal crown and belt of the Three Kingdoms period, asserting her equality with male rulers. These and her necklaces are embellished with semiprecious stones. She is dressed in a handsewn traditional "hanbok" of this period, comprised of a silk brocade "jeogari" and silk satin pleated "chima" over linen underclothing. Her Buddhist prayer beads and stone incense burner symbolize her deep Buddhist faith.
Wu Zetian (624-705 CE) was the only woman who ruled China as Empress in her own right. Brilliant, charismatic and decisive, Wu Zetian rose to power initially as Consort of the ailing Tang Dynasty Emperor Gaozong, and then as Regent for her sons, the Emperors Zhongzong and Ruizong, ruling as the real power behind the throne from 665 to 690. She then took power in her own right as Empress Regnant, ruling from 690 until her death in 705. Wu Zetian did much to extend the unparalleled power and wealth of the Tang Chinese Empire, easily rivaling its Roman counterpart in the West. An astute political and military leader, she expanded the already vast Tang Empire deep into Central Asia and the Korean peninsula. The most consequential of her administrative reforms was instituting the civil service exam to qualify for government bureaucratic positions. The exam was the first of its kind in world history and opened the highest ranks of public administration to common people, not just to the nobility. She expanded state support for education, art and literature, and both Taoism and Buddhism, and commissioned the monumental statuary of the Longmen Grottoes and the "Wordless Stele" at the Qianling Mausoleum.
Wu Zetian's portrait doll replicates the lavish Tang imperial "look", with her delicate white and rose make-up, still worn today by traditional Chinese opera performers; a pink and gold silk brocade "hanfu;" a bead-trimmed gold lace robe; worn over a complete set of period linen underclothing. Her elaborate Tang hairstyle of silk roving is decorated with a bejeweled diadem. Accessories include necklace, earrings, fan and matching silk slippers with upturned toes in the Central Asian style.
Jinyoung Koh
Temporary Square addresses the masses of people that during longer vacation periods voluntarily and temporarily displace themselves from the cities they inhabit to locations deemed 'Holiday Attractions'. While leaving cities deserted, this regular mass exodus transposes the characteristics of urban life to these new locations in a phenomenon that creates a temporary expansion of urbanization. Currently, this is also flavored by the growing presence of handheld media devices. Presented in several chapters dedicated to different historically and culturally significant locations in the Korean Peninsula, Temporary Square asks what memories and experiences are being constructed by these shifting multitudes and the cites they leave deserted.
Sunjin Leaa Lee
As an artist, my life closely resembles the theme of "journey" featured in my works. Traveling not only introduces one to a new, foreign environment, but also to people's inner landscape. The vast variety of people coexisting in this world essentially indicates the inevitable presence of profoundly different beliefs and values. I usually draw and paint portraits because I always have an interest in humans, and the dualism that extends into people's social research. I believe that the qualities of Eastern art can merge into associations with Western contemporary art through various interpretations and attempts. In other words, it is very meaningful for me to be the intermediary to convey both cultures through my work. Often times, painting is compared to the act of stripping and revealing. During this process, the author invites the viewers to the space of art pictured through a voyeuristic perspective. I wish my endeavors and the images conjured up will help viewers better understand the creations made through the clash of cultures.
Learn more about Sunjin Leaa Lee
Jing Ma
One Summer Day—A traditional Chinese family with a group of four. My mom is the one who is always giving and never requests anything. So I chose to hide her within the painting. My brother and I need father like we need the sun to guide us, we need mother like we need water.
One Summer Night—Our favorite family time during summer.
A Market Place—Going to the market with my mom used to be my nightmare because it was so crowded and I was always worried that I may get lost in crowds. This kind of market still exists in a few rural areas, but in my hometown. It has been preserved in my memory forever.
The Swan Knows First—The spark is from a Chinese poem, "The duck aware the spring is coming first because of the warm river water." Traditionally, we pay attention to the environment, and balance in the relationship between human beings and nature is very important.
The Pebbles Game—My brother is my best friend and game partner when I was young. The pebbles game was so popular in Southeast Asia in 1980.
Hadrian Mendoza
My works represent contemporary art created by a Filipino-American artist. My works have a recurring theme of globalism and transnationalism as they reach a wide audience. They seem familiar to the viewer and can be translated in various ways. With all the different cultures that I interact with, it is important for me to let these experiences fuse into my work and way of living.
Learn more about Hadrian Mendoza
Miki + Dolor + Van Ngo + Hsiao-Chu Hsia
How do you feel the love from someone else?
How will you describe the love that you perceive?
How much could you take then?
Not being able to meet during this period, four artists came out with this art-relay project, Breath Touch Glance, which includes performances, photos, videos, and poems.
(Ordered by working timeline)
Project Organizer: Miki
Model: Dolor
Photo: Van Ngo
Poem and Reading: Dolor
Performance Video: Hsiao-Chu Hsia
Learn more about Miki + Dolor + Van Ngo + Hsiao-Chu Hsia
Sookkyung Park
Wave II—For this work, I chose paper because paper is weak in water, but does not disappear, giving a sense of existence that can remain in some form. To compensate for the weakness of the paper, it was folded into several layers and connected to each other to express its solidity and strength. Also, the overlapping shapes and lines were inspired by Korean traditional roofs. This type of roofing is still preserved on traditional Hanok roofs in urban and rural areas.
Wind I—February 9th 2011 was an ordinary unchanging season, but it was really different from usual. The day after leaving Korea, my family arrived in the United States. Our tensions and anxieties about the different surroundings and the uncertain future were like the windy February weather. Through this work, I tried to express the situation at that time.
Dragon & Rainbow—Dragon is an imaginary animal of superiority and dream. Also, rainbow represents joy and hope. For this sculpture, I prepared hundreds of papers that are 5 cm horizontal and 7 cm vertical. While I folded them into triangular shape, I wished my dream come true, and finally combined them into a dragon and rainbow. Firmness of the metal represents strong desire to a future that shows endless dream for myself.
Learn more about Sookkyung Park
Grace Ren
Slothpotato
Trying to Survive—I did not know I had depression until I was in middle school. As many other minorities experienced growing up, talking about feelings was taboo. Often times, whenever a child is trying to say something, it is dismissed. Why? Because to me, at least, it seemed adults did not care. I learned to hide my emotions, and crying was not allowed because people would think you are weak. I did not enjoy living in my own home and tried to stay away from it. School became my safety net. I enjoyed being in school and learning, of course talking to my friends. I still struggle with depression, but continue to find ways to make me happy and use a variety of coping mechanisms. My mental issues got worse during the pandemic, and I moved out in August so I can live the life I wanted, to feel infinite, be free, and to work on myself. Here I express my vulnerability to the world.
Overthink—In my first year and a half at the university, I was constantly drained by thinking too much. It got to the point where I severely needed help. My mind was never at peace, not for a long time. I realized my thoughts were getting worse and I was getting weaker. It felt like something went through my mind.
Nahid Tootoonchi
In this work I have used the letters BLM in Farsi not for its readability but to express the challenge, tension and the beauty of the movement.
Learn more about Nahid Tootoonchi
Anjali Wells
My work seeks to shift the view from European culture to Asian culture by asking viewers to see other forms or regality and royalty while following the contemporary trend for pet portraiture.
The elegance of Indian Royalty combined with the curiosity of a bearded dragon, Maharani Dragon imagines a curious pet in the style of an Elizabethan portrait.
The stoic nature of man's other best friend with the power and iconography of royalty, The Raja Formerly Known As draws on Elizabethan portrait, Maharaja-style with a nod to the Pop Prince gone too soon.
Andersen Woof
These paintings trace my emotional experiences as an Asian and gay immigrant living in the U.S. for almost a decade. Part of my ongoing series about landscape and solitude, these five paintings explore feelings such as loneliness, fear, nostalgia and desire.
Originally trained in landscape architecture and urban design, I am passionate about form-making and fascinated by the dynamics between people and places, especially the psychological impact of physical spaces. Through each of these paintings, I investigate what it means for human beings to live simultaneously with joy and pain.
Learn more about Andersen Woof
Nikita Yogaraj
Hot climate houseplant is a play on a still life of a houseplant grown in a hot climate. As a person identifying as both South Indian, and Southern, part of my art strives to imitate natural environments that make me feel connected to my identity, invoking hot green climates that make me feel at home even when my family no longer lives in the country and climate of my ancestors.
Banana flower censor uses objects of nature to "censor" parts of a woman's body, but using banana plant anatomy to convey the similarities between women's bodies and those found in flora, highlighting the functional elements of otherwise "taboo" body parts, such as nipples and pubic hair.
Another World is Possible - Arundhati Roy—Arundhati Roy is an Indian writer and political activist. This portrait of her is part of a series of Creative Women of Color portraits I created to highlight, among others, Desi women creatives, and document their messages, to remind why social justice work continues to be important despite challenging times. In the current context, the philosophy of police and prison abolitionists have become more visible in the U.S., with a common mantra: a better world is possible.
Nowhere Left to Go - Jhumpa Lahiri—Jhumpa Lahiri is a Bengali Indian-American novelist. This portrait of her is part of a series of Creative Women of Color portraits I created to highlight, among others, Desi women creatives, and document their messages, to remind why social justice work continues to be important despite challenging times. I have interpreted an excerpt of Lahiri's novels to convey the plight of seekers of asylum in the current context of Central & South American asylum seekers in the US. I believe descendants of immigrants should be able to empathize with that journey and use that to fuel their support of work uplifting asylum seekers.
Learn more about Nikita Yogaraj
The Asia North 2021 Exhibition is co-produced by Asian Arts & Culture Center and Central Baltimore Partnership. Special thanks to AA&CC Members, Yoshinobu & Kathleen Shiota, Mike Shecter, and Baltimore Changwon Sister Cities Committee.
Festival artwork by Ameena Fareeda