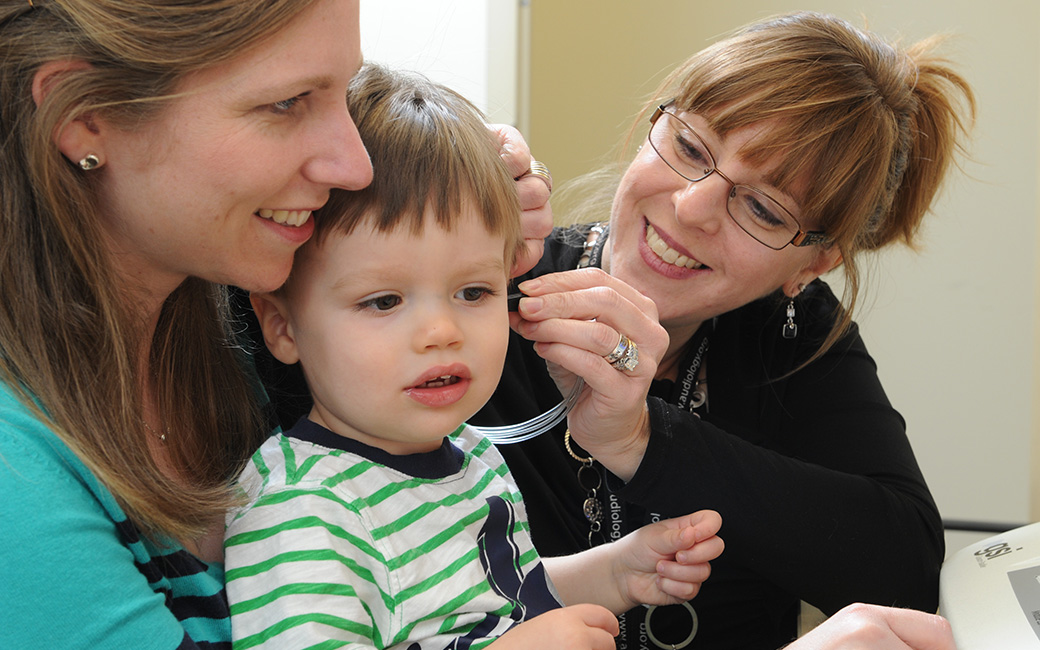 Towson's applied doctoral program in audiology offers students an unbeatable combination: one-on-one attention from superb faculty, talented and diverse students who have won national recognition, and clinical placements at world-class medical institutions, including Johns Hopkins Medical Institutions and Walter Reed Medical Center.
The program prepares students to become competent practitioners, providing a solid grounding in the scientific and research aspects of evaluating, treating and preventing auditory, balance, communication and related disorders. View degree requirements for the major in the Graduate Catalog. To learn more about the application process, view admission requirements.
Audiology Au.D. Open House
Enroll in one of the nation's largest applied doctoral programs in audiology, and prepare for national certification and state licensure. Attend an open house and learn more about the program.
October 14, 3:30-5 p.m.
December 2, 3:30-5 p.m.
Please email the program director, Dr. Jennifer Smart, at jsmart AT_TOWSON to RSVP and to receive directions and parking information.
Exceptional Faculty
All classes are taught by outstanding faculty members, who hold either a Ph.D. or Au.D. in their areas of specialization. More than 80 percent of classes are taught by full-time audiology faculty members, and all faculty are approachable and genuinely interested in student learning.
Why Towson?
Clinical Experience
During four years of coursework, you will participate in three on-campus and four off-campus clinical rotations followed by a one-year, full-time clinical externship to meet certification and licensure requirements. Specialty clinical areas include hearing aids, tinnitus, auditory processing, and, in 2016, our new cochlear implants clinic.
You'll gain applied and research experience at Towson's state-of-the-art labs, including the Auditory Electrophysiology Lab; the Vestibular Lab; and Auditory Processing lab, as well as with local agencies and organizations throughout the region.
You can complete your off-campus rotation at one of 30 different area hospitals, private practices, pediatric facilities or schools in the Baltimore-Washington area. The externship year can be completed in Maryland, surrounding states, or in many other different states across the U.S. (see program director for approved states).
National Accreditation
The doctoral (Au.D.) program in audiology at Towson University has been placed on probation by the Council on Academic Accreditation in Audiology and Speech-Language Pathology of the American Speech-Language-Hearing Association, 2200 Research Boulevard, #310, Rockville, MD 20850, 800-498-2071 or 301-296-5700. A program on probation is not currently in full compliance with the accreditation standards. Programs on probation remain accredited but must demonstrate compliance with the standards within one year.
The CAA found the program to be in partial compliance with the program completion rate. For the complete report, see the CAA Accreditation Decisions website at: http://caa.asha.org/programs/accreditation-decisions/
Contact Information
Program Director
Jennifer Smart
Location
Van Bokkelen Hall
Room VB 102
Hours
Monday - Friday
Hours by Appointment