Music Major (B.M.)
Do you dream of performing music professionally? Would you like to teach others the benefits of music? Are you interested in music theory, history, and composition? Whatever your goal, a music degree from Towson University can open many doors.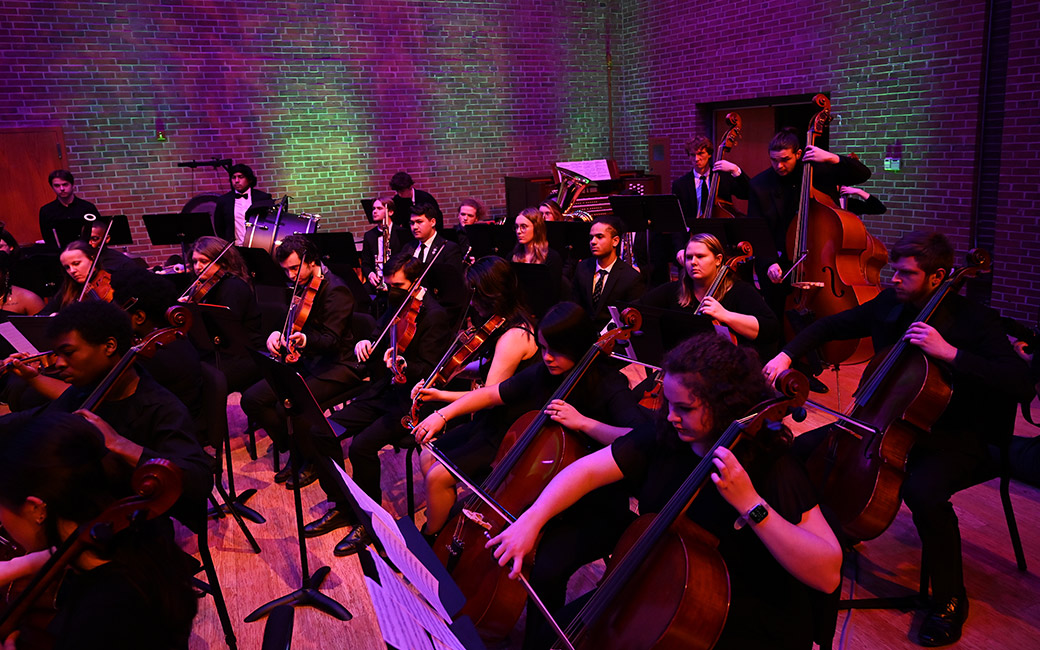 Pursuing the performance or composition concentration requires intellectual engagement, good study and practice ethics, self-motivation, and the ability to learn and improve from peer and professor feedback. Students in the music program choose from one of seven concentrations and fulfill requirements specified by the department. These include expected proficiency levels, juries, and screenings for secondary instrument study.
A separate application and performance audition are required for admission to the music major. Faculty members help you through the various aspects of the audition process. Proper course planning and regular meetings with advisers are key to timely completion of any of the music programs. Students are required to achieve certain levels of proficiency to continue in the major. View degree requirements and course descriptions in the Undergraduate Catalog.

Accelerated Bachelor's to Master's
The Department of Music offers an accelerated bachelor's to master's program. Accelerated programs allow you to begin your graduate education as an undergraduate, offering you the opportunity to save time and money while you advance your academic career. The combined B.S./M.S. in Music enables students to substitute nine credits in the Master's in Music program for undergraduate classes in the Music major.
Why Towson University?
Perfect Setting
Towson University's Center for the Arts features many state-of-the-art facilities, including smart classrooms, a recording studio, a keyboard lab, practice rooms, a computer/Aural Skills lab, The Harold J. Kaplan Concert Hall, and a 150-seat Recital Hall.
Ensembles
The department offers a variety of ensembles including symphony orchestra, symphonic band, chorale, men's chorus, women's chorus, a "Music for the Stage" program, jazz orchestra, jazz combos, pop ensemble, world music ensemble, steel band ensemble, percussion ensemble, early music ensemble, and a variety of small instrumental ensembles. All majors are required to participate in ensembles. These ensembles are open by audition. Student across campus are welcome to join the TU Choral Society without audition.
Scholarships
Students who audition in January and February are eligible for Department of Music scholarship consideration which for freshmen are for four years and for transfer students two years. Upon admission, full- and part-time students are encouraged to apply for a number of scholarships and competitions within the department based on talent and achievement. Learn more about application deadlines and requirements.