Burdick Turf Fields
The 200,000 square foot turf fields offer a variety of sport and recreational opportunities. The fields are used primarily for Campus Recreation programming, but are accessible for open recreation at designated times.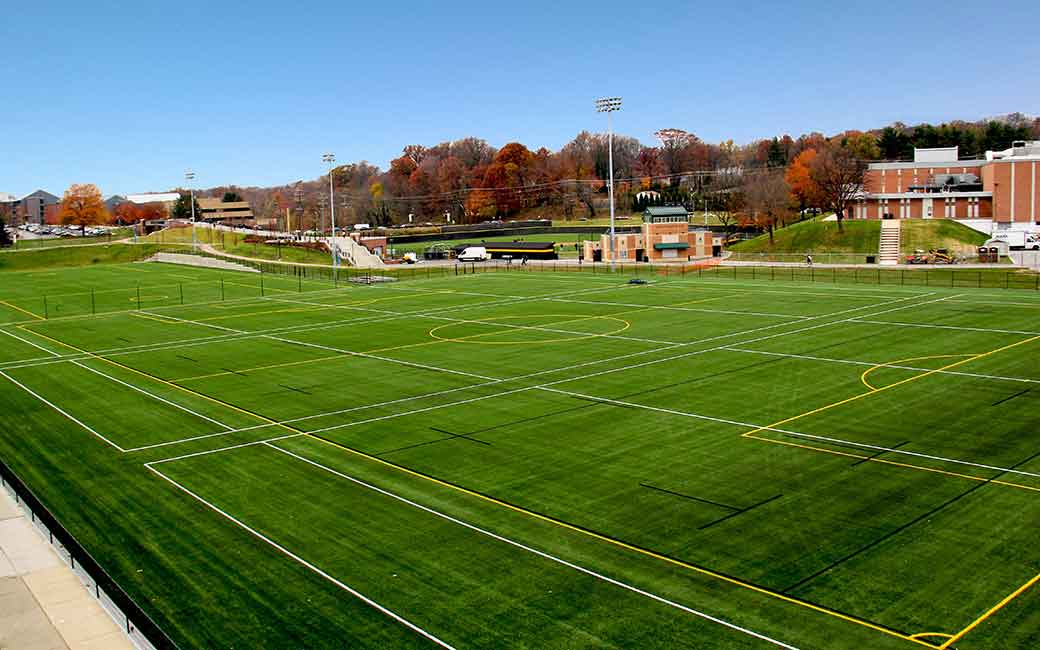 Entrances to the turf fields are located along the Union Parking Garage, near the first floor entrance to the University Union, and in the northeast and northwest corners by the bridge.
The turf fields have inlaid lines for the following sports:
3 – Flag Football Field
1 – Men's Lacrosse Field
1 – Women's Lacrosse Field
1 – NCAA Soccer Field
1 – International Rugby Field
University and community organizations may reserve or rent the turf fields. Visit Facility Reservations & Rentals to learn more. For questions about hosting an event on the turf fields please contact campusrecevents AT_TOWSON.
Turf Field Complex Usage Guidelines & Prohibited Items
Guidelines
Field usage and access are limited to Campus Recreation open facility hours or by approved reservation only.
DO NOT CLIMB the fence to access the field. Gated entrances are the only entrance/exit point to the field.
WATER ONLY – Flavored drinks, sports drinks, soda, and coffee are not permitted.
NO FOOD permitted inside the fence – this includes gum, sunflower seeds, fruit, team snacks, etc.
CLEAN UP – Do not leave any trash on the field. Users are responsible for ensuring the field is clean.
All users must be current Campus Recreation members or approved users.
Campus Recreation and/or University programs and events have priority usage.
Campus Recreation staff may close the field due to adverse weather conditions.
Sports goals/nets are for authorized users only. Do not move goals/nets.
Do not move bleachers or benches.
No kicking or hitting balls into the fence or wall.
Only service animals are permitted on the field. No pets or comfort animals.
Glass containers are not permitted on the field.
No hitting golf balls on the field.
Metal spikes and high-heeled shoes are NOT permitted inside the fence.
Unauthorized benches, carts, chairs, or equipment are not permitted on the field.
Users of the field are responsible for communicating these guidelines to all players, coaches, officials, and spectators.
Prohibited Items
FOOD AND BEVERAGE
All food products and beverages other than water
Sunflower seeds, peanuts, and other shelled nuts
Gum
Glass bottles or containers
EQUIPMENT
Stakes, spikes, or other pointed objects
Grills, space heaters or other equipment with open flames
Skateboards, roller blades, bicycles, scooters
FOOTWEAR
Metal cleats
Pointed heels
OTHER
Tobacco products (chew, cigarettes, cigars, pipes, smokeless tobacco)
All animals, with the exception of service animals
Golfing equipment
Alcohol
Fireworks
Water balloons
Failure to follow or adhere to the above guidelines and/or the direction of Campus Recreation staff may result in dismissal from facility, revocation of membership, or judicial referral.
Report all maintenance issues, emergencies, vandalism, or misuse of Campus Recreation facilities immediately to Campus Recreation (410-704-2367) or TU Police (410-704-4444).

The use of Campus Recreation facilities is a privilege. Individuals who choose to engage in unacceptable behavior may have their access revoked or modified indefinitely.