Yong-Yeon Ji
Associate Professor, Department of Management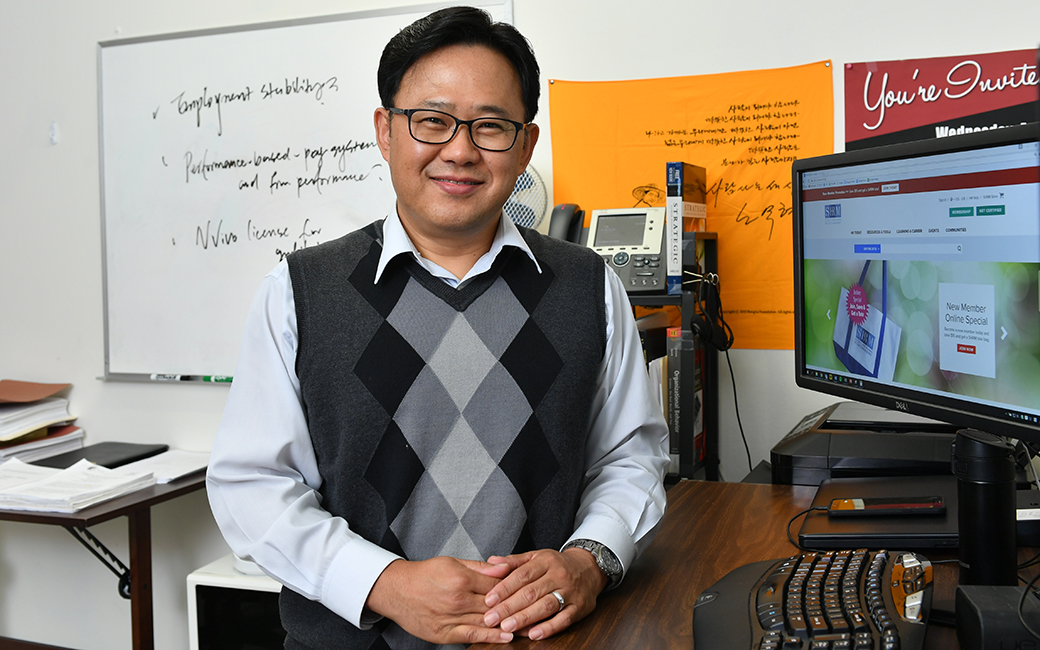 When interviewed for a faculty position in 2008, Yong-Yeon (Justin) Ji was surprised to learn that Towson University teaches strategic human resources management to undergraduates. "Most undergraduate programs focus on human resources (HR) functions at the micro or individual level with an emphasis on employee hiring and employee programs," says Yong-Yeon Ji. "At Towson University, all HR students get a macro-level perspective of how HR helps organizations create value in terms of financial and social performance."
As faculty advisor for the TU student chapter of the Society for Human Resources Management, Ji is forging stronger relationships with the human resources departments of local companies and with the Chesapeake Human Resources Association. "Many HR professionals come to the TU campus to share their expertise and to promote the importance of HR." Ji is also helping human resource management concentration students to prepare for HR-related exams such as Assurance of Learning Assessment for Graduating HR Students and HR certifications such as SHRM-CP (Society for Human Resource Management – Certified Professional) or PHR (Professional in Human Resources) by offering an independent study class.
"Completion of the assessment gives students bragging rights and is an important addition to their resumes," says Ji. "It is another way for employers to measure students' competencies."
Ji continues to pursue his own research on how resources are distributed in organizations. "Financial betterment should never be the sole objective of an organization," he says. "You need to look at all of the organization's stakeholders at the same time." Ji's philosophy is that if you want to promote an interdependent work culture in an organization, you need a more compressed pay structure.
His work on the impact of pay dispersion on management teams has consistently demonstrated that the more employee pay is disbursed across the team, the greater the benefit to promoting teamwork in the organization. Ji, who joined Towson University after receiving his Ph.D. from the University of Kansas in 2009, teaches principles of management, human resource management and strategic human resource management.