Lights, Camera, Action
Josie Brown's theatrical talent combined with her passion for teaching is sparking innovation in the classroom.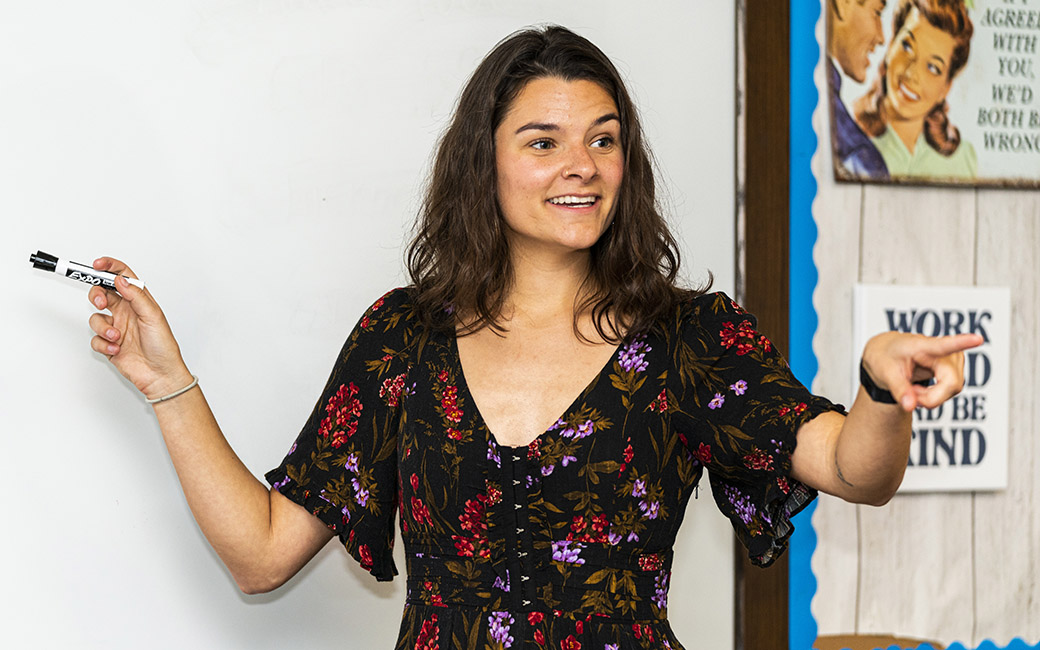 From living room concerts to coveted roles in Christmas plays, Josie Brown has been performing for years. When it came time to choose a college, Brown was looking to major in English and theatre and gain certification as a middle school teacher. TU was the only school in the region that fit the bill.
As a member of TU's Actors Anonymous, Brown has been an ensemble member in two theatre productions: "Rocky Horror Picture Show" and "Addams Family." Brown also performed in the TU main stage production of "Hamlet." While she was performing in front of the audience, she discovered she enjoyed working behind the scenes and helping to manage back stage operations as well.
Brown learned to use movement and theatrics to command a classroom from her professors at TU. "It has informed my teaching style," she says.
As part of an introductory education course, Brown volunteered at Cherry Hill Elementary School in Baltimore City. "It was an amazing experience," says Brown, who continued her volunteer work long after the class ended.
"I realized I could learn as much from students as they can learn from me." In spring 2020, Brown taught at Perry Hall Middle School before the COVID-19 pandemic closed schools. "The teachers encouraged me to be creative in my lesson plans," says Brown, who created a giant board game to engage the middle schoolers.
Brown is eager to develop teaching methods targeted to individual student needs. "I want to use my theatre skills to make learning more accessible," she adds.
Following her graduation from TU in 2021, Brown joined the upper school faculty of Loyola Blakefield in Towson as a full-time English teacher. She will be returning to the middle school at Loyola this fall to teach 7th grade English Language Arts.
Want to learn more about Towson University?