Career & Internship Support
Internships afford students the opportunity for professional experiences and networking, and are viewed as an integral part of the Electronic Media and Film major.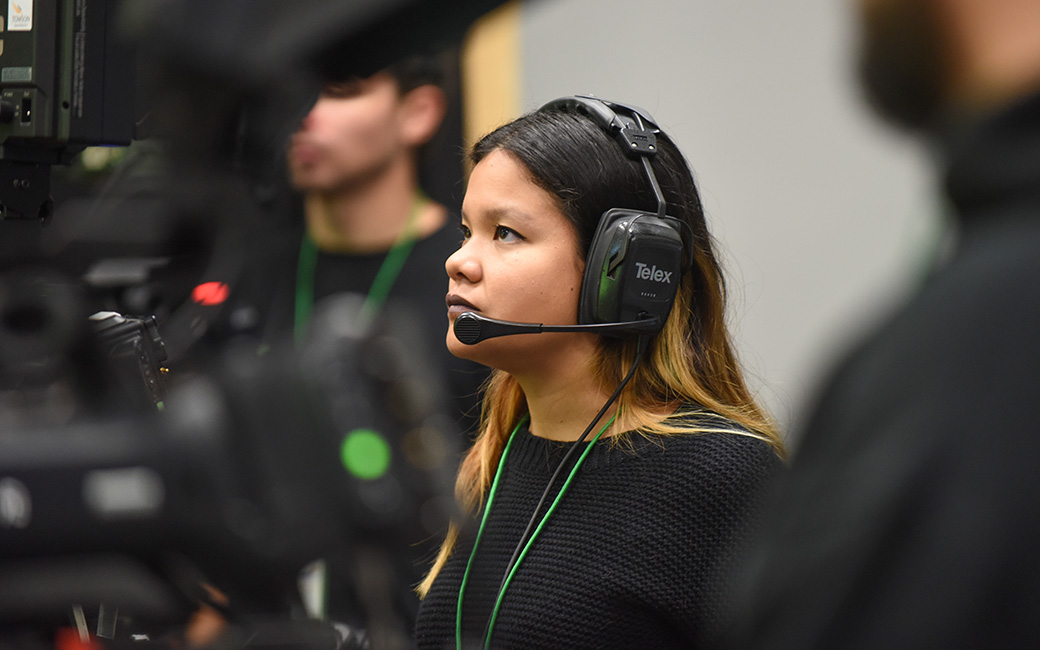 Electronic Media and Film has a very active internship program. Our majors have served as interns with local and national organizations including: CNN, Academy of Television Arts and Sciences, The Discovery Channel, The Learning Channel, network television stations in Baltimore and Washington, D.C., Hollywood feature films, Hearst radio stations such as WBAL, 98 Rock, and Viacom, Maryland Film Commission, American Film Institute, Maryland Public Television, BET and Warner Brothers. Our students have also been media interns for both the Baltimore Ravens and Baltimore Orioles as well as TU Athletics.
Your internship has relatively little merit unless you are able to express its impact on your academic and career choices. These written requirements combined with the required forms serve this purpose. Below are the guidelines for EMF Internships.
Eligibility
Full EMF Majors with at least 60 credits completed (Junior status).
Completion of courses related to the area of internship concentration:
EMF 140 and EMF 222 prior to any video or television placement
EMF 221 and EMF 222 prior to any film placement
EMF 140 and EMF 265 prior to any radio placement
Cumulative GPA requirement: 2.75 overall, 3.00 in the major. Waivers are considered by the department.
Finding and Registering for an EMF Internship
Find an Internship that will work with your schedule – preferably the semester before you plan to Intern. The EMF Listserv is our primary resource – but you can find an Internship on your own or through the Career Center as well.

Ask any full-time EMF faculty member to be your Internship Sponsor. This will be the faculty member's EMF 460 section you'll register for, and the main EMF contact you report to, hand your forms in to, and meet with several times during the semester. Remember that each faculty member is limited in how many Internships they can sponsor.


Required Forms
To start an Internship for credit, you'll need to fill out and have your Faculty Internship Sponsor approve the first two forms: Internship Registration Form and the Learning Plan.
The other required forms due at the end of the Internship are: Work Log, Mid-Semester Evaluation of Intern by Supervisor, End of Semester Evaluation of Intern by Supervisor, End of Semester Evaluation by Intern
Reflective Report
This written paper provides the means for you to reflect upon your work experience and assess its relevance, the learning process, and the knowledge or skills that you gain. The reflective report shall describe the student's perceptions of the organization and the work environment.

In the report, the student will:
Describe a "typical" day or the tasks in which the student is involved
Relate duties performed to prior courses, both in the major and in liberal arts (be specific)
Describe new knowledge gained or skills learned
Explain the portions of the work experience that were most and least valuable
Relate the total internship experience to the career decision process. The student will address the expectations established in the introduction to the log and describe any aspects of the internship or co-op that could be improved.
Include a copy or sample of any materials prepared by the student on the job (video or audio programs, letters, budgets, questionnaires, tapes, articles, press releases, etc...).
Confidential material should not be included.
Although your work experience and performance comprise the major portion of your grade, the written requirements are given significant consideration. Written assignments will be graded on content, unity, and literacy.
The total report should be turned in to your Faculty Internship Sponsor by the due date established at your first meeting.
Grading and Credit Hours
Your internship experience is graded on a Satisfactory/Unsatisfactory (S/U) basis. It will appear on your transcript as EMF 460: Internship.
The formula for academic credit is:
40 hours over the course of the entire semester = 1 unit
A typical Internship of 8 hours per week over a fifteen week semester would equal 3 units.
If you have any questions about any parts of the written requirements, contact your Faculty Internship Sponsor.
For additional information, contact EMF Internship Coordinator Dr. Dave Reiss